Despite Trump Backing Brexit, Only 38 Percent of Those Who Voted to Leave EU Want Him to Win Election
Only 38 percent of Brits who voted to leave the EU would give President Donald Trump their support, despite the commander-in-chief backing Brexit.
Even fewer Brits would vote for Trump overall, with just 20 percent indicating they would give the Republican a second term in office, leading U.K. bookmaker Betfair told Newsweek.
With less than a week to go until polling day, the betting provider commissioned a YouGov poll of Brits' voting preferences if given a vote in the U.S. election.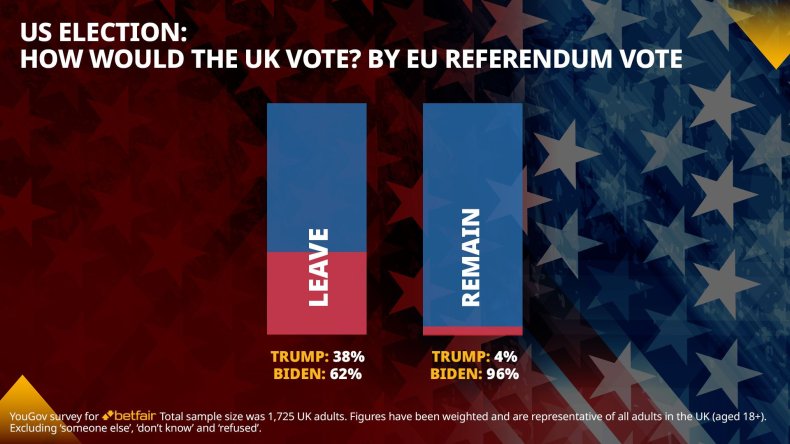 The results show that Democratic rival Joe Biden would win in a landslide over Trump.
Excluding those who said they didn't know, refused to answer or said they'd vote for someone else, 80 percent of Brits would vote for Biden and just 20 percent for Trump.
A staggering 99 percent of those who voted Labour or Liberal Democrat in the 2019 General Election would vote for Biden, according to the poll.
Similarly, 96 percent of those who voted Remain in the EU Referendum said they would give Biden their vote.
In a gender split, Trump appears to be more popular with men, with 24 percent of men indicating they would vote for Trump, compared to just 14 percent of women.
The YouGov survey of 1,725 people was commissioned with just one week to go until Election Day.
Biden was given an implied probability of 67 percent of clinching the presidency, compared with Trump's 33 percent.
Of those who expressed a preference for Trump, support in the U.K. peaks at 39 percent amongst those who voted Conservative in the 2019 general election, and 38 percent amongst those that voted leave.
Of those who would vote for Trump, the top three reasons given were that they believe his opponent is weak (49 percent), his stance over the economy (48 percent) and that he is a strong leader (47 percent).
Meanwhile, those who would vote Biden said the top reasons were that they are concerned his opponent is dangerous (73 percent), that they simply don't like his opponent (71 percent) and that they think his opponent is weak (26 percent).
When asked what the most important qualities are in the U.S. president, honesty (69 percent), empathy with ordinary people (62 percent) and the ability to deliver on promises (57 percent) came out on top.
However, it appears that Trump falls short of the traits required for Brits, with those researched claiming he's arrogant (77 percent), dangerous (68 percent) and aggressive (40 percent).
Views on Biden appeared less emphatic, when Brits were asked what three traits they believe the former Vice President possesses, with 35 percent claiming they simply didn't know.
"With the U.S. election just seven days away, speculation on how the election will go is intensifying, with polls seeming to suggest a Biden victory is on the cards," Betfair spokesperson Sam Rosbottom told Newsweek.
"With over £180m [$232m] bet on the outcome of the election on Betfair Exchange, Biden's odds of 1/2 suggest he has a 67 percent chance of coming out on top after the election on November 3rd, with Trump's odds of 2/1 suggesting his chances of victory are just 33 percent. That gives Biden over double the implied probability of election than his rival.
"However, we are still seeing plenty of money for the POTUS and in fact more money has been bet on Trump in this race, with £91m compared to £84m on Joe Biden.
"It's also worth remembering the U-turn the market saw on election night in 2016, where Hillary Clinton went in the big odds-on favorite. And we all know how that turned out.
"Other key points from the research showed that over half (53 percent) in the U.K. think that personalities speak louder than policies when it comes to attracting votes in U.S. presidential elections. Just 17 percent said policies were more important."