Despite Trump's Failing Lawsuits, Majority of Republicans Think He Won Election: Poll
President Donald Trump is continuing to challenge the election results as he asserts—without evidence—that they were tainted by fraud. But his faltering legal campaign might be buoyed by a poll that says most Republican voters agree with him.
According to a Reuters/Ipsos poll carried out between November 13 and 17, nearly three-quarters of respondents (73 percent) agreed Joe Biden had won, compared with only five percent who believed Trump had won.
However, many Republicans had doubts over how the Democratic candidate got his victory.
When asked who had "rightfully won," more than half (52 percent) of Republican respondents said Trump, compared with less than a third (29 percent) who believed Biden had won.
Nearly two-thirds of Republicans surveyed (68 percent) said they were worried the vote was "rigged", compared with only 16 percent of Democrats.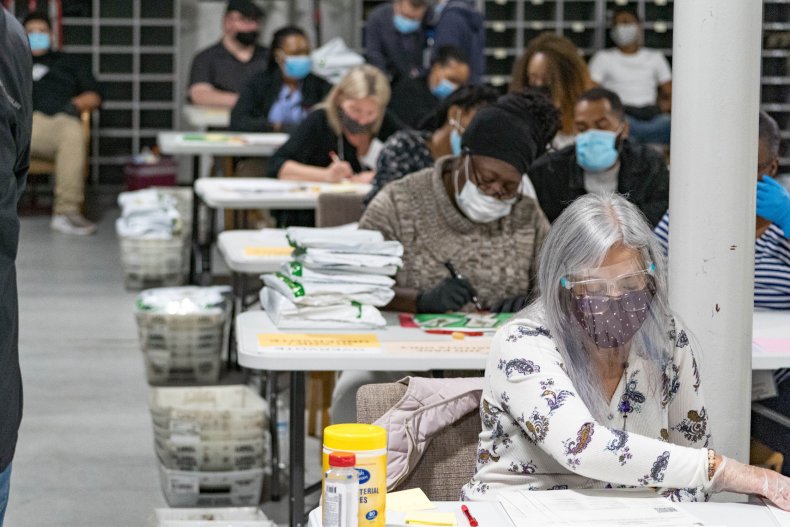 The poll also showed there was less confidence in the 2020 result than in 2016. Over half (55 percent) of respondents thought the November 3 ballot was "legitimate and accurate," but this was seven percentage points lower than in a similar poll conducted in 2016.
Over a quarter (28 percent) said they thought the election was "the result of illegal voting or election rigging", up 12 points from 2016.
Trump took to Twitter again on Wednesday to criticize the ballot. "This was a rigged election," he wrote, pointing to "no Republican Poll Watchers allowed, voting machine 'glitches' all over the place" and "voting after election ended."
Twitter flagged this unsubstantiated claim as "disputed."
Republicans announced this week that they would drop federal election lawsuits in Michigan, Georgia, Pennsylvania and Wisconsin. Over the past week and a half, three large law firms have distanced themselves from Trump: Jones Day, Porter Wright Morris & Arthur and Snell & Wilmer. The latter two have withdrawn from litigation altogether.
On Tuesday, the Pennsylvania Supreme Court ruled against the Trump campaign whose lawsuit alleged that its observers had been hampered from watching the vote count in Philadelphia, a claim repeatedly debunked by the city's election chief.
"There have been something like 30 or 40 of these lawsuits filed in Michigan, Pennsylvania, Nevada, Arizona, Georgia, and so on. To this point, dozens of defeats have piled up for the Trump campaign," Harvard Law School professor Nicholas Stephanopoulos told CBS.
The graphic below from Statista shows election spending since 2000.