'Destiny 2' Rasputin Armory Codes - How to Find & Use in Escalation Protocol
Destiny 2 's Warmind DLC is all about Rasputin, and that means Rasputin Armory Tokens are a pretty big deal. Since Bungie doesn't really explain how to use or find Codes, we'll fill you in. They're very important if you want to dominate the new Escalation Protocol horde mode.
HOW DO I GET ARMORY CODES IN 'DESTINY 2?'
If you come across a chest that requires a Rasputin Armory Code, the next step is to get some. These typically spawn during Public Events and near event spaces. You might also be able to find Codes by taking down yellow-bar enemies during difficult missions. The spawns are a bit random, but as long as you keep exploring Mars while doing meaningful things, Rasputin Armory Codes are fairly tough to miss.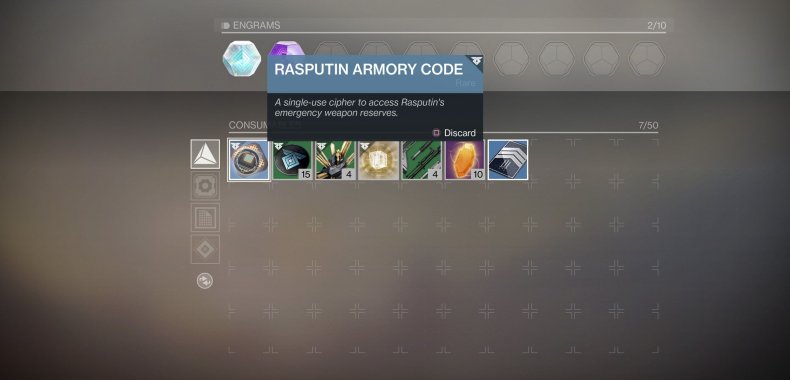 WHAT ARE RASPUTIN ARMORY CODES USED FOR?
Considering their ties to Public Events, Rasputin Armory Codes appropriately offer assistance during Escalation Protocol. Once you've saved up a few, you'll see little hatches spawn in the main Protocol area. Inside these hatches is the Valkyrie. Valkyrie is a super-powerful melee weapon that can be very helpful during difficult Protocol waves and Protocol bosses.
As you might expect, this staff is great for crowd control. If you can save up several tokens per team, they become critical to making it through the event. As we've since learned, advancing through the toughest waves offers easier access to special Exotics and rewards. Success in Protocol is all about having a skilled team with the right combination of weapons, but Rasputin Armory Codes help take the edge off when hardcore strategy fails.
Destiny 2 is available now on PS4, Xbox One and PC. For more on the Warmind expansion, read our Sleeper Simulant and Override Frequency guides. Both will help you find your way around the new content.
What are your thoughts on Destiny 2's Warmind expansion so far? Are you enjoying Escalation Protocol? Tell us in the comments section!