Destruction Left By Boars Leaves Internet Stunned
A photo of the destruction left in the aftermath of rampaging boars has stunned people online after it was shared on Reddit.
In a viral post shared on Reddit's Well That Sucks group, user Nyathra shared a photo of their grandparents' torn-up lawn.
The photo—captioned "my grandparent's lawn got raided by boars overnight"—showed the grass having been thoroughly mashed.
According to the U.S. Department of Agriculture, feral swine cause a huge amount of damage to property, crops, and livestock across the country. It is estimated the damage and control costs exceed $1.5 billion each year.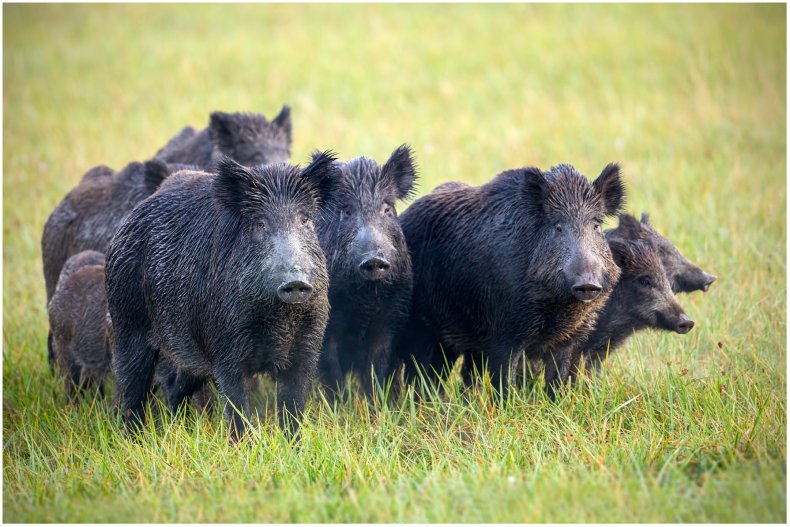 While feral boars are known for causing damage in rural areas, they also cause considerable damage to residential property, golf courses, cemeteries, beaches, and parks.
In Nyathra's photo, a torn-up lawn could be seen close to a house with some trees in the background.
Since being shared on Sunday, October 2, the post has been upvoted on some 24,800 occasions and has been commented on more than 780 times.
Many of those who commented on the post shared their own experiences of dealing with feral boars.
One Reddit user said: "Wow. I've heard about wild boars causing a ton of damage in Texas but I don't think I've ever seen what they're capable of."
Another added: "My grandfather has 400 acres in northeastern Oklahoma. Probably 15 years ago someone leased the land next to him to run wild hogs to hunt.
"Didn't last long before they abandoned that project and let the damn things loose. They caused major destruction on my grandpa's property until they were eliminated or moved on."
A third posted: "This happened to my coworker in Texas, went to drop off his kid at school, and while he was gone a pack of wild hogs came in, rooted up his whole front yard, and left.
"He came home an hour later to his yard completely torn up and had no clue what happened till a neighbor filled him in."
Newsweek has contacted Nyathra for comment.
In August, wild hogs in Florida terrorized a neighborhood in Sun City Center after being drawn to the mango trees in the area.
Resident Gail Dudley told WFTS-TV: "All of their habitats are being destroyed by the new developments that are going in non-stop."
But, not all encounters with boars are purely destructive as one woman found out in Hagen, Germany. She got a shock of her life on February 4 when she found the wild animal relaxing on her sofa.
The wild boar, which was just 10 feet away from her, did however cause significant damage to her house.
Hagen Police said in a statement: "The wild boar had wrecked the furniture and had made itself comfortable on the living room sofa. It probably entered the ground floor through a patio door. When the door shut, it got trapped."