Wild Hogs in Florida Are Tearing Up Lawns, Terrorizing Neighborhood
Wild hogs are terrorizing the Florida neighborhood of Sun City Center, digging up lawns and acting aggressively towards residents.
The hogs are likely drawn to the area due to the mango trees, which provide food, as well as the nearby lake, providing water, WFLA-TV reports. Some residents, however, blame property that's being developed nearby for sending the hogs towards Sun City Center from the woods close to the neighborhood.
"All of their habitats are being destroyed by the new developments that are going in non-stop," Gail Dudley, a resident, told WFTS-TV.
In addition to digging up property, the pigs are acting aggressively towards people. Though so far no one has been hurt, residents are particularly worried due to the large number of older residents, with resident Sandra McCaw describing the area to WTVT-TV as a "retirement home." Wild hogs are very dangerous, and can do serious damage to any person they attack.
The issue has been going on for some time—the WTVT-TV interview with McCaw took place in 2019. While the new development may be exacerbating the problem, wild hogs have been tearing up property and acting aggressively for years.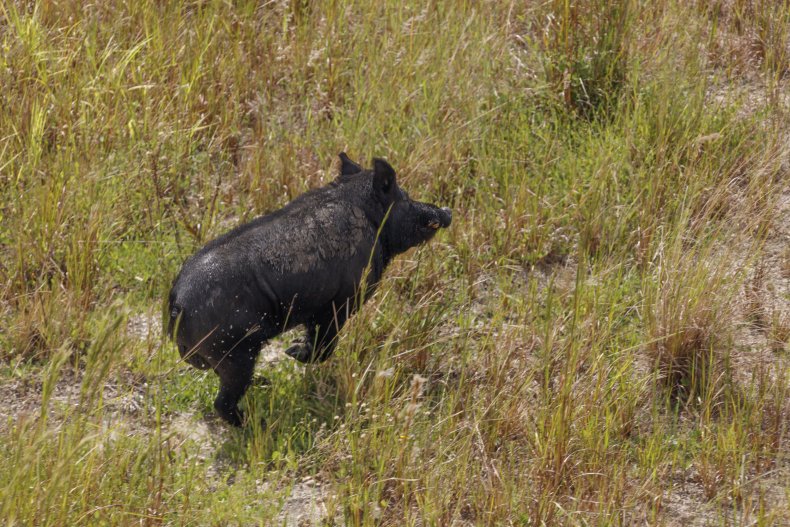 While the Florida Fish and Wildlife Conservation Commission (FWC) recommends fencing to stop the pigs, according to WFLA-TV, Sun City Center is a neighborhood with an Homeowner's Association (HOA) that bans fencing. However, Pete Pullen, a resident of the neighborhood told the station he doesn't know if it would help anyway.
"There isn't really much we can do about it because we're not really allowed to fence," Pullen said. "Some neighbors have fences, but how do you fence something like this that has a quarter mile of lake right beside you?"
In 2019, McCaw had a similar gripe.
"Everybody says oh that's somebody else's problem," McCaw said at the time. "The [FWC] says they are a nuisance problem. It's not a county problem. It's not an HOA problem. It's not a [Community Association] problem, it's frustrating."
The FWC told Newsweek that though it doesn't offer removal services for wild hogs, the animals are not protected in Florida. No hunting license is required for killing the hogs, but the FWC says trapping is better for residential areas, golf courses and other properties "open to the greater landscape."
While the FWC doesn't provide removal services, it told Newsweek that the United States Department of Agriculture (USDA) Wildlife Services has a fee-based trapping program to help with wild hogs. USDA Wildlife Services can be reached at 352-377-5556.
Wild hog populations are exploding around the United States, causing over $1 billion in damage every year. While hunting may seem like the answer, the USDA says that it makes things worse, with the pigs becoming nocturnal and travelling over 100 miles to avoid hunters. The only hope is for a hunter to kill an entire sounder—the name for a herd of feral pigs—at once, often by shooting from a helicopter.
A 2018 article from Heidi Roth of Serious Eats offers a potential solution, however: eating them. Wild boar meat is leaner than standard pork, and "far richer-tasting," she says.
"A free-range animal grazing on a wide variety of forgeable food gets more muscle-enhancing movement, which generates a deeper, more flavorful meat than an animal confined and raised solely on grain; and there are no antibiotics or hormone supplements to worry about with wild animals," Roth writes.
Update 8/4, 5:00 p.m.: This article has been updated to include information from the FWC.