Detective Under Investigation for 'All Lives Splatter' Post Is Gov. Jay Inslee's Cousin
A detective under investigation for "concerning" social media posts shortly after two Seattle protesters were struck by a car on a closed freeway is Democratic Washington Gov. Jay Inslee's cousin.
Mike Brown, who is with the King County Sheriff's Office, posted a meme on his Facebook page that shows people being hit by a truck and the words "All Lives Splatter," KIRO 7 reported.
His page has been taken down, but the station reported that in another post, he wrote: "I see a couple of people got infected with COVID-19 from the hood of a car on I-5 last night."
It came hours after Summer Taylor and Diaz Love were struck by a white Jaguar that plowed into a crowd of protesters on Interstate 5 early Saturday morning. Taylor, 24, died later on Saturday while 32-year-old Love sustained serious injuries and remains in hospital.
In a news release, the King County Sheriff's Office said it was alerted about "some concerning posts made by one of our deputies on Facebook" on Sunday. "We took immediate action and forwarded the matter to our Internal Investigations Unit," the sheriff's office said.
Brown was immediately placed on administrative leave and relieved of all police powers, the sheriff's office said.
On Tuesday, Inslee took to Twitter to condemn Brown—and revealed that he and the detective are related. "I'm deeply disappointed and totally reject the language of my cousin Mike Brown who made inflammatory comments about recent protests," said Inslee.
"The language is unacceptable and just flat wrong, particularly from a law enforcement officer, as we try to heal the divisions of our community."
Inslee's office has been contacted for additional comment.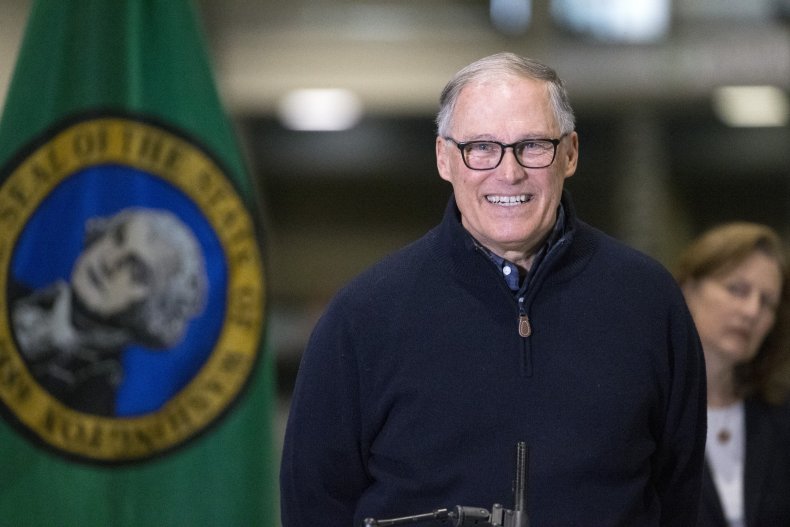 On Monday, King County Sheriff Mitzi Johanknecht ordered the internal investigation into Brown to be expedited. The sheriff's office said other employees who may have reacted or commented on Brown's posts will also be investigated.
"We value all members of our community and are committed to serving everyone equally, with dignity and respect," Johanknecht said. "I will take swift action to thoroughly investigate when the conduct of Sheriff's Office members fails to reflect our core values and violates Sheriff's Office policy."
Johanknecht told KIRO 7 that Brown, who has been with the sheriff's office for more than four decades, is currently assigned to executive protection detail. The sheriff's office has been contacted for additional comment.
Dawit Kelete, a 27-year-old Black man, drove his white Jaguar around cars that had been parked on Interstate 5 to protect protesters and struck two of them before speeding away, Trooper Chase Van Cleave told Newsweek.
Kelete's attorney, John Henry Browne, has said the crash was not intentional, but a "horrible, horrible accident."
Kelete was booked into the King County Correctional Facility on Saturday morning on two counts of vehicular assault. On Monday, a judge set his bail at $1.2 million.
The King County Prosecuting Attorney's Office hasn't filed charges against Kelete, but a decision is expected by Wednesday afternoon, a spokesman told Newsweek.