The city of Detroit has announced plans to restore water to thousands of homes where service had been cut off due to lack of payment to protect residents from coronavirus.
Detroit Mayor Mike Duggan, the Detroit Water and Sewerage Department (DWSD) and Michigan Governor Gretchen Whitmer said they will implement a "water restart plan" from Wednesday so people can wash their hands during the COVID-19 outbreak. The outbreak has so far seen more than 116,000 cases across the world.
The plan will see the state of Michigan pay the $25 reconnection fee for those who either are at risk or already had their water cut off due to non-payment.
After 30 days, Detroit residents can pay an additional $25 a month to keep their water restored for the duration of the outbreak.
Officials confirmed the move is proactive to help the spread of the virus from affecting the city. Of the 761 confirmed cases of coronavirus in the U.S., none are in the state of Michigan.
"We know that washing hands is an important defense to this virus, so for the duration of the COVID-19 situation, DWSD is implementing this plan to help make sure every Detroiter has access to clean running water," DWSD director Gary Brown said in a statement.
"While there are no confirmed cases of coronavirus in Michigan, one of the best ways to combat the spread of this disease is by washing your hands thoroughly," Governor Whitmer added.
"That's why the state is stepping up to cover the cost of water restoration for the first 30 days, because it's the right thing to do to keep families safe and protect public health."
According to the Detroit Free Press, at least 3,000 residential water accounts lost service last year over lack of payment.
In a press conference, Mayor Duggan urged all those who had their services cut off to call them and take advantage of the 30-day period of free restored water.
"As of Wednesday, the only residents of Detroit who should not have water on are those who don't reach out," Duggan said. "It won't be for lack of money."
How it works/How to apply
Residents without water, or who have received a door hanger indicating that they are at risk of service interruption, will only need to call Wayne Metropolitan Community Action Agency at 313-386-9727 to make an appointment.
Once an appointment is made, DWSD will begin the process of restoring service or canceling a pending service interruption. Customers do not have to pay anything at this time.
After the first month, customers will be required to pay the $25 per month until the COVID-19 outbreak passes.
Presidential hopeful Bernie Sanders is one of those who said the move to restore water in the city is long overdue.
"It's good news that Detroit is restoring water to thousands of households. But it shouldn't take a crisis like the spread of coronavirus to restore people's right to drinking water," Sanders tweeted.
"About damn time," added Abdul El-Sayed, a former head of the city's health department. "It's been 6 yrs since the U.N. declared Detroit water shutoffs an insult to human rights."
The People Water Board Coalition previously urged Whitmer to act and restore people's water to protect again COVID-19.
"The unconscionable act of depriving anyone of water because the cost is more than they can afford has resulted in a health crisis, that, with the advent of coronavirus, has the serious potential to be magnified and spread due to thousands not having access to water," the group said in a February 28 statement.
The graphic below, provided by Statista, illustrates the spread of COVID-19 in the U.S. as of March 10.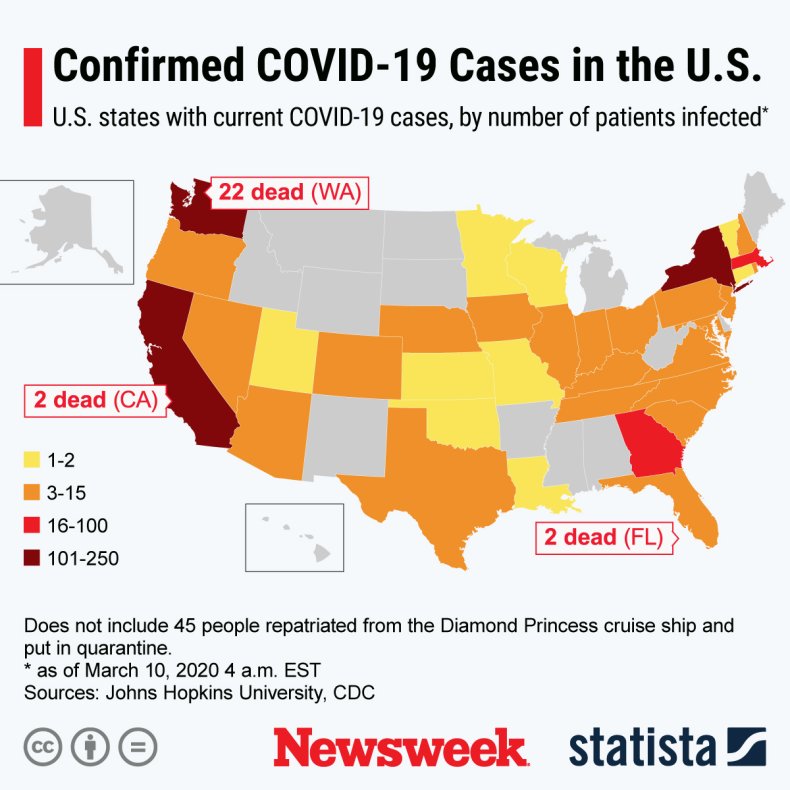 World Health Organization advice for avoiding spread of coronavirus disease (COVID-19) Hygiene advice:
Clean hands frequently with soap and water, or alcohol-based hand rub.
Wash hands after coughing or sneezing; when caring for the sick; before; during and after food preparation; before eating; after using the toilet; when hands are visibly dirty; and after handling animals or waste.
Maintain at least 1 meter (3 feet) distance from anyone who is coughing or sneezing.
Avoid touching your hands, nose and mouth. Do not spit in public.
Cover your mouth and nose with a tissue or bent elbow when coughing or sneezing. Discard the tissue immediately and clean your hands.
Medical advice
If you feel unwell (fever, cough, difficulty breathing) seek medical care early and call local health authorities in advance.
Stay up to date on COVID-19 developments issued by health authorities and follow their guidance.
Mask usage
Healthy individuals only need to wear a mask if taking care of a sick person.
Wear a mask if you are coughing or sneezing.
Masks are effective when used in combination with frequent hand cleaning.
Do not touch the mask while wearing it. Clean hands if you touch the mask.
Learn how to properly put on, remove and dispose of masks. Clean hands after disposing of mask.
Do not reuse single-use masks.