Deutsche Bank Deaths—Spate of Suicides Involving Employees in Recent Years
The death of a whistleblower who worked with federal authorities investigating Deutsche Bank has once again brought into focus the spate of suicide deaths linked to the financial institution.
Valentin Broeksmit, 45, was pronounced dead Monday morning after his body was found on the Woodrow Wilson High school campus off the 4500 block of Multnomah Street in Los Angeles.
In 2019, Broeksmit was reported to have handed over hundreds of documents to the FBI while they were investigating ties between Deutsche Bank and former president Donald Trump.
The documents had been left behind by his father, Bill Broeksmit, who had died by suicide in 2014.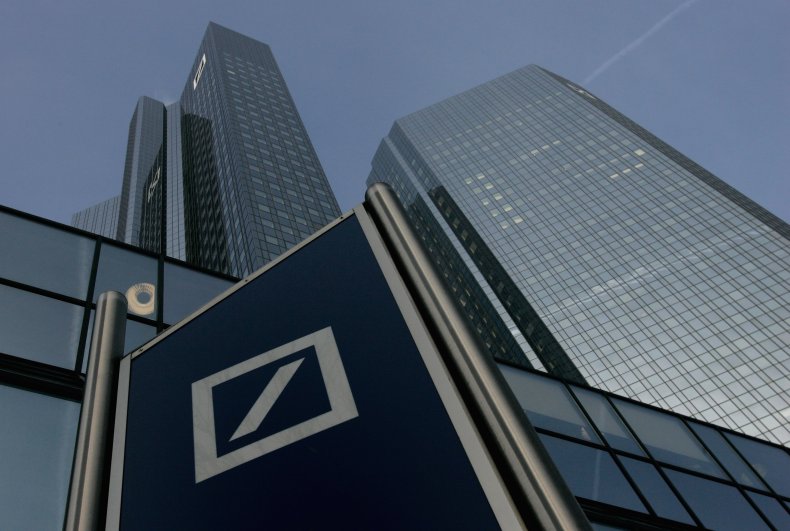 According to a New York Times profile, written by David Enrich, Valentin Broeksmit had dreamed of becoming the next great whistleblower and thought that he could find some meaning to his father's death by leaking the confidential documents and helping to expose corporate corruption.
"I am more emotionally invested in this than anyone in the world," he said. "I would love to be their special informer."
Scott Stedman, a journalist working for Forensic News who frequently covers Deutsche Bank, tweeted how Bill Broeksmit's suicide had "consumed" the younger Broeksmit in recent years.
Stedman also said he doesn't believe there is any foul play around Val Broeksmit's death. The younger Broeksmit suffered with drug addiction throughout his life.
"To see his life end so short is incredibly depressing," Stedman said.
Bill Broeksmit's suicide was one of a number of deaths involving Deutsche Bank workers over a five-year period and occurred months after David Rossi, director at Monte dei Paschi di Siena, the world's oldest bank, died in an apparent suicide in Italy in October 2013.
There have long been suspicions that Rossi's death was not a suicide, although no conclusive evidence of foul play has emerged.
There is no suggestion the deaths of any of the former Deutsche Bank workers were suspicious.
Deutsche Bank Deaths
Bill Broeksmit
The 58-year-old was found hanging in his home in Kensington, West London, in January 2014 and pronounced dead at the scene.
An inquest at London's High Court found that Broeksmit, who retired from Deutsche Bank in February 2013, had left several notes for friends and family before taking his own life, Reuters reported.
The inquest heard that Broeksmit had been involved in U.S. investigations into Deutsche Bank and felt "very anxious" about the probes.
Deutsche said in a statement at the time that Bill Broeksmit was "not under suspicion of wrongdoing in any matter."
Broeksmit's death was the focus of Enrich's 2020 book Dark Towers: Deutsche Bank, Donald Trump and an Epic Trail of Destruction. The book also featured the former Deutsche executive's son in a central role.
Calogero Gambino
The senior Deutsche Bank regulatory lawyer died from suicide at his home in the Brooklyn area of New York in October 2014.
At the time of his death, Gambino was closely involved in negotiating legal issues for Deutsche Bank related to the alleged manipulation of the London interbank offered rate, or Libor.
"Charlie was a beloved and respected colleague who we will miss," said Deutsche Bank in a statement. "Our thoughts and sympathy are with his friends and family."
Tom Bowers
The former Deutsche Bank executive was found dead in Malibu, California in November 2019, with authorities later ruling his death a suicide.
Bowers was one of a number of employees at the bank who controversially signed off billions of dollars worth of loans to Trump before he became president.
The loans came under scrutiny after other institutions turned down Trump's request for loans because of his history of declaring bankruptcy
Bowers was not with Deutsche Bank at the time of his death, having left in 2015. There are no signs his suicide was connected to work in any financial institution.
In a tweet on Wednesday, Stedman dismissed claims there is anything suspicious about Valentin Broeksmit's death.
"Everyone needs to f*****g stop with the conspiracy theories about Val. Or am I now part of some ridiculous fairytale now too because I'm trying to save some dignity for my dead friend?" Stedman wrote.
A Los Angeles Police Department spokesperson told Newsweek the investigation into Valentin Broeksmit's death is ongoing.
If you have thoughts of suicide, confidential help is available for free at the National Suicide Prevention Lifeline. Call 1-800-273-8255. The line is available 24 hours every day.