Deval Patrick Cancels College Event After Two People Show up, Tells Organizers He Had to Catch Flight
Deval Patrick canceled an event yesterday after just two people showed up, telling organizers that he had a flight to catch.
The latest entrant in the Democratic 2020 primary race arrived for a New Deal Democrats event at Morehouse College when he was told almost nobody had shown up for his talk, CNN reported.
It also reported that the two people who did show up in the audience were asked to attend by organizers when they walked through the hallway outside.
The former Massachusetts Governor Patrick launched his primary campaign on the 14 November, not long after ex-New York City Mayor Michael Bloomberg signaled he would step into the Democratic race.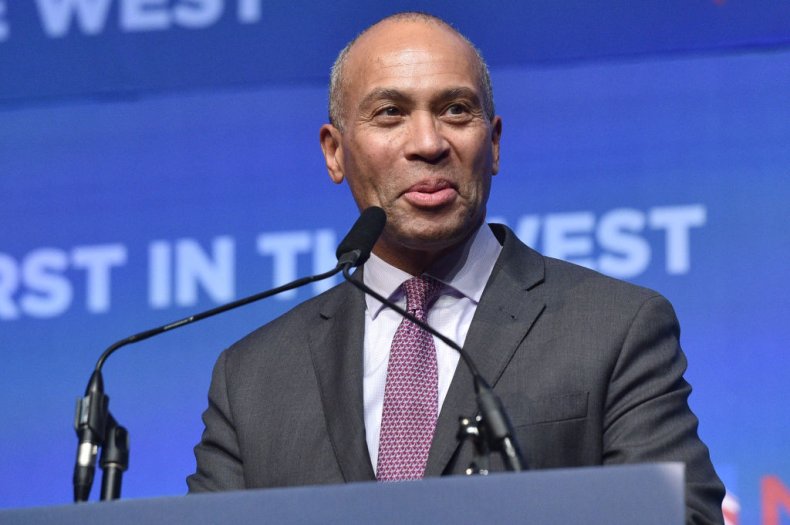 His empty event at Morehouse College in Atlanta, Georgia on Wednesday night came on the same day the city hosted the fifth televised Democratic primary debate at Tyler Perry Studios.
Patrick's late entry into the race meant he was not on stage with other candidates in the field last night.
At the candidate's Morehouse College event last night, CNN Reporter Annie Grayer tweeted: "Governor @DevalPatrick was supposed to have an event at Morehouse College tonight. An organizer with the college who planned the event told CNN that Patrick canceled the event when he arrived and learned that he would not have an audience. (Note, two people came, not pictured)."
The event organizer and New Deal Democrats campaign group founder Julian Hemmings confirmed that only two people showed up at the event in an email to Newsweek, noting that the headcount did not include members of the press and organizers.
Hemmings added that the former governor told New Deal Democrats he couldn't make the event because "he had a flight to catch," and went on to say NDD were "pleased" that Patrick wanted to come to Morehouse College, describing the former governor as "truly inspiring."
Newsweek has attempted to contact representatives of Patrick for comment but did not receive a response by time of publication.
A Deval 2020 campaign notice seen by Boston.com reportedly said the candidate was also due to meet local student newspaper editorial board shortly before the televised primary debate Wednesday night.
The no-show at his Morehouse College event Wednesday night is the latest in a string of early blows to his primary campaign, which launched last Thursday.
In a fresh Morning Consult poll released Monday, it was revealed that the former Massachusetts governor had zero percent support among registered voters who said they may vote in Democratic primaries and caucuses beginning in February next year.
It also found that almost half of respondents had "never heard of" Patrick, making him the least recognized candidate in the field.