Deval Patrick Enters Primary Race With Zero Percent Support: Poll
Deval Patrick has entered the Democratic primary race with zero percent support among registered voters, a new poll has found.
The latest weekly survey of the primary field by Morning Consult revealed that the former Massachusetts governor had "no measurable support" among registered voters who said they may vote in Democratic primaries and caucuses following his campaign launch last Thursday.
Patrick was also found to be the least recognized candidate in the field, with almost half of surveyed voters (46 percent) saying they had "never heard of" him.
The next most unrecognized candidate, Oprah Winfrey's spiritual adviser Marianne Williamson, was still 8 points better off than Patrick, with 38 percent of those polled telling Morning Consult they didn't know who she was.
In another blow to the Patrick Deval 2020 campaign team, the former governor was also found to have the lowest favorability score in the latest Morning Consult poll, with just 16 percent of voters saying they took a favourable view of him.
Morning Consult's poll revealing that Patrick has zero percent support actually marks a downturn for the candidate, who registered 2 percent support in a CNN/SSRS survey published in October last year.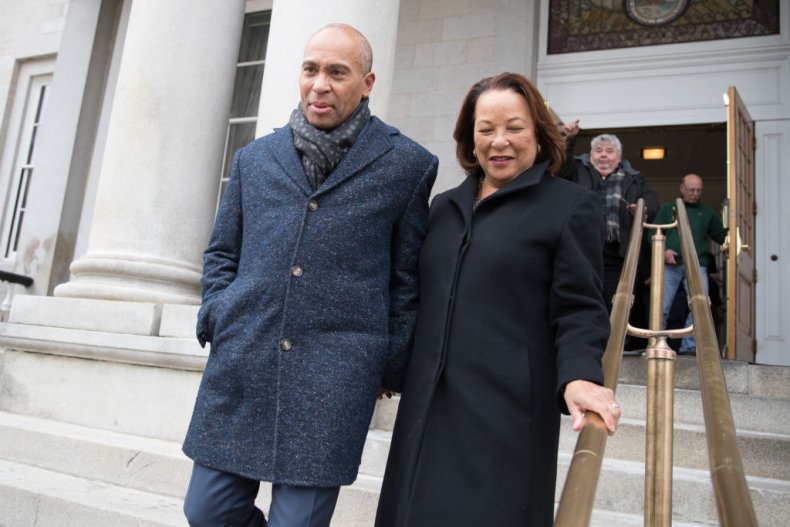 When Patrick unveiled his 2020 bid last week, his chances were met with heavy skepticism. Speaking to Newsweek, Democratic strategists suggested he had entered the race too late and faced an "uphill battle" if he hoped to become a frontrunner.
But there was a small bit of good news for Deval in the Morning Consult data—he does not have the highest unfavorable rating.
His fellow late entrant Michael Bloomberg, the billionaire and former New York City mayor, was viewed unfavorably by more than a quarter of Democrat-leaning voters. But the poll also found Bloomberg was liked by 33 percent of those surveyed.
Yet the billionaire's favorability rating did not translate well into overall voting intention, with Morning Consult showing that only 3 percent of registered voters surveyed would support him at primaries and caucuses.
At the other end of the Democratic primary race, Joe Biden registered a 12-point lead at the front of a crowded pack of primary candidates, with 32 percent of polled voters saying they'd vote for him.
Vermont Senator Bernie Sanders came in second place, polling at 20 percent, while Elizabeth Warren was found to be in a close third place on 17 percent.
Asked who they would opt for if their first choice candidate dropped out, almost a third of Sanders supporters said they would back Warren while 29 percent of the Massachusetts senator's backers told pollsters they would swing to Sanders if she dropped out.
The South Bend, Indiana Mayor Pete Buttigieg placed fourth afmong Democratic primary candidates in the Morning Consult poll, with 8 percent weighing in behind him.
Morning Consult surveyed 17,050 registered voters who said they may vote in Democratic primaries and caucuses for its latest poll, which the research firm says has a 1 percent margin of error.