What Does 'Devil's Triangle' and 'Boofed' Mean? Brett Kavanaugh Challenged Over Meaning of Yearbook Entries
Brett Kavanaugh's definitions of terms he used in his high school yearbook came under the microscope during his testimony before the Senate Judiciary Committee Thursday. Kavanaugh's use of the terms "devil's triangle" and "boofed" in his yearbook entry were questioned as part of probe into accusations by Dr. Christine Blasey Ford that he sexually assaulted her at a high school party in 1982.
According to Kavanaugh, the line "Have You Boofed Yet?" in his yearbook entry "refers to flatulence. We were 16," he responded when questioned as to the definition by Democratic Senator Sheldon Whitehouse.
Urban Dictionary, however, defines "boofed" as anal sex. New York Times reporter Maggie Haberman tweeted that the Urban Dictionary definition, not Kavanaugh's, was the one she recalled from attending high school in the 1980s.
Kavanaugh was also questioned about the appearance of the term "devil's triangle" on his yearbook page. The Supreme Court nominee said that it was a reference to a drinking game played with his friends. The Urban Dictionary definition, however, states that it refers to sexual intercourse involving two men and one woman.
After Kavanaugh stated his own meaning, the Wikipedia entry for the "devil's triangle" was updated to include a definition stating: "a popular drinking game enjoyed by friends of judge Brett Kavanaugh." The addition was made from an IP address from within the House of Representatives.
However, New York Times reporter David Enrich tweeted that interviews he and his colleague Kate Kelly conducted with Kavanaugh's Georgetown Prep classmates revealed that Kavanaugh's definitions of both "devil's triangle" and "boofed" were "not true."
Under questioning, Kavanaugh said his yearbook was a "disaster," adding that "some editors and students wanted the yearbook to be some combination of Animal House, Caddyshack, and Fast Times at Ridgemont High.
Speaking at a Senate Judiciary Hearing Friday, where members will vote on whether to approve Kavanaugh's nomination, Democratic Senator Sheldon Whitehouse said: "I don't believe 'boof' is flatulence and I don't believe 'the devil's triangle' is a drinking game."
Following Friday's hearing, after a request from Republican Senator Jeff Flake, a full vote on Kavanaugh's nomination was put on hold and the White House called or a supplementary FBI investigation. The probe is likely to include speaking to Kavanaugh's high school friend Mark Judge, who could shed light on the yearbook entries.
A classmate of Kavanaugh's at Yale University further called into question the nominee's claims about his drinking habits as a young man. Writing in a statement on Sunday, Chad Ludington said that, during the time he knew him, Kavanaugh was a "frequent drinker, and a heavy drinker" who was "often belligerent and aggressive" when under the influence of alcohol."
On Thursday, Ford appeared before the Senate Judiciary Committee and claimed that Kavanaugh held her down on a bed, groped her, tried to remove her clothes and held his hand over her mouth to prevent her from screaming. Ford said she feared Kavanaugh was going to rape her before she was able to escape.
In his response, Kavanaugh gave a furious denial, claiming the allegations were part of a Democratic conspiracy cooked up in response to President Donald Trump winning the 2016 election.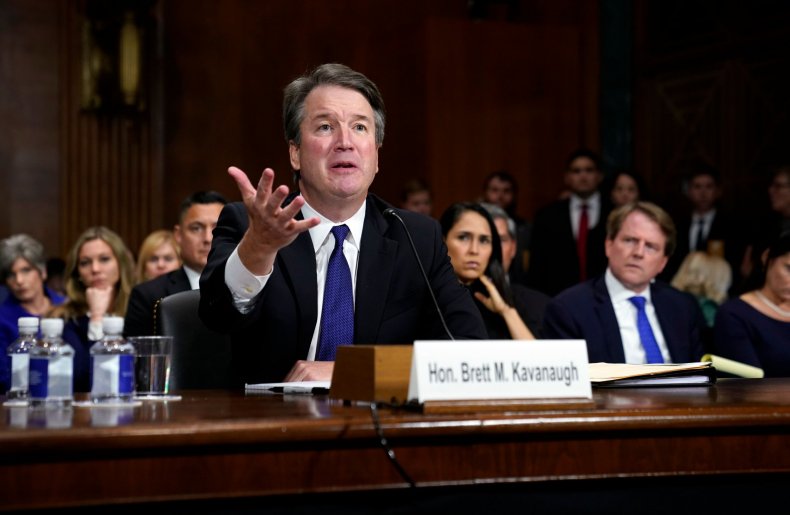 As the FBI investigation continued in the following week, one of Kavanaugh's former classmates said that the nominee has absolutely misrepresented the meaning of the term "devil's triangle."
"I was shocked when I heard that,"Jamie Roche told CNN on October 3. "Those words were commonly used, and they were references to sexual activities. If you think about the context in which you might hear those words, the way that he described them and the way that they are defined, they are not interchangeable. I heard them talk about it regularly."
Update (09/28/18): This story was updated to include comments from Senator Sheldon Whitehouse Friday. It was further updated to include details about a supplementary FBI investigation being requested.
Update (10/01/18): The article was updated to include a written statement from one of Kavanaugh's Yale classmates, Chad Ludington.
Update (10/04/18): The article was updated to include comments from one of Brett Kavanaugh's former classmates.