Phoenix Suns star Devin Booker revealed that the late Kobe Bryant has been his inspiration during the Suns' run to the NBA Finals.
The two-time All-Star has never hidden his admiration for the Los Angeles Lakers great, whose life was tragically cut short in January 2020 when he died in a helicopter crash along with his 13-year-old daughter, Gianna, and eight other people just outside Los Angeles.
Booker has a tattoo on his arm that reads "Be Legendary." It was inspired by a message Bryant wrote on the Suns guard's shoes after a game in 2016, which was both Booker's rookie season and Bryant's final campaign in the NBA.
Booker has emerged as one of the NBA's biggest stars over the last two seasons and has played a pivotal role in Phoenix reaching the NBA Finals for the first time since 1993.
Speaking to ESPN's Malika Andrews ahead of Game Two against the Milwaukee Bucks, however, Booker suggested Bryant would have urged him to ignore personal praise until the Suns had secured a maiden NBA title.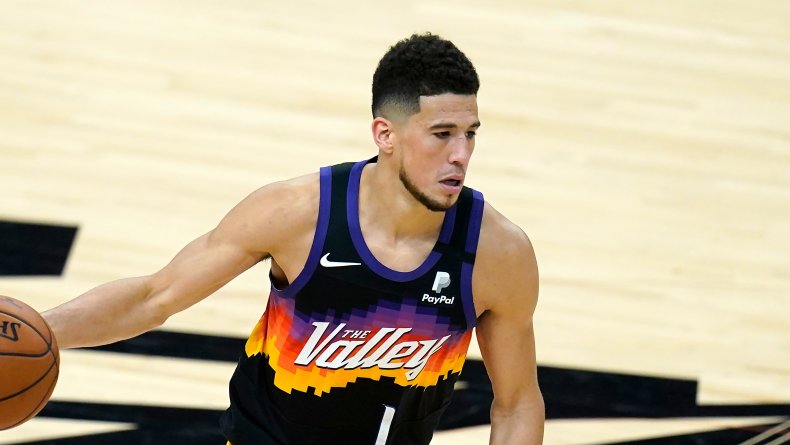 "Finish the job. That's what [Kobe would] tell me,"
"I know that right now. He'd say get it done and that's what we're trying to do."
Booker acknowledged Bryant was a near-constant presence in his mind and that the latter's famous Mamba mentality extended far beyond basketball's traditional boundaries.
"I've reflected on it mostly my whole childhood and my whole career honestly," Booker said. "Just taking bits and pieces of the approach, the mentality, the competitive nature of it.
"Everybody feels that. You don't have to be a basketball player to understand what Kobe has done for people's mindset and approach to the game. That's probably what I'll take most from him."
Booker and the Suns moved a step closer to the NBA title on Thursday night, defeating the Bucks 118-108 at home to take a two-game lead in the series. Booker was Phoenix's top scorer on the night, finishing with 31 points in 44 minutes and adding six assists and five rebounds.
The 24-year-old was a constant threat from distance, going 7-of-12 from behind the arc as the Suns converted half of their 40 attempted three-pointers.
Booker's performance earned him praise from former Houston Rockets and New York Knicks head coach Jeff Van Gundy, who was serving in his customary role as analyst along Mark Jackson and Mike Breen on ABC's broadcast of the Finals.
Breen called Booker a "great scorer" and noted his "toughness and his competitiveness." Van Gundy echoed the stance, albeit with an interesting choice of words.
"He's got an edge to him," Van Gundy said. "He looks like a choir boy, but plays like a hoodlum."
Booker is averaging 27 points, 6.2 rebounds and 4.8 assists per game in 17 playoffs games this year and has now scored 490 points in the postseason, the second-highest tally for a player in his first playoffs appearance since Rick Barry scored 521 in 1967.
The series now moves to Milwaukee, with Game 3 scheduled for 8 p.m. ET on Sunday, July 11, and Game 4 to be played at 9 p.m. ET on Wednesday, July 14.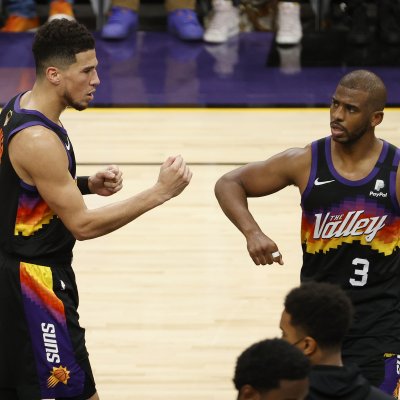 Uncommon Knowledge
Newsweek is committed to challenging conventional wisdom and finding connections in the search for common ground.
Newsweek is committed to challenging conventional wisdom and finding connections in the search for common ground.
About the writer
Dan Cancian is currently a reporter for Newsweek based in London, England. Prior to joining Newsweek in January 2018, he was a news and business reporter at International Business Times UK. Dan has also written for The Guardian and The Observer.