Devin Nunes Says California School Closures Are 'Way Overkill' Amid Coronavirus Pandemic
Rep. Devin Nunes said on Tuesday night it was "way overkill" for California to cancel school amid the COVID-19 pandemic, and called for the U.S. to "figure out a way to get back to work."
The California Republican told Fox News host Laura Ingraham that children in the state "could have went back to school in two weeks," and added that he didn't believe the country could wait until the end of April before returning to work. A letter sent to county officials by the California superintendent on Tuesday warned that schools wouldn't be able to reopen before the end of the school year with ongoing social distancing measures, The San Francisco Chronicle reported.
"The schools were just cancelled out here in California, which is way overkill," Nunes told The Ingraham Angle. "I mean it's possible the kids could have went back to school in two weeks, four weeks. But they just cancelled the rest of the schools."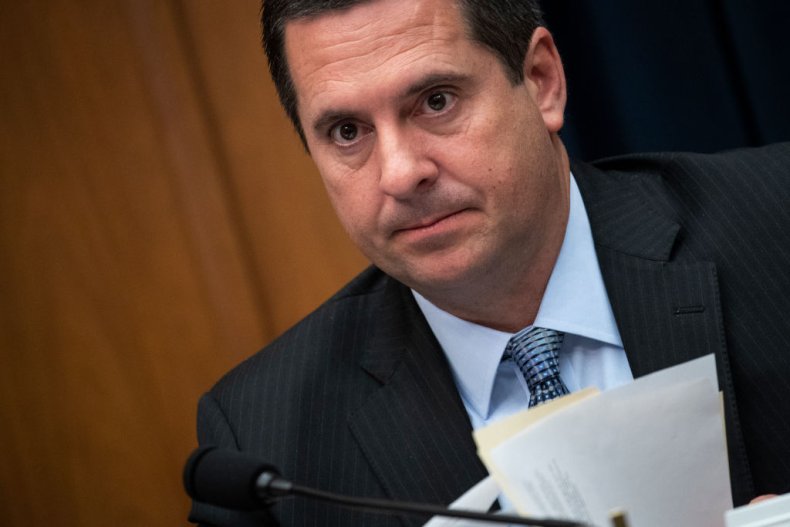 The California representative went on to say that he was "optimistic" going forward, adding, "Look how quickly we're able to get this improved, this new malaria drug that you've been talking about every night. There's a lot of optimism here that we have in some of these drugs that have been coming online."
Ingraham and other top Fox News hosts mentioned the antimalarial drugs chloroquine and hydroxychloroquine more than 100 times over three days last week, according to Media Matters analysis.
President Donald Trump touted the latter drug as a "game changer" in the battle against COVID-19, but Dr. Fauci, the leading infectious disease expert on his coronavirus task force, told Ingraham there was only "anecdotal" evidence of it treating the disease.
Nunes went on to stress the importance of keeping Americans employed after the Department of Labor released record-breaking jobless claims numbers last week.
The Labor Department revealed that 3.3 million initial claims had been made for unemployment benefits in the week ending March 21 as COVID-19 closures impacted businesses.
"If we don't start to get people back to work in this country over the next week to two weeks, I don't believe we can wait until the end of April," Nunes said. "I just don't know of any economy that's ever survived where you unplug the entire economy and expect things to go back and be normal.
"The more tests that are out there, the more people that are getting testing, let's learn about the treatments," he said, "let's get good data as to who's being impacted and let's figure out a way to get back to work."
Newsweek has contacted Rep. Nunes' office for further comment and will update this article with any response.
The California Republican called for America find a way back to work before the end of April just days after President Trump extended social distancing guidelines through April 30.
At a press briefing on the coronavirus pandemic, the commander-in-chief told reporters that he expected the death toll to spike over the next two weeks before the country entered recovery at the start of June.
"The peak for death rates is likely to hit in two weeks," he said. "Nothing would be worse than declaring victory before victory is won."