Dr. Fauci Says Coronavirus Outbreak Could 'Go Into Another Season'
National Institute of Allergies and Infectious Diseases (NIAID) Director Dr. Anthony Fauci said it is possible that the COVID-19 outbreak "may go into another season" and potentially bring the world closer to developing a vaccine.
The member of President Donald Trump's coronavirus task force told Laura Ingraham on Fox News Tuesday night that it would be "quite a while" before a novel coronavirus vaccine was available, but sounded optimistic about its development.
Fauci also said he would take an existing drug to test its effectiveness in treating COVID-19, but only as part of a clinical trial.
Speaking to Dr. Fauci about hydroxychloroquine, a malaria drug President Trump called a "game changer" in the battle against the coronavirus outbreak, Ingraham asked: "Heaven forbid something happened to you, you got a positive coronavirus test and you fell ill, would you feel comfortable taking one of these new anti-virals such as hydroxychloroquine?"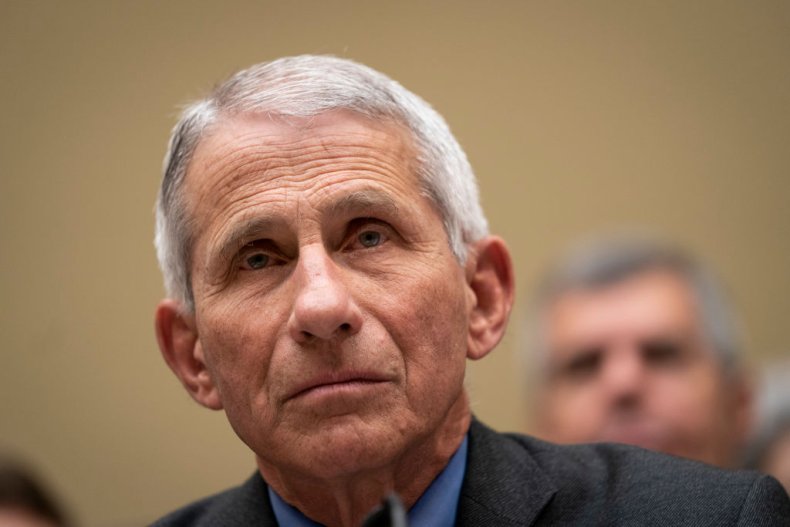 The expert on the spread of infectious diseases said he would take the drug as a part of a clinical trial.
"I'm not so sure Laura, just to clarify, that I would necessarily take one of those drugs," Dr. Fauci later added. "I would take a drug that was on a clinical trial. Some of those drugs that you're mentioning are available within the context of a clinical trial."
He added that the same drugs could be received from a physician for other purposes not related to the novel coronavirus, such as malaria and autoimmune diseases.
"But myself, personally I like to get some knowledge out of it," Fauci said. "So if I had a situation where I needed a drug, I would look around if there was a clinical trial that would give me access within the contours of a clinical trial."
The leading expert on the spread of infectious disease has previously cautioned that there is only "anecdotal" information on hydroxychloroquine being a treatment for the novel coronavirus.
Asked what hope he could give viewers as COVID-19 continued its spread across the United States, the NIAID director told viewers to "hang on" as best as they could and follow the guidelines set out by federal government.
"I told you some time ago that a vaccine is being developed, it still will be quite a while before we have it," Dr. Fauci added. "But it is conceivable that this may go into another season, and if it does it will bring us that much closer to the possibility of having not only drugs available, but also a vaccine."
Newsweek has contacted the NIAID for further comment, and will update this article with any response.
Dr. Fauci's remarks on The Ingraham Angle came hours after President Trump said he wanted America to be "opened up and raring to go" by Easter.
"Our country is not built to shut down, our people are full of vim and vigor and energy, they don't want to be locked into a house or apartment or some space," Trump said at a Fox News coronavirus town hall. "We're not built that way."
Novel coronavirus cases in the U.S. have spiked over recent week, with more than 55,000 confirmed cases recorded across the country thus far, according to Johns Hopkins University's COVID-19 tracker. A total of 802 deaths resulting from the virus have also been reported in America, along with 354 cases of total recovery.
World Health Organization advice for avoiding spread of coronavirus disease (COVID-19)
Hygiene advice:
Clean hands frequently with soap and water, or alcohol-based hand rub.
Wash hands after coughing or sneezing; when caring for the sick; before, during and after food preparation; before eating; after using the toilet; when hands are visibly dirty; and after handling animals or waste.
Maintain at least 1 meter (3 feet) distance from anyone who is coughing or sneezing.Avoid touching your hands, nose and mouth. Do not spit in public.
Cover your mouth and nose with a tissue or bent elbow when coughing or sneezing. Discard the tissue immediately and clean your hands.
Medical advice
If you feel unwell (fever, cough, difficulty breathing) seek medical care early and call local health authorities in advance.
Stay up to date on COVID-19 developments issued by health authorities and follow their guidance.
Mask usage
Healthy individuals only need to wear a mask if taking care of a sick person.
Wear a mask if you are coughing or sneezing. Masks are effective when used in combination with frequent hand cleaning.
Do not touch the mask while wearing it. Clean hands if you touch the mask.
Learn how to properly put on, remove and dispose of masks. Clean hands after disposing of the mask.
Do not reuse single-use masks.