Devin Nunes Threatens to Impeach DOJ's Rod Rosenstein and FBI's Chris Wray
Updated | The top Republican on the House Intelligence Committee says he is prepared to impeach the head of the FBI and Deputy Attorney General if he doesn't get a two-page document he says prompted the Russia investigation.
"Just the fact that they're not giving this to us tells me there's something wrong here," California Republican Representative Devin Nunes told Fox News host Laura Ingraham on the The Ingraham Angle Tuesday night.
"I can tell you that we're not just going to hold in contempt, we will have a plan to hold in contempt and to impeach," Nunes told Ingraham, who asked what his committee would do to FBI Director Christopher Wray and Deputy Attorney General Rod Rosenstein if they don't bow to his demand.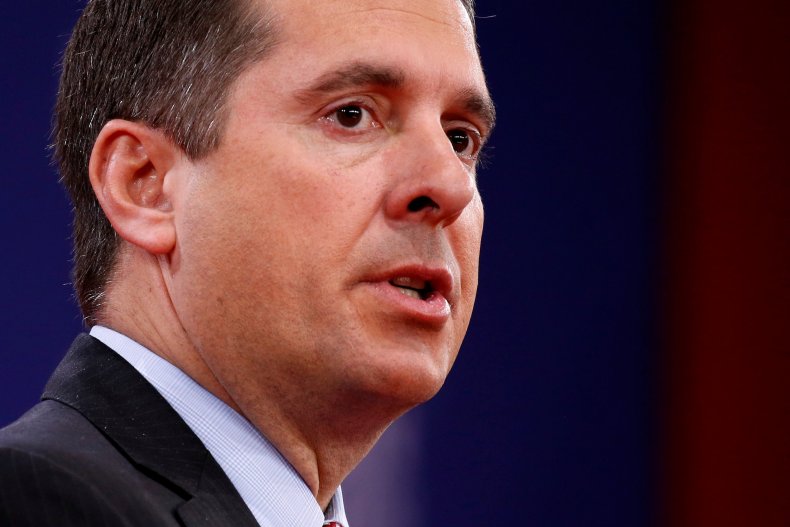 The chairman of the House Intelligence Committee has been seeking an unredacted version of the document, which marked the beginning and formal basis of the FBI's investigation of the Trump campaign on allegations it aided Russia's interference in the 2016 election.
Last August Nunes's committee subpoenaed the FBI and Justice Department for documents about the investigation and a dossier compiled by former British spy Christopher Steele. The dossier contains explosive allegations that the Kremlin has compromising information on President Donald Trump that could be used to blackmail him.
Nunes and other Republicans have argued the unverified dossier was the spark that eventually led to the appointment of special counsel Robert Mueller, whose investigation has resulted in the indictment of several of Trump's close aides and former officials.
Related: "Total witch hunt": Trump vents fury at FBI raid of his attorney Michael Cohen's office
In December, The New York Times reported that it was Trump campaign foreign policy advisor George Papadopoulos—who told an Australian diplomat in May 2016 that he was informed Russia had thousands of emails damaging to candidate Hillary Clinton—that prompted American law enforcement to investigate.
Papadopoulos has pleaded guilty to an indictment by the probe for lying to investigators and is now cooperating with Mueller. In the indictment, Mueller states Papadopoulos was told about the emails by a Kremlin connected academic in March 2016 and that the two attempted to arrange a meeting between Trump and Russian President Vladimir Putin.
In early 2017 American intelligence agencies issued a report that found Moscow hacked U.S. political parties and conducted a misinformation campaign to influence the election in Trump's favor.
So far the FBI and DOJ have rebuffed Nunes demands for an unredacted version of the two-page document. In a letter to Nunes early this month, Assistant Attorney General Stephen Boyd wrote his department is working in a "manner consistent with relevant legal precedents." The two top lawmakers on the committee, Boyd wrote, have been given "numerous in-camera reviews of classified materials."
"We're at a boiling point where we need this two-page document," Nunes told Ingraham Tuesday.
Democratic Representative Ted Lieu wrote on Twitter Tuesday that Nunes's interview with Ingraham demonstrates how "continual attacks by some extreme Republicans on law enforcement are becoming shameful and wildly out of touch with reality."
Early this year Nunes ignited controversy when, against the wishes of the FBI, Republicans released an intelligence memo they said showed the FBI improperly spied on former Trump campaign foreign policy adviser Carter Page. The FBI said in a statement it had "grave concerns about material omissions of fact that fundamentally impact the memo's accuracy." Some Republicans on the committee also argued the memo did not vindicate Trump.
"We are going to get the document," Nunes said Tuesday, indicating he will move to impeach Rosenstein, who is overseeing the Mueller investigation, and Wray if it isn't delivered.
Early Wednesday Trump attacked Rosenstein by name on Twitter, calling him conflicted and blaming him for authorizing the extension of a foreign intelligence surveillance warrant against Page as part of the Russia investigation. The Associated Press reports Trump has privately considered firing Rosenstein in recent days.
"We are going to get the two pages," Nunes told Ingraham. "So they can either cough them up now or it will get really complicating starting tomorrow night, and we'll have to take all the necessary steps to get the documents."
This story has been updated to include background on President Donald Trump and Deputy Attorney General Rod Rosenstein​.