Who is Devon Archer? 'Ukraine Gas Exec' in Donald Trump's Nickelback 'Look at this Photograph' Meme
A Nickelback meme tweeted by President Donald Trump and shared widely on social media used a photograph featuring former vice president and Democratic 2020 hopeful Joe Biden and his son Hunter golfing with Devon Archer, who is labeled as "Ukraine gas exec." The meme (which has been removed on copyright grounds) is seemingly intended to highlight the business links between the Bidens and Ukraine.
Trump has been maintaining a Twitter offensive railing against the impeachment inquiry launched over his phone call with Ukraine President Volodymyr Zelensky. According to a transcript summary provided by the White House, during the phone call Trump appeared to ask Zelensky to investigate rival Joe Biden over allegations that the Democratic candidate worked to squash a corruption investigation into the Ukraine business dealings of Hunter Biden.
While no explicit quid pro quo was communicated, Trump had referenced the amount of aid Ukraine received from the U.S., and days before the call had ordered nearly $400 million of aid to be witheld from Ukraine, The Washington Post reported.
The photograph of the trio posing on the golf course—alongside a fourth unidentified man—dates back to 2014, when the elder Biden was still vice president, The Hill reported. The image was thrust into the media limelight by Fox News host Tucker Carlson on September 30, who held it up as a counter to Joe Biden's claim that he and Hunter Biden never discussed his son's Ukraine business dealings.
The "Ukraine gas exec" pictured in the meme, Devon Archer, is an American businessman who sat on the board of Ukrainian-based private oil gas company, Burisma Holdings Ltd, alongside Hunter Biden. Archer joined the firm shortly before Biden, his long-term business partner, Vox reported.
Archer and the younger Biden were managing partners at Rosemont Seneca Partners. Archer was also co-founder of private-equity firm Rosemont Capital with Christopher Heinz, his college roommate at Yale University. He had served as senior adviser to Heinz's stepfather, Democratic Senator John Kerry Kerry, during his 2004 presidential bid.
In 2018, Archer was implicated in a legal case that involved defrauding a Native American tribe and multiple pension funds. His conviction was overturned when a judge was "left with an unwavering concern that Archer is innocent of the crimes charged," Reuters reported in November 2018.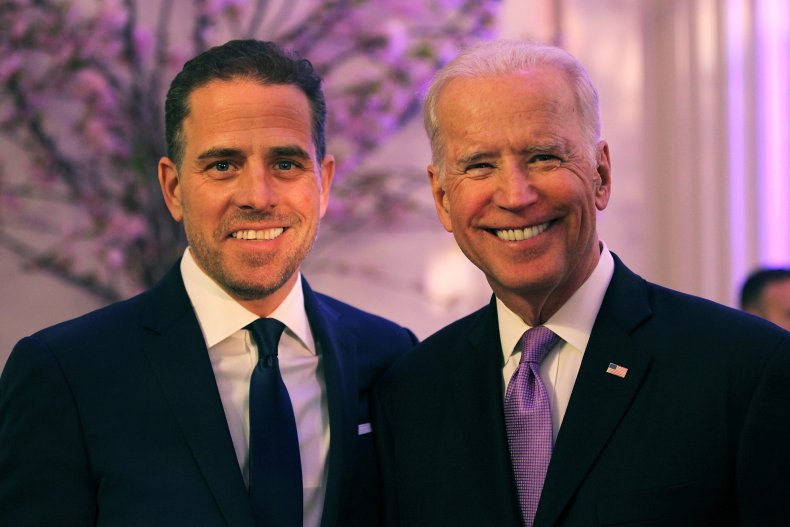 Hunter Biden left Burisma's board earlier this year after his father announced his run for the Democratic nomination for president. His decision to join the company in 2014 when Joe Biden served as VP did raise eyebrows but was not pursued as a conflict of interest.
Melanie Sloan, executive director of Citizens for Responsibility and Ethics in Washington, told Reuters at the time: "It can't be that because your dad is the vice president, you can't do anything."
A spokesperson for Joe Biden told The Washington Post at the time: "Hunter Biden is a private citizen and a lawyer. The vice president does not endorse any particular company and has no involvement with this company."
Both Biden and his son deny any wrongdoing.
Joe Biden's position as the Democratic candidate front-runner is being hotly contested by Elizabeth Warren, who came top of a recent YouGov poll. Warren was ahead with 26 percent versus Biden's 22 percent. The majority of polls at time of writing, however, still have Biden leading.