DHS' Alejandro Mayorkas Defends Kamala Harris' Border Trip to El Paso Over Crisis Areas
Secretary of Homeland Security Alejandro Mayorkas is defending the vice president's border trip to El Paso over other crisis areas in Texas such as Rio Grande Valley (RVG) or Fort Bliss, which have borne the brunt of the unprecedented number of Central American migrants in recent months.
"It was my recommendation to visit El Paso," Mayorkas told CBS on Monday. "El Paso is actually one of the busiest of the nine sectors across the southwest border and it also provides the opportunity to see the full expanse of our work."
"Not only [is there] a central processing center, where we encounter migrants, bring them to shelter for transfer to Health and Human Services, but we also were able to visit the port, where we propel lawful trade and travel through that port of entry," Mayorkas said.
Vice President Kamala Harris, accompanied by Mayorkas, made a long-awaited trip to the southern border this past Friday to address migration. There had been growing calls for Harris to visit the border patrol facilities that have become overwhelmed by the number of unaccompanied migrant youths.
But Harris' trip faced bipartisan criticisms for visiting El Paso instead of the lower RVG where most migrants make the actual border crossing and which has become the epicenter of the surge.
According to the latest figures from U.S. Customs and Border Protection (CBP), RVG saw more than double the number of migrant encounters as El Paso did in May. CBP reported over 50,000 encounters in RVG and over 22,000 encounters in El Paso last month.
Analyzing year-to-date figures, RVG accounted for 30 percent of border encounters since October 2020—the most of any area in the southwest—compared to El Paso which saw nearly 13 percent of encounters—the fourth busiest behind Tucson and Del Rio.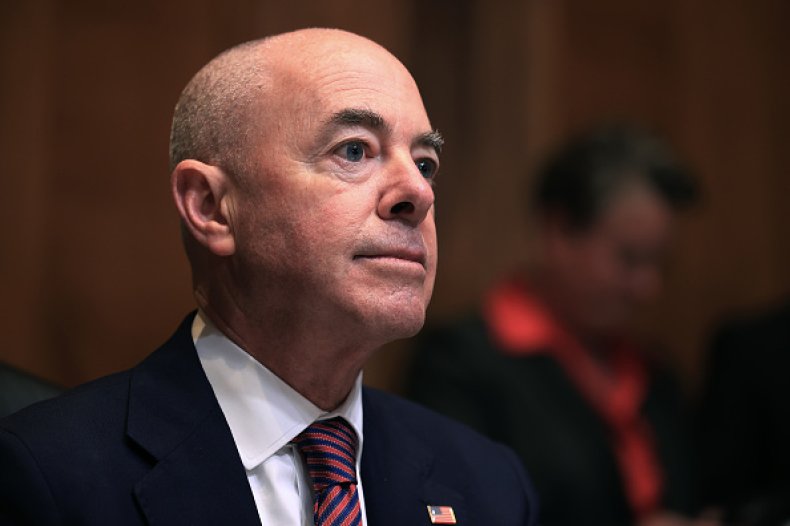 During Harris' trip, the vice president noted that "It is here in El Paso that the previous administration's child separation policy was implemented."
But she also faced criticisms for not visiting Fort Bliss, just 10 miles from El Paso, where hundreds of unaccompanied children are being held.
The record number of migrant youths has presented a new challenge for the Biden administration, who has vowed not to deport unaccompanied children but transfer them into Human and Health Services' custody while their asylum cases are pending. And while the administration has promised to take a more humane approach, overwhelmed facilities and agents has resulted in children being held beyond the 72-hour federal limit in difficult living conditions.
The Biden administration is set to investigate particular conditions faced by the children held at Fort Bliss. It has been reported that the migrant youths at the emergency housing site have been constantly monitored for self-harm, escape attempts and panic attacks.
When asked why they left Fort Bliss off the trip itinerary, Mayorkas replied, "We had quite a bit to see and we were able to meet with the CBP, the Customs and Border Protection personnel, both in the central processing center and in the port of entry."
"The vice president was able to meet with migrant children and understand why they fled their home in desperation," Mayorkas said. "She was also able to meet with community members to understand what they have been learning from the migrants who fled the Northern Triangle countries of Guatemala, Honduras and El Salvador."
In response to the growing concern of the situation at Fort Bliss, the Biden administration announced that Health and Human Services Secretary Xavier Becerra would travel there on Monday.