DHS Officer Tells Women They Can't Hand Out Water to People in Florida ICE Center Line: Video
A video shows a Department of Homeland Security (DHS) officer forbidding women from handing out bottled water to people standing in line at an Immigration and Customs Enforcement (ICE) facility in Miramar, Florida.
The confrontation occurred at the city's ICE Office of Enforcement and Removal Operations (ICE-ERO) Center. In the video, the officer approached a masked woman who was carrying a large insulated bag filled with cold bottled water. He stopped her from giving water to the people standing in line on the sidewalk near the lawn.
"This is federal property," the officer told the women. "You cannot come over here and pass out any water, even on the grass.... Ma'am, this is going to be pretty simple. You're going to be hit for trespassing. Because it's federal property. You guys are not authorized, the permission to be here to pass out any goods."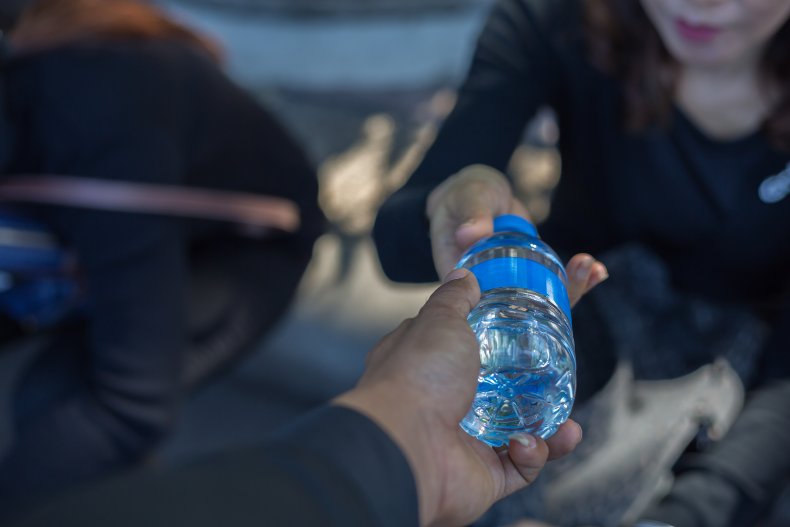 The officer told the women to stand in a "First Amendment area," a designated zone for free speech, further away from the line. He said that if any people in line wanted water, they could walk over to the women and get the water themselves.
One woman explained to the officer that it was a hot day. Local temperatures had reached highs in the mid-80s this week, with high humidity making temperatures feel even hotter.
"You're doing a great job keeping people from getting cold water," the masked woman sarcastically tells the officer just before the video's end.
"Thank you, ma'am," he responded. "I appreciate what you are trying to do, but you still have to follow the rules."
Thomas Kennedy, Florida state coordinator of United We Dream, an immigrant youth-led network, re-posted the video on Twitter. He wrote that the women had been handing water "to people waiting for hours under the Florida summer heat."
"Next week, I'll be passing out water and if these fascists want to make the arrest, we will see them in court," he continued.
The masked woman wore a T-shirt that read, "End immigrant detention, Immigrant Action Alliance." Immigrant Action Alliance is a local non-profit organization that advocates for local immigrants and people in immigrant detention centers throughout south Florida.
By the evening of Thursday, June 24, Immigrant Action Alliance had re-posted the video of the encounter three times on its Twitter account. Twitter commenters said the video reminded them of a recently passed Georgia law that made it a crime to give free water to voters standing in line for hours.
Newsweek contacted ICE and DHS for comment.
Correction 06/25/2021, 12:35 p.m. ET: In an earlier version of this story, part of a quote from an exchange between the masked woman and a government agent was left out, changing the nature of the exchange. The full quote has been restored.