DHS to Ramp Up Deportation of Haitians in Texas Amid Migration Surge
The Department of Homeland Security (DHS) announced a plan on Saturday to ramp up deportation flights from Del Rio, Texas, to Haiti following reports that thousands of migrants have assembled under a bridge in the small border city.
The federal department said that it's preparing additional transportation to quicken the pace and increase the capacity of removal flights to Haiti and other destinations within the next several days.
"The Biden Administration has reiterated that our borders are not open, and people should not make the dangerous journey. Individuals and families are subject to border restrictions, including expulsion. Irregular migration poses a significant threat to the health and welfare of border communities and to the lives of migrants themselves, and should not be attempted," the DHS said in a statement Saturday.
As of Saturday, there are 14,353 migrants—primarily from Haiti—under the Del Rio International Bridge waiting to be processed by immigration authorities, CNN reported. The migrants crossed the Rio Grande in huge groups, and many have assembled cave-like shelters along the banks of the river. Some families have been there for as long as six days and have been living in the temporary camps under cramped, unsanitary conditions.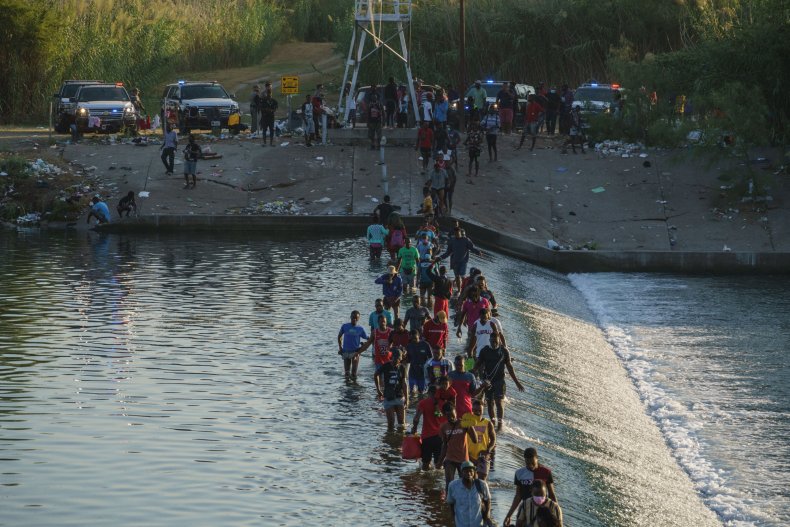 Haitians have been migrating to the U.S. in large numbers from South America for several years, but the latest surge comes after Haiti was thrown into further political and environmental turmoil this summer. A month after Haiti's prime minister was assassinated in July, the country was rocked by a 7.2 magnitude earthquake that killed nearly 2,000 people and left tens of thousands homeless.
It is unclear how the thousands of migrants gathered so quickly in Del Rio, though authorities have said that many Haitians had been camping along the U.S.-Mexico border ahead of the surge. On Saturday, the DHS outlined additional steps to address the influx of migration, which includes sending 400 border patrol agents to the area within the next 24-48 hours.
DHS said Border Patrol is also coordinating with Immigration and Customs Enforcement and the U.S. Coast Guard to move migrants from Del Rio to other processing locations, including around 2,000 Friday. The department also said it is undertaking "urgent humanitarian actions" to reduce crowding and improve conditions for migrants as they wait to be processed.
"The majority of migrants continue to be expelled under CDC's Title 42 authority. Those who cannot be expelled under Title 42 and do not have a legal basis to remain will be placed in expedited removal proceedings," the department said in a statement.
DHS said will conduct the removal flights to Haiti, Mexico, Ecuador and Northern Triangle countries.
The number of Haitians arriving at the southern border has significantly increased over the past year. In August, U.S. Customs and Border Protection encountered 7,580 Haitians, a figure that has increased every month since August 2020, when they stopped only 55.