DHS Rejects Claims Haitian Migrants at Border Will Be Sent to Guantánamo
The Department of Homeland Security (DHS) has said Haitian migrants at the southern U.S. border will not be sent to Guantánamo Bay after a request for bids to run a holding center at the U.S. naval base in Cuba caused confusion.
An advertisement for a new contract to run a migrant detention facility at the base where high-value detainees are kept, raised eyebrows when it called for guards to speak Haitian Creole, as well as Spanish.
The Biden administration has started to move thousands of migrants, many of whom are of Haitian origin, from a makeshift encampment under a bridge in Del Rio, Texas.
Meanwhile, the DHS is investigating claims of aggressive behavior by horse-mounted Border Patrol guards in dealing with Haitian migrants at the southern border after widely circulated images caused outrage.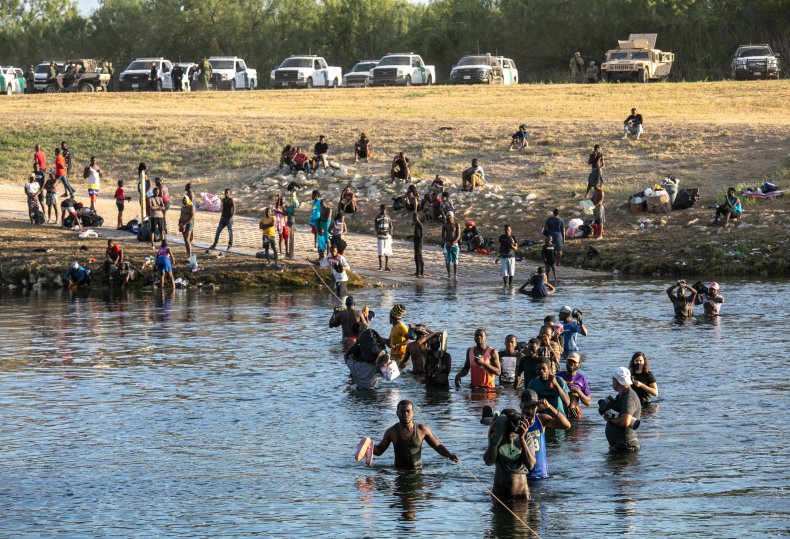 Within this context, the contract solicitation for Guantánamo sparked concerns.
It advertised for a service provider to "maintain on site equipment" needed for temporary housing facilities "for populations that exceed 120 and up to 400 migrants in a surge event." The advertisement does not say the Biden administration was looking to transfer migrants from the southern border to Guantánamo Bay.
But Representative Alexandria Ocasio-Cortez tweeted Wednesday the NBC article, of which the Twitter headline read "Biden admin seeks contractor to run migrant detention facility at Gitmo [Guantánamo Bay detention camp]," with the comment "utterly shameful," while fellow progressive lawmaker Ilhan Omar called it an "embarrassingly bad decision."
However, DHS spokeswoman Marsha Espinosa said that the advertisement had nothing to do with the crisis at the border.
"@DHSgov is not and will not send Haitian nationals being encountered at the southwest border to the Migrant Operations Center (MOC) in Guantanamo Bay," she tweeted.
Guantánamo may be known for its status as a military prison but it has also been used as an immigrant holding facility for Haitian refugees picked up at sea.
"The MOC has been used for decades to process migrants interdicted at sea for third-country resettlement," Espinosa said in a follow-up statement.
"The request for information (RFI) recently posted is a typical, routine first step in a contract renewal, and unrelated to the Southwest Border," she added.
When contacted for further comment, a DHS spokesperson referred Newsweek to Espinosa's statement, saying that the contract was initially awarded in 2002 with the current term ending on May 31, 2022.
"Migrants awaiting resettlement who are not in ICE (Immigration and Customs Enforcement) custody at the MOC are neither detained nor imprisoned and are free at any time to return to their country of origin," the statement added.
Meanwhile, the Associated Press reported that migrants would be released into the U.S. "on a very, very large scale" where they would be processed at their final destinations in the coming days, which is at odds with the Biden administration's statements that those in the camp faced expulsion.
Citing an unnamed official, the AP said that many migrants released with notices will simply be required to appear at an immigration office within 60 days.
UPDATE 9/23/21 10:04 a.m. ET: The article has been updated to include a DHS statement.