DHS Spending Bill Amended to Ban Funding for ICE's Citizen's Academy
The House Appropriations Committee has added an amendment to its 2021 Homeland Security spending bill barring DHS agencies from using government funds to run "Citizens Academy" courses, including a new course planned by the Immigration and Customs Enforcement agency's Enforcement and Removal Operations unit.
In an amendment put forward by Rep. Mike Quigley (D-IL) the House Appropriations Committee asserted that "none of the amounts appropriated or otherwise made available" by the bill to ICE's ERO unit "may be made available to operate a citizen academy program."
In remarks on the amendment, Homeland Security Subcommittee Chairwoman Rep. Lucille Roybal-Allard (D-CA) said that "without additional information and a full plan, including the impact on resources, the curriculum and course content, and what activities students will be engaged in, I cannot support this program.
"Initiating new pilot programs such as this should first be discussed with Congress and it should be made clear what the course completion certification for this program would mean for participants," Roybal-Allard said. "I also have concerns about whether the information that will be conveyed will be appropriately balanced."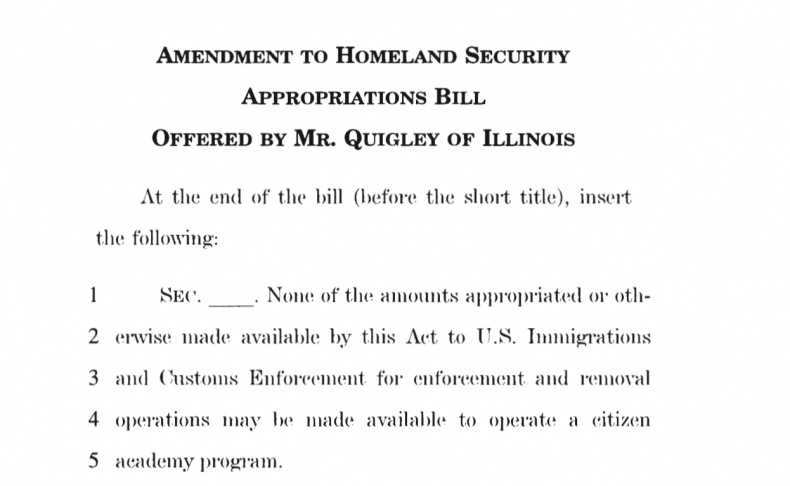 The decision comes days after ICE began to face scrutiny over plans to pilot a "Citizens Academy" led by its ERO unit, which oversees immigration arrests and deportations across the country, in Chicago this September.
Plans for the new program, which were reported on by Newsweek, were initially revealed after a letter signed by ICE Chicago Field Office Director Robert Guadian inviting stakeholders to participate in the program was published online.
Included in the program's training, Guadian said, would be "scenario-based training and exercises [on] defensive tactics, firearms familiarization and targeted arrests."
In a statement sent to Newsweek, ICE spokesperson Nicole Alberico said that the goal of the academy had been to "demonstrate to the public what sworn federal law enforcement officers do on a daily basis." It was not, Alberico said, to train citizens in immigration enforcement.
Further, Alberico pointed out, the program would be far from the first Citizens Academy to be launched by ICE, with such courses first being piloted by the agency in 2012, under the Obama administration. However, this would be the first course, the ICE spokesperson noted, to focus specifically on the agency's ERO unit.
However, lawmakers and human rights advocates questioned why citizens would require the "scenario-based training" described by Guadian.
Speaking with Newsweek earlier this week, Madhuri Grewal, who serves as federal immigration policy counsel at the American Civil Liberties Union, said she was concerned the program could further promote the "militarization of our streets and dangerous racial profiling."
Grewal further questioned why the program would be launched now, in the midst of protests over racial injustice and in the middle of a pandemic.
"Looking at the bigger context here, why on earth is this happening right now? Why on earth is it that ICE has decided they need to do some PR right now?" Grewal asked.
For Grewal, who had been calling on lawmakers to take action to bar ICE from using government funds to operate its Citizens Academies, the House Appropriation Committee's decision will come as welcome news.
However, Grewal had said she believes that all Citizens Academies operated by the DHS should be defunded, not just ICE's ERO program.
Sen. Jeff Merkley (D-OR) had also expressed concerns over the DHS's Citizen Academy programming ahead of the House Appropriations Commitee's decision on Wednesday.
Speaking with Newsweek, Merkley had also called for the programming to be defunded, asserting that he too was worried the ERO program would "encourage profiling and vigilante operations and extenuate the divisions that we have in America."
"The last thing we need is to increase the...divisiveness, the racial prejudice and the profiling that's already a big challenge we're facing as a nation," he said.
Newsweek has contacted ICE and the DHS for comment.