Diamond and Silk Say Joe Biden Is Not President, 'White House Looked Clearly Empty'
Newsmax hosts Diamond and Silk have claimed that the White House is "clearly empty" while suggesting that someone other than President Joe Biden is in charge of the government's executive branch.
Lynnette "Diamond" Hardaway and Rochelle "Silk" Richardson, sisters best known for their outspoken support of former President Donald Trump, made the remarks during a recent interview with former Trump lawyer Jenna Ellis on the conservative network Real America's Voice.
Although the duo did not indicate who they believed was currently in charge at the White House, they insisted that something suspicious was "going on" because they did not see Secret Service snipers on top of the building while viewing a live stream.
"Who is running this country?" Hardaway asked as Richardson repeated "who" and nodded in agreement, in a clip surfaced on Monday by Right Wing Watch, a project of the progressive group People for The American Way.
"Because when I looked up there on that White House earth cam, I don't see no snipers on the White House and the White House looked clearly empty to me," continued Hardaway, with Ellis signaling her agreement by saying "absolutely."
"And I'm wondering about some things... Something is going on up under our noses," Hardaway concluded.
Biden has lived and worked at the White House since his inauguration on January 20. Although armed members of the Secret Service protect Biden and are present at the building, including snipers on the roof, it is not clear that they would be visible at all times on a live stream.
Newsweek reached out to the White House and the Secret Service for comment.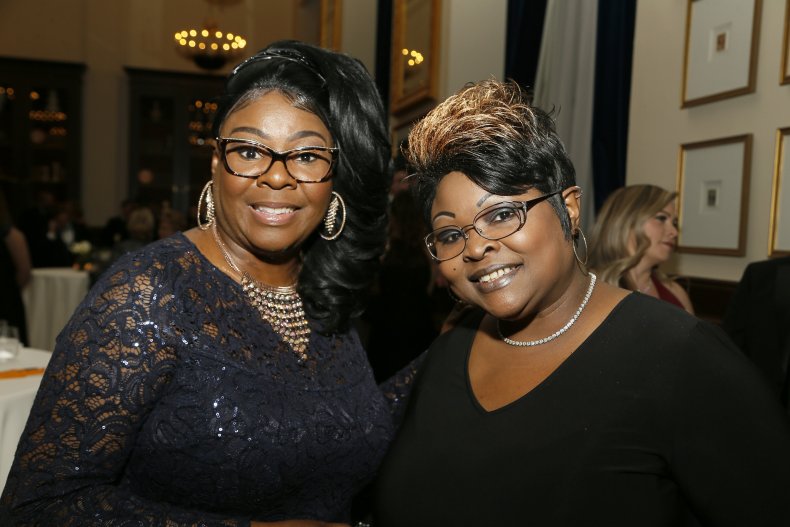 Last month, Diamond and Silk did not appear to doubt that Biden was in the White House while calling on the U.S. military to remove him from office on the same network, warning that any other course of action would lead to the country going to "hell in a handbasket."
"Let me tell you something, Biden will probably not even last four years," Hardaway said as Richardson agreed. "I wish that the military would step in and take over, because we got three people that call themselves the most powerful people that supposed to be in charge. Larry, Curly and Moe need to go somewhere and sit down, allow the military to take over from here."
"Our country is under siege," added Richardson. "We see it, they know it. It's all a big fat lie. We need somebody to come in with some common sense and take over. If not, our country will be going to hell in a handbasket."
Proponents of the false pro-Trump conspiracy theory QAnon have also claimed that Biden is not really occupying the "empty" White House, while providing no credible evidence to support the claim. Countless videos, photographs and eyewitness accounts confirm that Biden is the president and does live at the White House.
Diamond and Silk were hired by Newsmax last year, several months after being dismissed from Fox News streaming platform Fox Nation following their false claims that the COVID-19 pandemic was exaggerated to hurt Trump's reputation. During his presidency, the duo appeared with Trump at the White House on multiple occasions.