Diamond and Silk Urge Military to Remove Biden, Say Otherwise U.S. Will Go 'to Hell in a Handbasket'
Diamond and Silk, prominent supporters of former President Donald Trump, have called on the military to remove President Joe Biden from office, warning that not doing so would ensure that the U.S. goes to "hell in a handbasket."
Lynnette "Diamond" Hardaway and Rochelle "Silk" Richardson made their plea during a recent interview with David Brody on the conservative media network Real America's Voice. The duo suggested that the move was necessary to "get to the bottom of" the 2020 presidential election, which ended after Biden defeated Trump by 74 electoral votes and over 7 million votes nationally. Diamond and Silk have previously promoted evidence-free claims that Trump lost the election due to massive voter fraud.
"Let me tell you something, Biden will probably not even last four years," Hardaway said while Richardson could be heard uttering short exclamations in agreement, in a clip surfaced by Right Wing Watch, a project of the progressive group People For the American Way.
"I wish that the military would step in and take over, because we got three people that call themselves the most powerful people that supposed to be in charge," Hardaway continued. "Larry, Curly and Moe need to go somewhere and sit down, allow the military to take over from here."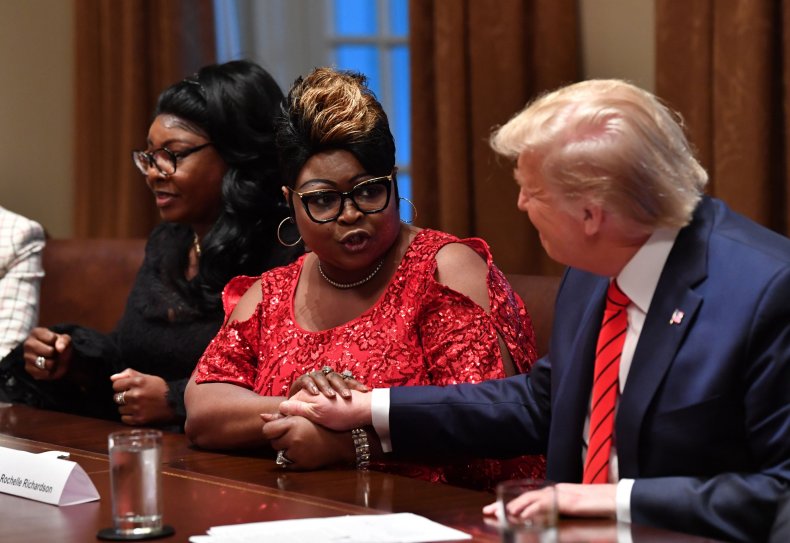 Brody asked Diamond and Silk whether they believed that the military should take control of the government "from a national security standpoint."
"From a national security standpoint and to get to the bottom of what the American people saw in the 2020 election," said Hardaway. "We cannot forget or forgive that."
"Our country is under siege," Richardson added. "We see it, they know it. It's all a big fat lie. We need somebody to come in with some common sense and take over. If not, our country will be going to hell in a handbasket."
Diamond and Silk, who are sisters, rose to prominence in conservative circles for a series of pro-Trump social media posts and videos that began during the 2016 election cycle. They later appeared at multiple White House events and sometimes spoke at rallies featuring the former president.
The duo were regulars on Fox News' streaming platform Fox Nation until April 2020, when they were fired from the network for spreading misinformation about the COVID-19 pandemic, including the false claim that the pandemic was being exaggerated to hurt Trump's reputation.
Newsmax hired the duo to make a show titled Diamond and Silk Crystal Clear months later. Weeks after he lost to Biden in November, Trump shared to Twitter a video clip of Diamond and Silk during a Newsmax appearance promoting false claims about the election. Hardaway and Richardson claimed that "the vote was pulled from Donald Trump and given to Biden" in the approximately four-minute clip.
Newsweek reached out to the Pentagon for comment.