Dianne Feinstein Contradicts Her Own Retirement Announcement
Democratic Senator Dianne Feinstein of California contradicted herself on her own retirement, hours after her team put out a statement that she would not seek reelection.
The long-anticipated announcement came Tuesday on Feinstein's Twitter page, saying that she will retire at the end of her current term after 30 years in Congress.
"I am announcing today I will not run for reelection in 2024 but intend to accomplish as much for California as I can through the end of next year when my term ends," she said in a statement, which was tweeted at 1:50 p.m. ET.
But when asked about her retirement by reporters hours later, Feinstein, 89, did not seem to be aware that the statement was released.
When asked by Raw Story about finally retiring, Feinstein said, "Oh no, I'm not announcing anything" right now, adding that she "will one day."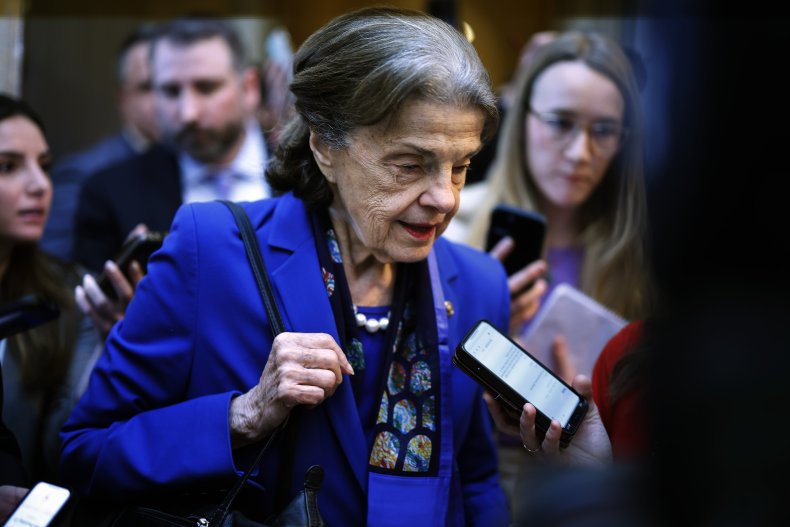 National Journal reporter Savannah Behrmann shared a similar interaction with Feinstein after the retirement statement was published.
"Well, I haven't made that decision. I haven't released anything," Behrmann quoted her as saying.
One of Feinstein's staffers is then heard telling the senator, "We put out the statement."
Feinstein replied, "You put out the statement? I should have known they put it out."
She added that she has a whole year to continue working but noted that "the time has come" to step down from her seat in Congress.
"My husband has died and that affected the decision," she said. Her husband, Richard Blum, died of cancer last February at age 86.
Feinstein's office said the miscommunication came from "confusion on timing," but a spokesperson told Newsweek that the senator approved the statement to go out Tuesday.
"The senator was out of the office for votes, a meeting, lunch and more votes when the announcement was sent," the spokesperson said.
With her remaining time in office, Feinstein said she will continue to work on legislation that tackles wildfires, droughts, homelessness and health care. She also said she will remain focused on passing commonsense legislation to end gun violence and ensure California "gets its fair share of funding" as a senior member of the Appropriations Committee.
"Even with a divided Congress, we can still pass bills that will improve lives," her statement said. "Each of us was sent here to solve problems. That's what I've done for the last 30 years, and that's what I plan to do for the next two years. My thanks to the people of California for allowing me to serve them."
Two California Democrats, Representatives Katie Porter and Adam Schiff, have already announced they will run for Feinstein's Senate seat. Both were criticized for announcing their bids before Feinstein made her decision public.