Adam Schiff's Chances of Winning Feinstein's Senate Seat in 2024 Run
California's Senate race just got more competitive now that Representative Adam Schiff is officially running to take over Senator Dianne Feinstein's seat in 2024.
On Thursday, Schiff, who rose to national prominence for leading the first Trump impeachment trial, announced he was entering the state's U.S. Senate race.
"Today's Republican Party is gutting the middle class, threatening our democracy. They aren't going to stop. We have to stop them," Schiff said in a video announcing his official candidacy. "That's why I'm running for the U.S. Senate. The struggle isn't over. Not for me, not for you, not for our country."
Although the contest in California will be solidly blue, it is already shaping up to be highly competitive. Representative Katie Porter, a rising star in the Democratic Party, also announced she would be running for Feinstein's seat. Democratic Representatives Barbara Lee and Ro Khanna have also signaled interest in the position but have not made any public bids.
"Congressman Schiff will not be the last to enter this race, already crowded with candidates or soon-to-be candidates in the progressive lane," political strategist Jay Townsend told Newsweek.
It is unclear as to whether Feinstein, who has held the seat since 1992, is still planning to seek reelection. She has neither announced a sixth bid nor has she announced plans for retirement, despite pressure from those in her own party to do so. At 89, she is the oldest sitting U.S. senator and member of Congress. She will be 91 by the time of the 2024 general election.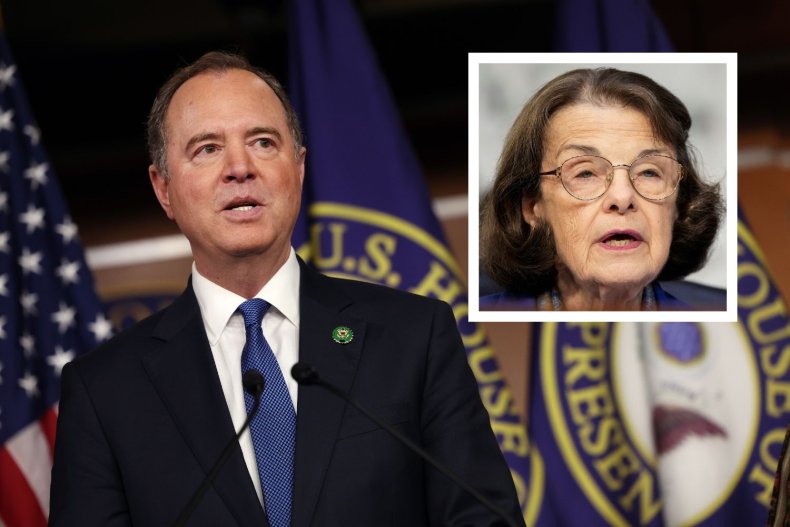 Schiff, a moderate Democrat, has built a reputation as being one of former President Trump's greatest foes. Democratic pollster Carly Cooperman said Schiff's reputation from the first impeachment trial gives him the largest national profile in the Senate race, easily making him a "top contender."
Not only did he prosecute Trump, Schiff was also a committee member on the House panel investigating the January 6 Capitol riot—an attack the committee pegged to Trump's rhetoric and actions.
Schiff's Senate campaign has echoed many of the same points as the House panel, focusing on a threat to democracy, which the Democrat says is being posed by GOP leaders in Congress.
Because the congressman is likely to be up against other strong candidates with similar positions on key issues, Cooperman said one way for Schiff to distinguish himself from the pack is to elevate his credentials for holding Trump accountable.
Ahead of his campaign launch, Schiff told the L.A. Times that his Senate bid was the next chapter of the work he's done to take down Trump, saying, "Some of Donald Trump's biggest enablers are in the Senate. And I think that is where I can most effectively champion our democratic institutions."
A poll conducted by Porter's campaign shows the congresswoman slightly ahead of Schiff in the primaries. When asked who they would vote for in a June primary, 30 percent of likely California voters said Porter and 29 percent said Schiff. Lee and Khanna, who were also listed as possible candidates in a hypothetical 2024 race, received 9 percent and 6 percent, respectively.
However, a matchup between Porter and Schiff in a general election shows Porter with 37 percent to Schiff's 26 percent.
Democratic strategist Michael Gordon said Schiff's record against Trump gives him more offensive leverage over Porter, but Gordon noted that would be more of an advantage in the general election than in the primary. With Feinstein's seat likely to remain in the Democrats' hands, "the interesting part of the race will be the primary," he said.
Because Porter is arguably stronger with the Democratic base, it's a matter of Schiff drumming up broad support across the coalition, Gordon said.
Townsend said the more crowded the progressive lane gets, the better chances a moderate candidate, like Schiff, would have to "survive the jungle primary and emerge as the frontrunner in the general election."
Notably, Lee co-chairs the Congressional Progressive Caucus while Khanna, who was a leader in both of Senator Bernie Sanders' presidential campaigns, has become a liberal hero in his own right.
"If the more progressive wing of the party has multiple candidates, that gives Schiff more of an opportunity to get a plurality and win the nomination," Gordon agreed. "Porter is a very strong candidate, so it would have to be an equally strong progressive to come into the race for them to divide the vote."
Given the current political climate, Gordon said Schiff has a good chance of winning the Senate race at the end of the day.
"It will be a crowded field and it is very early in the campaign, so it's hard to predict how well he will do, but Schiff is a very strong fundraiser and already had $20 million at the end of November," Cooperman added.