Dianne Feinstein Has No Plans to Retire This Term, Says It's 'Obvious' She Can Still Do Job
Despite concerns surrounding her age and capability of serving in Congress, Senator Dianne Feinstein said she has no plans to retire this term.
Speaking with reporters on Tuesday, the former top Democrat of the Senate Judiciary Committee said she intends on serving the remainder of her term. Feinstein's seat won't be up for grabs until 2024.
When asked if she'd be able to serve fully, Feinstein said, "Absolutely. I think that's pretty obvious."
Last December, a damaging report published by The New Yorker questioned her legislative abilities, citing cognitive decline and memory loss. At 87, Feinstein is the oldest sitting U.S. Senator. California progressives have also called for her resignation in the past, arguing that she's too friendly with Republicans and that she's too conservative to represent the state.
She was heavily criticized for her role in Supreme Court Justice Amy Coney Barrett's confirmation hearing last year, where she was seen embracing Senate Judiciary Committee Chairman Lindsey Graham and praising him for "one of the best set of hearings" she's participated in.
A couple months later, Feinstein stepped down from her role as the top Democrat on the Committee—a position now held by Senator Dick Durbin.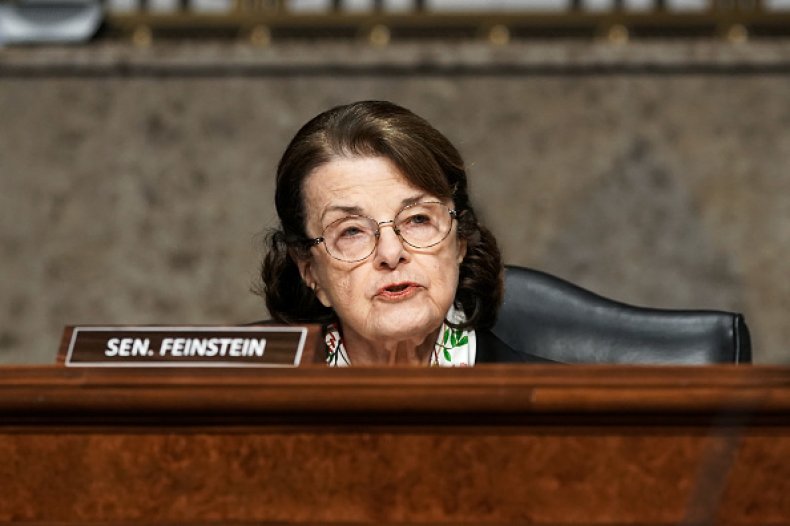 Feinstein's vocal commitment to remaining in office comes in response to a recent MSNBC interview with Governor Gavin Newsom, in which the governor revealed he has "multiple names in mind" for who could fill the Senate seat, should she retire before she is up for re-election.
The senator said she doesn't think Newsom "meant that the way some people thought."
"I don't know about his plans but his relationship with me I think is good and strong. I mean you're making a mountain out of a molehill," she told reporters on Tuesday.
On Monday, Newsom committed to selecting a Black woman to potentially replace Feinstein. The governor faced backlash last December after he appointed then-California Secretary of State Alex Padilla to take over Vice President Kamala Harris' empty Senate seat.
Harris' move to the White House left the chamber without any representation of Black women. Some were hopeful that Representatives Barbara Lee and Karen Bass, who are both Black women, would be considered by Newsom for the replacement, but he ultimately selected Padilla, who became California's first Latino senator.
Newsom's latest promises come as he faces a growing recall campaign, which if successful, could result in a new Republican governor who would replace him.
Newsweek reached out to Newsom's office for comment but did not hear back before publication.