Dick Cheney Critics Call Hypocrisy as He Blasts Donald Trump in New Ad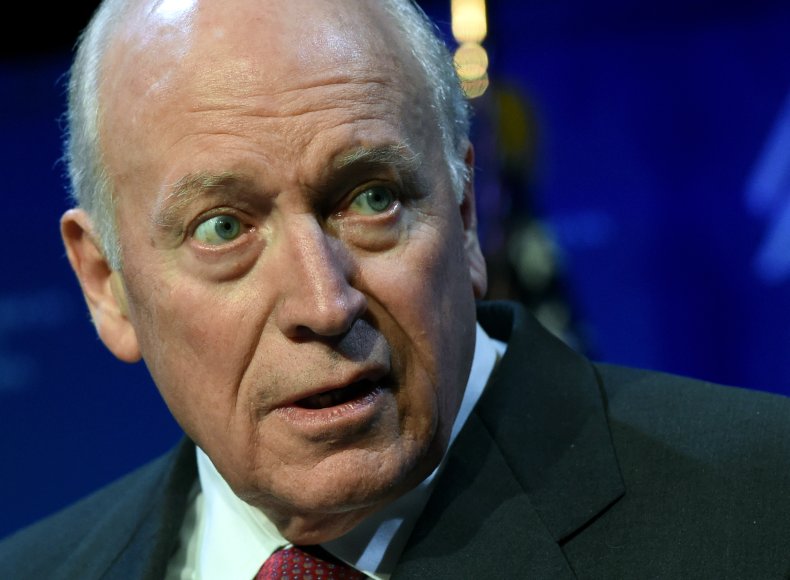 Critics are chastising former Vice President Dick Cheney on Twitter, alleging hypocrisy after he released a political ad denouncing former President Donald Trump as the biggest "threat" in U.S. history.
Cheney appeared in the video released on Thursday by the campaign of his daughter, Wyoming U.S. Representative Liz Cheney, who faces a stiff primary challenge after becoming one of Trump's top Republican enemies for admonishing him over false claims of a "stolen" 2020 presidential election and his actions on January 6, 2021. In the video, the former vice president made it clear that he agrees with his daughter while urging Wyoming voters to see the primary as a referendum on Trump and his election lies.
"There has never been an individual who is a greater threat to our republic than Donald Trump," Dick Cheney says in the video. "He tried to steal the last election using lies and violence to keep himself in power after the voters had rejected him. He's a coward, a real man wouldn't lie to his supporters. He lost his election, and he lost big. I know it, he knows it and deep down, I think most Republicans know it."
"Liz is fearless," he added. "She never backs down from a fight. There is nothing more important she will ever do than lead the effort to make sure Donald Trump is never again near the Oval Office. And she will succeed."
Backlash to the video included comments pointing out that Cheney's time as vice president came after former President George W. Bush won the 2000 election by an extremely narrow margin in Florida despite losing the popular vote to former Vice President Al Gore. A number of Democrats characterized Bush's win as a stolen election at the time. Cheney's actions during the Iraq War were also the subject of heavy criticism.
"Dick Cheney, notorious election thief and all-time liar, now yelling at Trump for ... trying to steal an election and lying about it, uh-huh," tweeted writer and web editor Nitish Pahwa.
"And remember I'm a war criminal whose President lost the popular vote and promoted torture," comic book writer Ian Boothby tweeted in response to the video. "So when I say this guy is a piece of s**t, it's a real Dr. Doom warning you about Dormammu situation. I'm Dick Cheney and I should be in jail."
"Counterpoint: it is in no way useful or constructive to have george bush and dick cheney, who teamed up with a conservative supreme court to take the white house in 2000, 'speaking up' about donald trump stealing elections," journalist Alex Shultz tweeted.
"'There has never been an individual who is a greater threat to our republic than Donald Trump' - #2 greatest threat to our republic Dick Cheney," IGN social copy manager Colin Stevens tweeted.
"Don't forget this Dick Cheney video and how many people died as a result of it," author Don Winslow commented while tweeting a video clip of Cheney insisting that "there is no doubt that [former Iraq President] Saddam Hussein now has weapons of mass destruction," a false claim that was used as a pretext for the 2003 U.S. invasion of Iraq.
"Dick Cheney: 'A real man wouldn't lie to his supporters.' Also Dick Cheney:" digital strategist Greg Price tweeted while sharing the same video as Winslow.
"Who is this FAKE COWBOY hanging around in the forest? It's DICK CHENEY," Newsmax host Greg Kelly tweeted. "Wow! What a weird 'commercial' — he's busting on Trump. Am I the ONLY one who remembers Cheney's BLOOD LUST for OIL and WAR? And how about those "WMDs"???"
Jon Gabriel, editor in chief of the conservative website Ricochet, responded to the ad by recalling a 2006 incident when Cheney accidentally shot then-78-year-old attorney Harry Whittington in the face while hunting for quail.
"There has never been an individual who is a greater threat to his hunting partner than Dick Cheney," Gabriel tweeted.
Others expressed support for the former vice president, although some appeared to be doing so begrudgingly.
"I have had profound policy differences with former VP Dick Cheney in the past, but I wholeheartedly agree with him on the seriousness of the threat posed by Donald Trump," tweeted former CIA Director John Brennan. "More Republicans, including former senior USG officials, need to speak up."
"First time in my life i 100% agree with a dick cheney video," political scientist Ian Bremmer tweeted.
"Once the most hated man of the Bush administration Dick Cheney keeps it real over #TheBigLie," broadcaster Anthony Davis tweeted. "Trump lied to his own supporters and just two Republican lawmakers have the guts to stand up to him and for American democracy. The US is broken. #Jan6 #LizCheney"
"Damn," tweeted actor Ken Olin. "When Dick Cheney comes after someone for being the biggest threat to our democracy ever, you know that person is a really bad guy. #TumpIsTheWorst"
Trump had not publicly commented on Cheney's video at the time of publication.
Newsweek has reached out to Trump's office for comment.