Cheney Slams Trump as 'Domestic Threat,' Urges GOP to Defend Constitution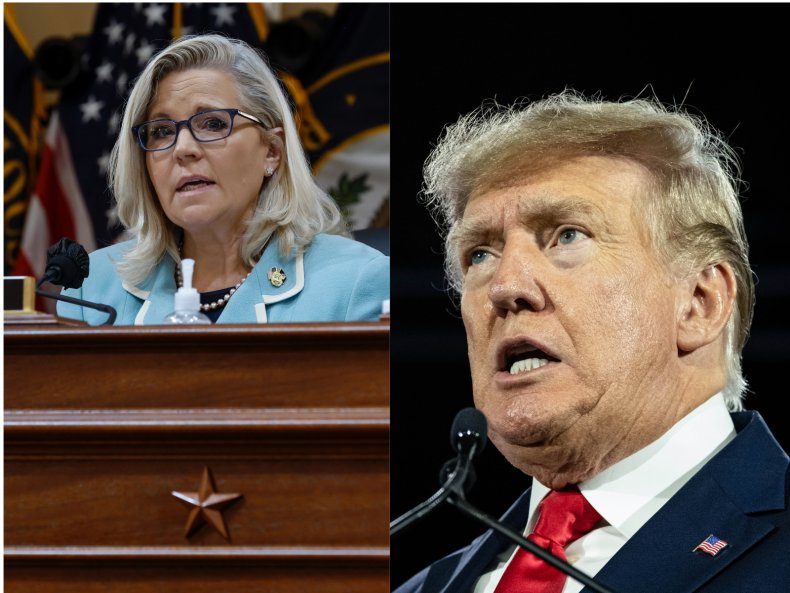 Liz Cheney, Republican House representative from Wyoming and vice chair of the House January 6 committee, has labeled former President Donald Trump a "domestic threat" while urging the GOP to "defend" the Constitution.
Cheney, who is facing a tough GOP primary challenge from a Trump-backed rival, denounced the former president during a speech at the Ronald Reagan Presidential Library in Simi Valley, California, on Wednesday. Cheney was one of only 10 Republican members of Congress who voted to impeach Trump for allegedly inciting the Capitol riot and has faced sustained backlash from the GOP and the former president since.
"We are confronting a domestic threat that we have never faced before," Cheney said on Wednesday. "And that is a former president who is attempting to unravel the foundations of our constitutional republic. And he is aided by Republican leaders and elected officials who have made themselves willing hostages to this dangerous and irrational man."
"Some in my party are embracing former President Trump," she added. "Even after all we've seen, they're enabling his lies. Many others are urging that we not confront Donald Trump, that we look away. And that is certainly the easier path."
Cheney said that "threats" facing those who have testified before the January 6 committee illustrated why some Republicans may fear opposing Trump. She argued that those advocate ignoring "the threat posed by Donald Trump" were abandoning a responsibility to "perpetuate the Republic."
The Wyoming congresswoman cited a speech from former President Ronald Reagan while urging Republicans to choose to defend the Constitution, while maintaining that it was not possible to support Trump at the same time.
Cheney said that the January 6 committee had shown that Trump had "gone to war with the rule of law," "the democratic process," "the peaceful transition of power" and "the Constitution itself."
"It has become clear that the efforts Donald Trump oversaw and engaged in were even more chilling and more threatening than we could have imagined," Cheney said. "The reality that we face today as Republicans, as we think about the choice in front of us—we have to choose."
"Because Republicans cannot both be loyal to Donald Trump and loyal to the Constitution," she added, prompting applause from the audience.
Newsweek reached out to Trump's office for comment.
Trump has repeatedly denounced Cheney as a "RINO," or "Republican in name only," due to both her impeachment vote and her ongoing involvement with the January 6 committee. The former president endorsed and has campaigned for Harriet Hageman, who hopes to unseat Cheney in Wyoming's GOP primary on August 16.
The Republican establishment has also rejected Cheney due to her stance on Trump. The Wyoming GOP ejected her from the state party last year and the Republican National Committee (RNC) officially censured her for investigating the January 6 attack, describing the siege on the U.S. Capitol as "legitimate political discourse," earlier this year.
Cheney is one of only two Republicans to serve on the committee. The other is Representative Adam Kinzinger of Illinois, who was also censured by the RNC and became a frequent target of the former president and his supporters following a vote in favor of Trump's impeachment.