Wyoming representative Liz Cheney has said that her father, former Vice President Dick Cheney, is worried about the direction of the Republican Party as she took aim at her GOP colleagues who have downplayed the January 6 Capitol riot.
Cheney was ousted from her post of House Republican conference chairwoman after her criticism of ex-President Donald Trump's apparent attempts to overturn the results of the 2020 presidential election and of the role he played in the U.S. Capitol riots that ensued.
In recalling the events of January 6, Cheney told a Q&A at the Aspen Institute how she saw members of the SWAT team and the Capitol police in riot gear lying against the walls in the Rotunda exhausted from the hand-to-hand combat with supporters of Trump.
"When I hear my colleagues say that it was a group of tourists, when I hear them say this was nothing to be afraid of, when I hear Donald Trump say the crowd was full of love—I think it is reprehensible and indefensible," she said on Wednesday.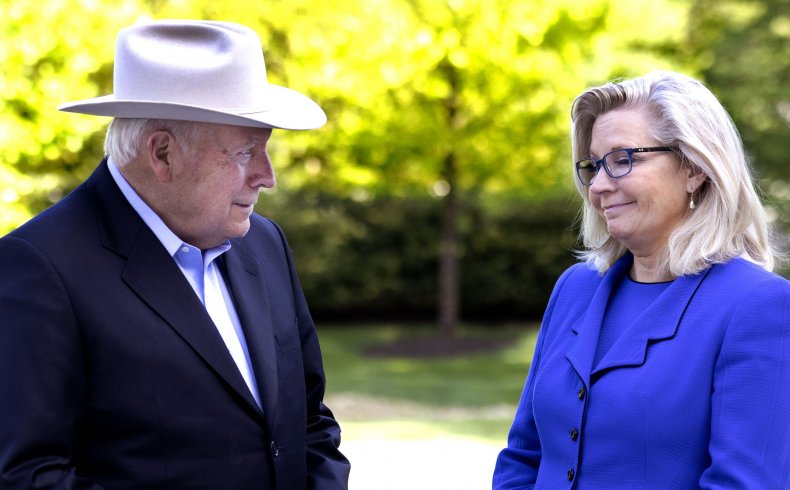 Cheney is one of two Republicans sitting on the House select committee investigating the Capitol riot, which has recently heard testimony from law enforcement who battled the group of Trump supporters.
She said that when "you look at the response of my party in the days and weeks and now months afterwards, it's very clear that there are some people who are willing to accept what I think was a line that can never be crossed."
During the event hosted by Eric Schmidt, former chairman and CEO of Google, she also praised former Vice President Mike Pence for resisting pressure from Trump to reject the Electoral College votes as he presided over a joint session of Congress to certify them
"Vice President Pence is a hero for what he did that day," she said, "if he had succumbed to the pressure he was under it would have been a very different outcome and he did not."
Comparing the inauguration this year with the legally contested Republican presidential election win of 2000, she said that whatever political differences there are between parties, a "peaceful transfer of power is so sacred and important."
When asked about what advice she had got from her father, who served as vice president under George W. Bush, she said that a lesson he had taught her was "having the courage of my convictions."
"I would just say you know my dad is deeply troubled about where our party is, deeply troubled about where our country is," she said, adding that he remained a "tremendous source of advice and guidance and wisdom for me."
Dick Cheney, who also represented Wyoming in the House before his stint as secretary of defense under the George H.W. Bush administration has been critical of Trump.
He wrote an op-ed in January 2021, along with nine former Pentagon chiefs, calling on Trump's Defense Department not to obstruct the transfer of power.
Newsweek has contacted the Republican Party for comment.