Mike Pence Was a January 6 Hero and That's Why He's Doomed
As more reports reveal the actions of former Vice President Mike Pence amid the violence of January 6, his purported heroism stands in contrast to many other high-profile Republicans, whose reputations are tarnished for how they acted about the Capitol riot.
But the former vice president appears trapped in a political stalemate; too loyal to Donald Trump for those who stand firmly against the former president and not loyal enough for the MAGA diehards convinced, despite all the evidence, that Trump won the last election.
Preceding the storming of the U.S. Capitol, Trump had pushed Pence to reject the electoral college votes as he presided over a joint session of Congress to certify them.
The then vice president refused, pointing out that his constitutional role was "largely ceremonial" and that it would be wrong for him to have unilateral power to accept or reject electoral college votes.
Trump, alongside staunch allies and followers, criticized Pence fiercely for defying their demands and has continued to question the election outcome even with President Joe Biden several months into his term.
In the aftermath of January 6, Pence also resisted calls by Democrats in the House to invoke the 25th Amendment and oust the president prematurely as he faced a second impeachment, this time accused of stoking an insurrection.
At the time, the prominent constitutional lawyer Alan Dershowitz praised Pence to The Washington Post as "the hero of this whole thing," citing Trump's "inappropriate pressure" and House Democrats' "improper efforts."
Dershowitz, who represented Trump at his first impeachment trial, said: "He's the one who emerges as a hero. He was right both times."
Pulitzer Prize-winning Washington Post journalists Carol Leonnig and Philip Rucker also reported in their new book I Alone Can Fix It: Donald J. Trump's Catastrophic Final Year that Pence refused to evacuate the U.S. Capitol building on January 6.
The book says Pence believed leaving risked vindicating those involved in the siege, telling his protective detail: "I'm not leaving the Capitol."
He took the decision even as some of those in the mob chanted "hang Mike Pence."
Rep. Jamie Raskin (D-MD) also recently suggested that Pence's rebuffing of Trump's demands prevented a potential imposition of martial law amid the push against the election results. Raskin told MSNBC's Chris Hayes: "We got very lucky with Mike Pence."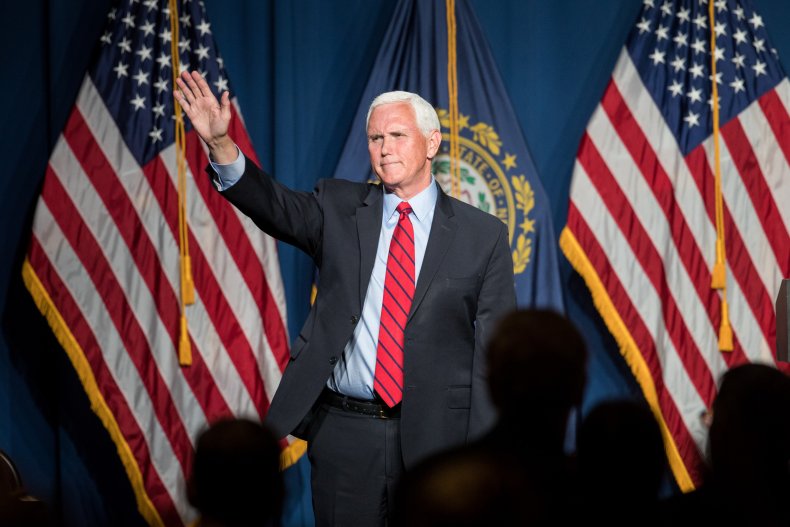 Such behavior by Pence may be respected by Trump's opponents. But for those independent voters and moderates of either party, it may still not be enough to wash away the years of loyalty to Trump—a loyalty that, to some extent, continues even now.
While Pence has said he believes he and Trump might never "see eye to eye" on the events of January 6 and defended his own actions, he has strayed from further direct and public criticism.
Moreover, Pence's actions on January 6 do not alter any of the fundamental opposition to his strong beliefs—as a staunch and religious conservative, some of his views on hot button issues such as abortion draw detractors regardless of his association with Trump.
And for the "Never Trump" faction of the GOP, Pence's continued—if somewhat diminished—loyalty is a substantial barrier to his ability to court their backing.
Richard Johnson, lecturer in U.S. politics and policy at Queen Mary University of London, told Newsweek that Pence since the last election "no longer seems terribly interested in defending Trump or his actions."
"This may simply be because he believes it to be the right thing to do, based on the events he saw at the U.S. Capitol, but in terms of internal party politics, I think it puts him at a disadvantage," Johnson said.
Pence will struggle to define himself as a "continuity Trump" candidate, Johnson said, because of what happened around the election. But he will also struggle to pitch himself as anti-Trump because of his four years of loyal service in the White House.
"This leaves him in a no person's land of identity in the struggle for the future of the Republican Party, and it may end up pleasing no one," Johnson told Newsweek, adding that from "a purely political standpoint" Pence has "made a muddle of things."
"When he accepted the vice presidency, a key advantage in terms of Republican politics was its ability to set him up for being the 'heir apparent' to Trump.
"One of the key facts of the past years that one must keep in mind to understand the calculation of Republican politicians is that Trump remains very popular with the party faithful, far more so than many recent ex-presidents."
Trump remains the dominant voice within the GOP and many people's favorite to be the party's nomination for president in 2024. If he does not run, he may retain a role as kingmaker, his endorsement seen as a vital step to a candidate winning the nomination.
A source close to Pence told Newsweek in March that Pence mustered support from both the GOP's MAGA faction and more traditional Republicans.
"There is no other Republican that has bona fides with both the Make America Great Again group of voters—the former vice president championed President Trump's agenda and served loyally for all four years—and the traditional conservative wing of the party," they said.
However, Trump has generally demanded unwavering loyalty from those within his inner circle—and his supporters have come to expect as much. Trump has persisted in expressing disappointment in Pence for not intervening as he asked.
In June, Pence was heckled during a speech with some members of the crowd shouting "traitor."
And despite this Trump-led backlash, Pence has reiterated his conviction behind his January 6 actions, saying he is "proud" of them and that there is "almost no idea more un-American than the notion that any one person could choose the American president."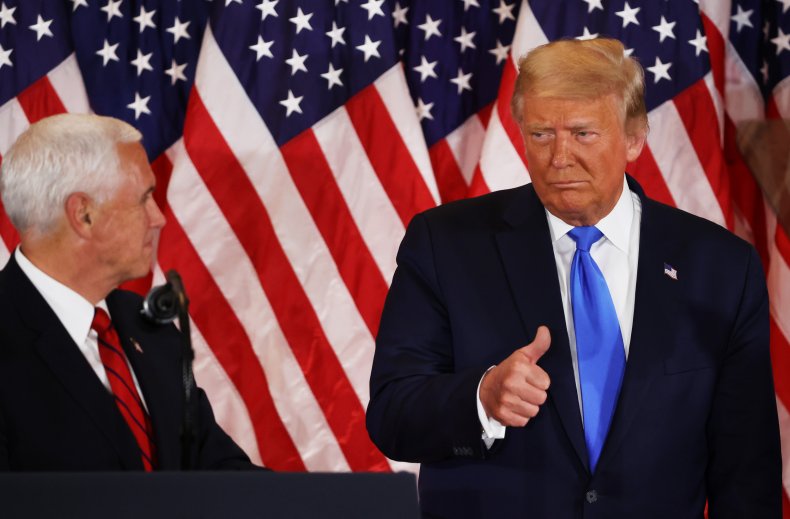 While Pence has been touted as a 2024 candidate, his unique position would likely stymy any such ambition.
Moreover, polling has shown Pence—and everyone else—behind Trump for the Republican nomination should he run, while Florida Governor Ron DeSantis has looked to take up the position of second choice.
Asked about a 2024 run from Pence, Andrew Wroe, a senior lecturer in American Politics at the U.K.'s University of Kent, told Newsweek in April that Pence is "history."
Asked what he thinks now, Wroe told Newsweek: "Pence is still history. He has tried to cozy up to Trump this year and has gone out of his way to avoid criticizing him because he knows that the GOP base is in thrall to Trump and will determine the Republican Party's next presidential candidate.
"But it's not enough. He will never win Trump's endorsement or that of the ex-president's supporters. Pence's actions on 6 January have been rightly lauded, but not by those that matter for his future in the GOP."
While several signs point to problems for Pence politically, Jon Herbert, senior lecturer in the school of social, political and global studies at Keele University, suggested the passage of time may present an opportunity to him down the line.
"Initially, it looks as though Pence can't win here," Herbert, a co-author of The Ordinary Presidency of Donald J. Trump, said.
"However... if one pushes to imagine a Pence pathway... Trump's star is just beginning to fade now. It has taken longer than usual and he's not taking the traditional quiet path, but the failure of his blog does say something.
"In a couple of years, he will still get media attention but he's not fresh news for the media nor the shiny new solution to the country's problems for the electorate. Maybe the pro-Trump movement will not be the presence it still is now. The anti-Trump crowd are pretty small in number within the party anyway, so losing them is not a deal-breaker.
"Besides, the pro-Trump/anti-Trump division is not the only way of thinking about the Republican Party today."
Herbert said there are other avenues that Pence could pursue to muster support, away from the Trump or anti-Trump framing.
"Pence has the capacity to construct a campaign rooted in his relationship with the Christian Right and his existing funding networks," Herbert said.
"If Trump chooses not to run and Pence does well in early primaries on the basis of that Christian Right support, Trump will want to back a winner. Trump can turn on a dime if the mood takes him, so an endorsement is not out of the question.
"So, Mike can dream..."
Newsweek has contacted Pence's office for comment.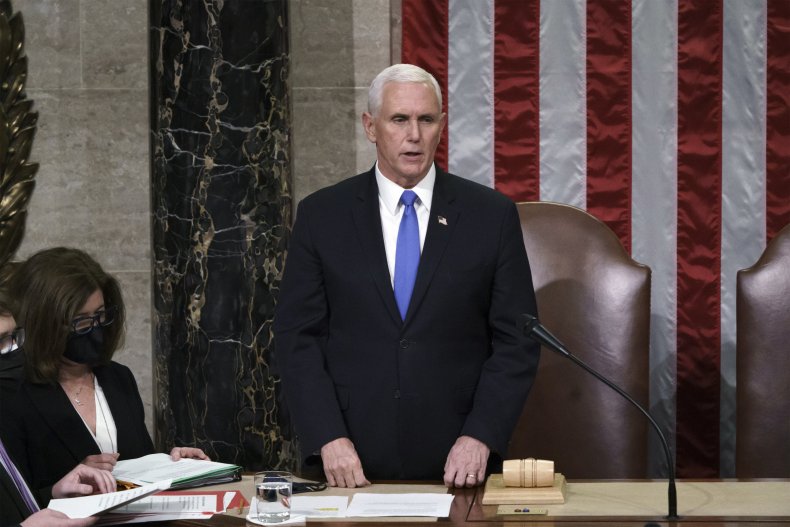 Updated, 7/27/21 at 9:25am: The headline on this article was changed.