Mike Pence's Fame Is Both His 2024 Gift and Curse
Former Vice President Mike Pence's fame has its benefits should he choose to pursue any presidential ambitions. But it also comes with downsides.
Pence has long been touted as a potential 2024 candidate and after a period of quiet, he looks to be reemerging into the public eye, fuelling more speculation of a bid for the White House.
According to YouGov Ratings, he is the fourth most famous Republican, per data collected between October and December last year.
Such name recognition raises him above potential competitors, except former President Donald Trump should he choose to run.
But it also means people have likely made their minds up on him already.
"Fame is usually an asset rather than a liability, as well-known candidates benefit from name recognition and typically garner more media coverage," Julie Norman, lecturer in politics and international relations at University College London and deputy director of its Center on U.S. Politics, told Newsweek.
"Pence's challenge will be reframing the narrative about what he is most famous for among the Republican base...to overcome the perception among Trump loyalists that he somehow betrayed the former President on January 6, and underscore his steadfast loyalty over the previous four years, while also more stridently communicating his own conservative agenda."
While Pence will need to shape the narrative, David Brockington, lecturer in politics and social science methods at the University of Plymouth, told Newsweek that views of the former vice president are likely set among Republicans.
"Perceptions of Pence will be crystallized within the Republican Party's primary electorate," Brockington said.
"To the conspiracy theorists among them, that buy into Trump's Big Lie, Pence is a traitor and will never have their support, so he's lost anywhere from a third to half of the primary vote right there.
"But, to the declining, more sensible wing of the party, Pence's image is tarnished as being part of the Trump administration, and a loyal lieutenant until the final week or two. He's boxed in."
Jon Herbert, senior lecturer in the school of social, political and global studies at Keele University and a co-author of The Ordinary Presidency of Donald J. Trump, told Newsweek Pence's position would ordinarily give him an advantage, but also stressed the impact Trump could have on his chances.
"Under normal circumstances, Pence would be in the jump seat for the nomination in 2024 as the party's last Vice President," Herbert said. "It's hard for other candidates to establish the kind of name recognition he has."
Pence's connections for fundraising, as well as with party and evangelical networks, would also be hard to rival, Herbert noted. But he said the "Trump factor" would be central moving forward.
Trump running would block Pence. And even if Trump opts not to run, his stance on Pence's candidacy or potential endorsement of someone else would impact his former VP's chances.
Trump attacked Pence on Twitter for his refusal to try to block the counting of certain Electoral College votes in January. His forgiveness of Pence could play a factor for him down the line.
However, Herbert said Trump's endorsement might not be as crucial as people think.
"There's not that much evidence so far that the Trump mystique is transferable and it's a perennial problem for populists: Movements initiated through an individual's appeal are hard to maintain if the individual isn't running for office," Herbert said.
"The interesting scenario is if Trump didn't run, but is unwilling to sacrifice the limelight.
"Seeing the opportunity to grab attention, Trump sucks all the oxygen out of the contest, as he did in 2016. That, oddly, would help Pence as he would already hold the advantage in name recognition with opponents less able to establish it."
A GOP strategist, who asked not to be named, told Newsweek that Pence will find it hard to "find a lane to run in."
"He was supposed to be the successor to Trump. But after four years of loyalty, Trump cast him aside in the wake of January 6th. He, perhaps more than anyone, has been politically cut off at the knees by Trump," they said.
A source close to Pence told Newsweek the former vice president has connections to a range of supporters.
"There is no other Republican that has bona fides with both the Make America Great Again group of voters—the former Vice President championed President Trump's agenda and served loyally for all four years—and the traditional Conservative wing of the party," they said.
Recent polling has put Pence as one of the frontrunners for the 2024 GOP nomination should Trump not run. Much attention has been paid to who Trump might support should he not make a pitch himself.
Trump listed off Republicans who he sees as the GOP's future in a podcast interview last month. Pence was not mentioned among them.
However, Trump advisor Jason Miller told the Associated Press it "was not an exclusive list." Reports of a rift between Pence and Trump were also downplayed in February after speculation over Pence's absence from the CPAC lineup.
Newsweek has contacted Pence's office for comment.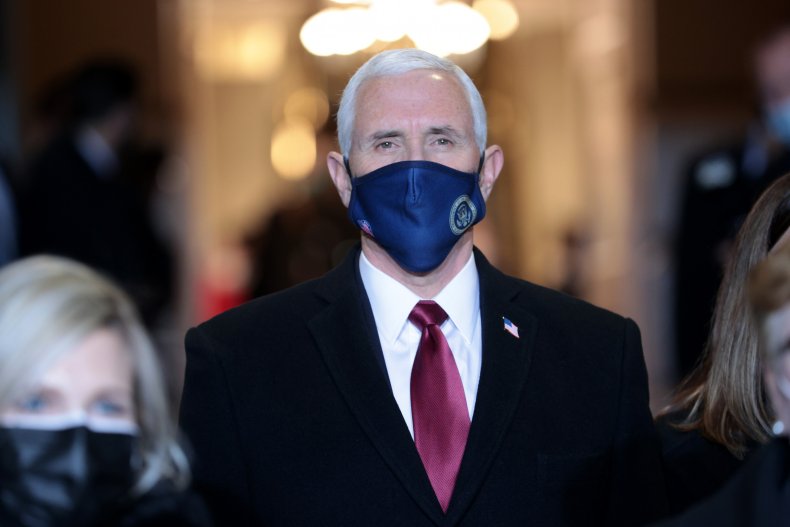 Update 04/01/2021: This page has been updated with comment from a source close to former Vice President Mike Pence.