Vice President Mike Pence is tipped as the frontrunner for the GOP presidential nomination in 2024—if Donald Trump decides not to run.
Regardless of whether Pence or not harbors such ambitions, Trump's continued influence suggests that success will depend on his blessing.
Although Pence is more popular than prospects such as Donald Trump Jr. or Senator Ted Cruz (R-TX), the president's vote haul this year—more than any other sitting commander-in-chief in history—makes it unlikely anyone else could outdo him if he decides to run.
"There's no one who has a leg up on Trump if he wants to do it," Douglas Heye, formerly communications director for the Republican National Committee, told Newsweek. He added that he believes it is too early to call a favorite but that, with Trump as an option, it is hard to see anyone else staking a claim.
"Until Trump decides yes or no, he holds people back," Heye said.
"Who steps up first if Trump is just out there floating it? It'd be difficult for Pence to do that."
Trump continues to insist that Joe Biden and Kamala Harris' victory was tainted by fraud, but has not provided evidence of widespread irregularities. Pence has been more subdued in his comments, but has not broken ranks with the president.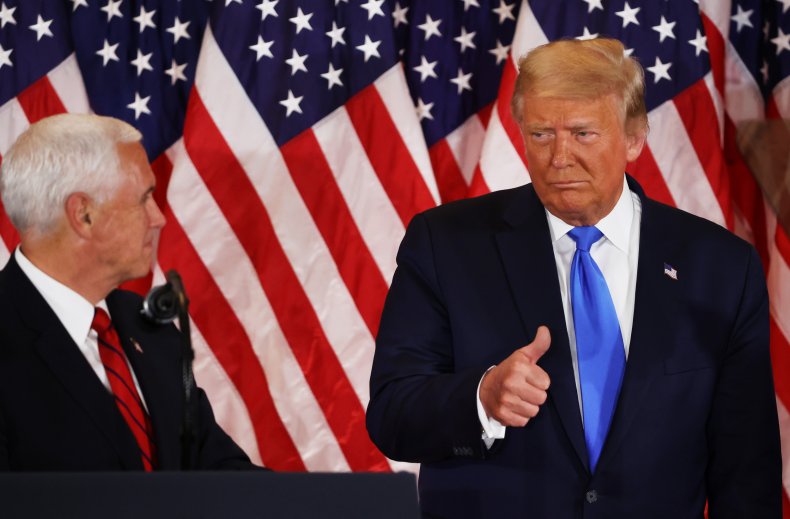 The president's potential role as a 2024 kingmaker could be an added motivation for Pence's loyalty.
"In recent times, former presidents tend to drift into the background post-presidency, but I think Trump will be an exception. Trump will be a major influencer in the party, whether that's as a future candidate or, more likely in my view, as a kingmaker," said Richard Johnson, a lecturer in U.S. politics and policy at Queen Mary University London.
"If the latter, then his imprimatur will instantly make a candidate the frontrunner for nomination. I imagine that a Pence candidacy, with a Trump endorsement, would be very difficult to defeat in a Republican nomination contest. I'm not convinced that Trump will back Pence, but this surely explains why Pence is doing everything he can to win Trump's favor."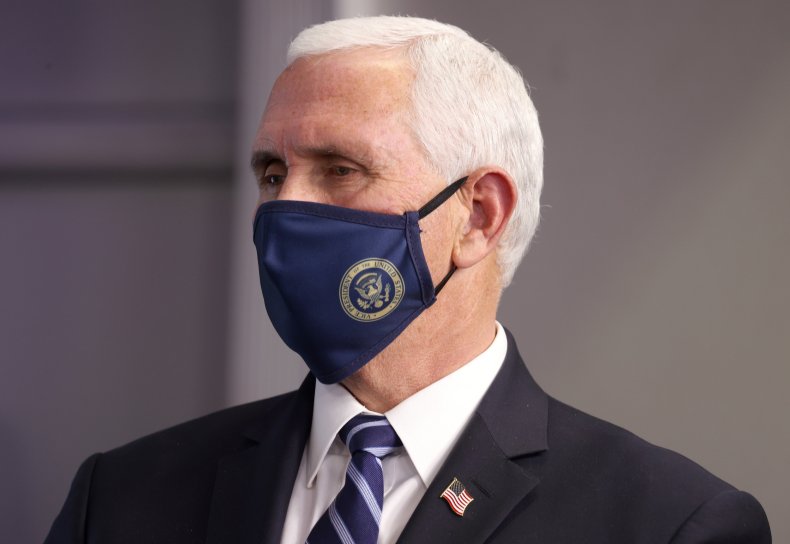 Thomas Gift, a lecturer in political science and director of the Centre on U.S. Politics at University College London, told Newsweek he feels Pence will have to stick by Trump.
"Pence, by definition, will carry much of the baggage associated with Trump's presidency. But if he does want to run in 2024—which doesn't seem at all like a foregone conclusion—abandoning Trump now would almost certainly make that bid untenable," he said.
"Politically, it would put Pence in the worst of all positions: anti-Trumpers would reject him because of his long association with their nemesis, while Trump loyalists also wouldn't support him because he turned his back against their hero."
Clodagh Harrington, associate professor in American politics at De Montfort University in Leicester, agrees that Pence's loyalty to Trump would be a key advantage if he runs.
"He has never tried to outdo Donald Trump, who could and has never criticized him," she said, suggesting that would "play well" with the millions of voters who wanted a second Trump term.
In response to a poll suggesting many Republicans would back a Trump run in 2024, the president tweeted on Wednesday: "But 2020 is a long way from over!"
John Owens, a professor of United States government and politics at the University of Westminster in London, said he believed Trump would run in 2024.
"Once Trump announces, other candidates will not have much of a chance of gaining the nomination, and therefore may decide not to run," Owens said, adding that if Trump opted not to stand, the "nominated candidate will have had to pay political obeisance to Trump."
Although Pence has not discussed his plans for the next election, Trump has been asked whether his vice president would have his "automatic endorsement" in 2024.
"Well, it's far too, look—I love Mike, we are running again, but you're talking about a long time, so you can't put me in that position," he said during a Fox & Friends interview last year.
"But I certainly would give it very strong consideration. He's a very, very outstanding person."
Newsweek has contacted the Trump campaign and the vice president's office for comment.