Republicans Want Trump to Front GOP During Biden Presidency as Support Builds for 2024 Run
President Donald Trump is consistently being tipped as a favorite to run for the White House again in 2024 with Republicans also tipping him to be a leading voice politically throughout Joe Biden's term.
With the Democrat being called as the 2020 winner and Trump's efforts to change this outcome stalling, speculation has mounted over the Republican candidacy for the next presidential election.
Despite Trump's defeat, his vote haul—higher than that of any sitting president—sees him placed to be an ongoing influence upon the GOP.
In recent Echelon Insights polling, Republican and Republican leaners were asked: "Thinking ahead to the next four years if Joe Biden becomes President, would you like to see Donald Trump continue to be the leading voice for Republicans, or do you think it's time for someone new to fill that role?"
More than half, 53 percent, of those asked said they wanted this leading voice to be Trump. Just under a third, 31 percent, said someone new.
Those surveyed were also posed the question: "If Joe Biden becomes President, which approach do you think Republicans should take in the next four years?"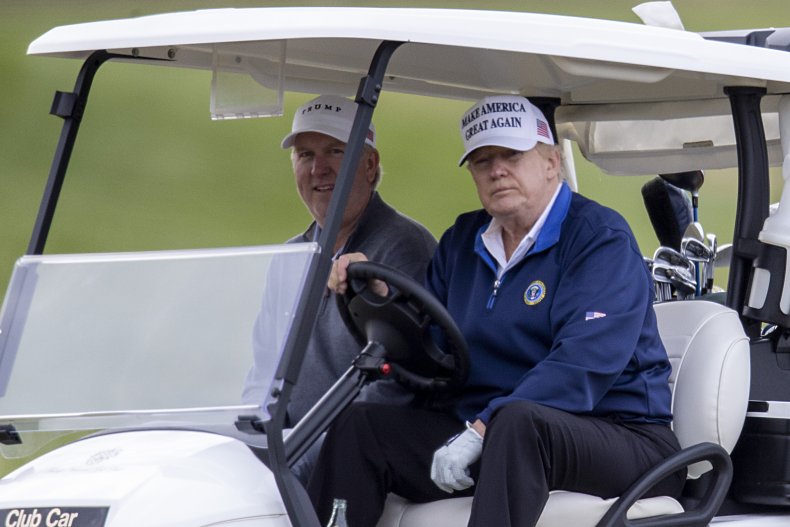 The most common answer among GOP supporters and leaners was that Republicans should continue with Trump as leader of the party, with 39 percent backing this. The second highest supported response was that they should continue with Trump's policies but with "new leaders with a more disciplined personal style." Around a third, 33 percent, chose this option.
The third response, which garnered the least selection, was that they should move from Trump and look to new leaders more akin to George W. Bush or Mitt Romney. Less than a fifth, 16 percent, said this.
In the same polling, the 465 Republican or GOP leaning respondents were also given a list of potential 2024 candidates and asked which they would consider supporting.
Trump topped the list on who most would support, with 52 percent stating they would back him. Vice President Mike Pence was second on the list, with 45 percent, and Sen. Ted Cruz (R-TX) third, with 32 percent.
Separate polling saw nearly half of 1,873 voters asked overall backing Trump to run again in 2024. According to a Hill-HarrisX poll published Monday conducted November 17 to 19, 47 percent of registered voters asked would back him going again in 2024 with 75 percent of Republicans supporting this.
Two-thirds of Republican respondents, 66 percent, in a Seven Letter Insight poll said they would support Trump running for president again in 2024. Overall, what most respondents said they would support would be him calling for national unity, with 82 percent of 1,500 voters asked November 10 to 19 saying they would back him doing this.
In a a Washington Examiner/YouGov survey conducted prior to Election Day, 1,200 registered voters were asked what they would like to see Trump do should he suffer defeat.
Among Republicans asked this, on October 30, more than a third, 38 percent, said they would want Trump to stay in politics and run again in 2024.
Trump's former aide Steve Bannon has tipped Trump as being likely to run again in 2024. It has also been suggested that if he does not do this, he could push one of his children to take up his mantle instead.
Newsweek has contacted the Republican National Committee and the Trump campaign for comment on Trump's potential future once results are finalized.