Trump Could Push Don Jr. and Ivanka in 2024, but Trumpism Is a Hard Sell Without Him
President Donald Trump's mammoth vote haul places him in a unique position of continued influence in the aftermath of defeat, potentially leading to a third run for office or the power to elevate a surrogate in 2024.
While the presidential election has been called in Joe Biden's favor—Trump continues to reject this, dismissing the judgement of the "lamestream media"—the Republican incumbent received more votes than any sitting commander-in-chief in history.
This popular vote tally highlighted that, while his tenure is set to end, what Trump represents still musters substantial support across the nation.
Trumpism, to use the broad-brush term given to his stances, clearly retains some appeal for a mass of voters.
Speculation of a 2024 run from Trump should his last-ditch efforts to change the election outcome fail has grown—while if he chose against that course of action, his eldest children, Donald Trump Jr. and Ivanka Trump have been tipped as potentially taking up where he left off.
"There will be many who attempt to take the mantle of Trumpism," Seth Weathers, a Republican strategist who previously worked as the Georgia state director for Trump's 2016 campaign, told Newsweek.
"But I know this, Trump will want to be kingmaker and can easily do so. I cannot imagine him being king maker for anyone other than his own children at this point."
On face value, Trump Jr. and Ivanka might seem like logical choices.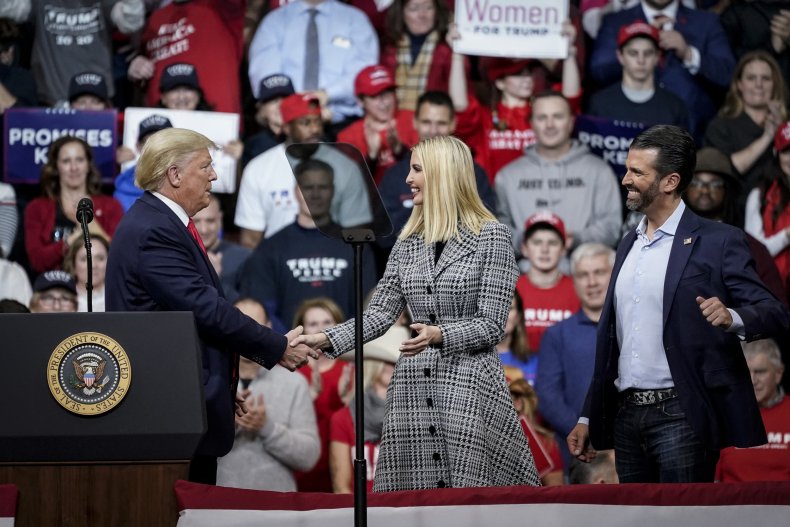 Trump Jr. is beloved by the president's base, having regularly campaigned as a surrogate while touting a similar outlook to his father. He also made a tongue in cheek hint at a future run for president with a social media post earlier this year, a photo of him posing by a "Don Jr. 2024" banner.
Ivanka has meanwhile been one of her father's closest confidants, serving as an adviser throughout his White House tenure with her husband Jared Kushner also forging a strong connection with the president as an adviser.
But despite their respective pedigrees and last name, they both fall down in an aspect where all the president's potential successors are doomed to: they simply are not him.
"However the Republican Party evolves after Trump, it's almost sure to include important Trumpian elements. Qualities most likely to stick include a populist message, anti-establishment flair, and a penchant for drumming up the base," Thomas Gift, a lecturer in political science and founding director of the Centre on U.S. Politics at University College London, told Newsweek.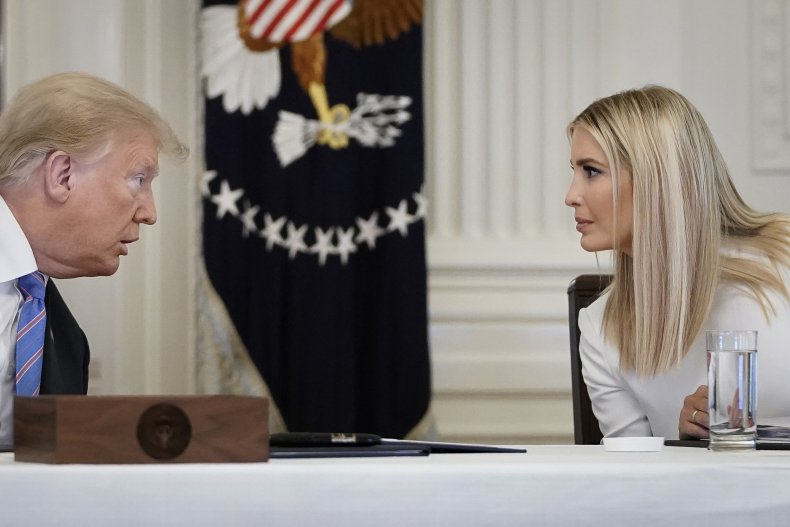 "Trump's knack for showmanship is so unique, however, it's almost impossible to imagine his persona being duplicated in another presidential hopeful. Trump still goes further than any other Republican in taking a sledgehammer to the normal political rules of the game.
"While some have speculated on the possibility of an Ivanka or Don, Jr. candidacy, it's doubtful that GOP voters are as invested in the idea of Trump the dynasty as they are in Donald J. Trump the individual."
Given the support mustered by Trump but the issues with directly continuing it through a family dynasty, Gift suggested Republicans who have been "sufficiently pro-Trump to satisfy the base" but who could bring in their own political brands may be more likely contenders.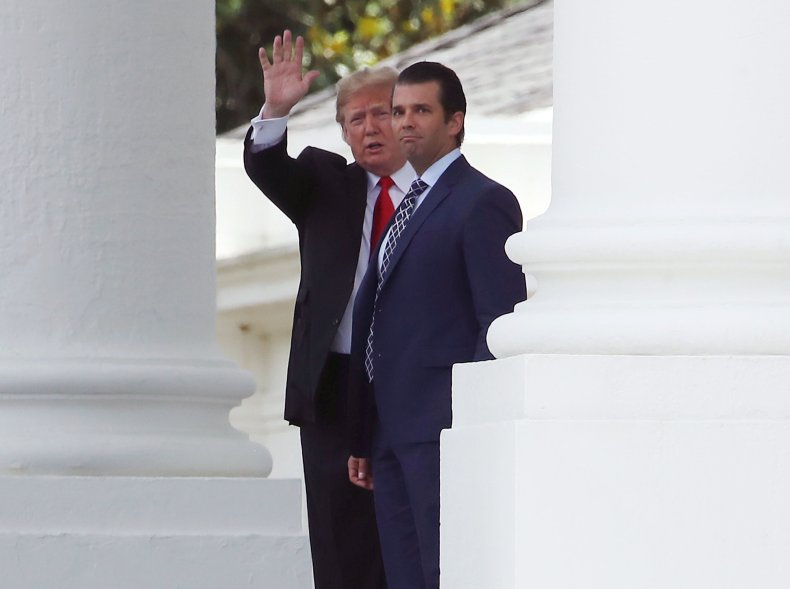 "While it's too early to zero in on possible 2024 contenders, names to look out for include the likes of Ted Cruz and Tom Cotton—Republicans who have been sufficiently pro-Trump to satisfy the base, but who also bring their own political brands and, importantly, lack Trump's baggage," he said.
John Owens, a professor of United States government and politics in the Centre for the Study of Democracy at the University of Westminster, highlighted that Trump's vote tally showed Trumpism's potential to carry on regardless of the election outcome. He also suggested the GOP has also molded to Trump's form.
"What was formerly the Republican Party has been the Trump Party for a few years now," Owens told Newsweek.
"Ergo, if he decides to run again in 2024 it's likely that he or some substitute would be re-nominated. He will have the electoral visibility, the money, and the loyalty of his party and there is little evidence that his party will move on from the 2020, when Trump actually ran behind many down-ballot Republicans."
Commenting on what might happen should he not push for a 2024 attempt of his own, Owens acknowledged a stand in of his choosing could be a possibility.
Though he similarly said that simply not being Trump could see such a direct replacement struggle to muster the backing the president has.
"If Trump himself does not run in 2024, he could, run a substitute, which I think is more likely to be Ivanka rather than Don Jr., especially if either refashioned themselves as regular Republicans," Owens said.
"Even so, without Trump's strongman image, visibility, and voter loyalty, I think either one of them would have a very hard task against either incumbent Biden or VP Harris, especially absent COVID and the economy takes off."
Polling has suggested that should Trump want to, he could receive backing from many Republicans to go bid office again in 2024.
In an Axios/SurveyMonkey poll conducted at the end of last year, Trump Jr. and Ivanka were among the top choices for the GOP's 2024 pick among 1,854 Republican or Republican-leaning respondents asked. Vice President Mike Pence came out top, followed by Trump Jr. in second. Nikki Haley, the former governor of South Carolina who also served as the U.S. ambassador to the United Nation, came third, with Ivanka behind her in fourth.
Newsweek has contacted the Trump campaign for comment on the potential of a Trump Jr. or Ivanka 2024 run.
Correction: A previous version of this story referred to Nikki Haley as the former governor of North Carolina. She is the former governor of South Carolina.