Donald Trump Plans 2024 Run, Could Announce by End of Year: Report
In a possible preface to his plans to run in another presidential campaign in 2024, President Donald Trump has endorsed the chair of the Republican National Committee (RNC) Ronna McDaniel to stay in her post.
McDaniel, who Trump had backed in 2017 after she helped deliver him Michigan during the presidential election the previous year, has not yet formally announced plans to seek a third term in the post.
Trump tweeted on Wednesday: "I am pleased to announce that I have given my full support and endorsement to Ronna McDaniel to continue heading the Republican National Committee (RNC). With 72 MILLION votes, we received more votes than any sitting President in U.S. history - and we will win!"
A president who loses an election does not normally have a say over who the RNC would pick as its next leader, Reuters reported, but Trump's backing does suggest a future political move on his part.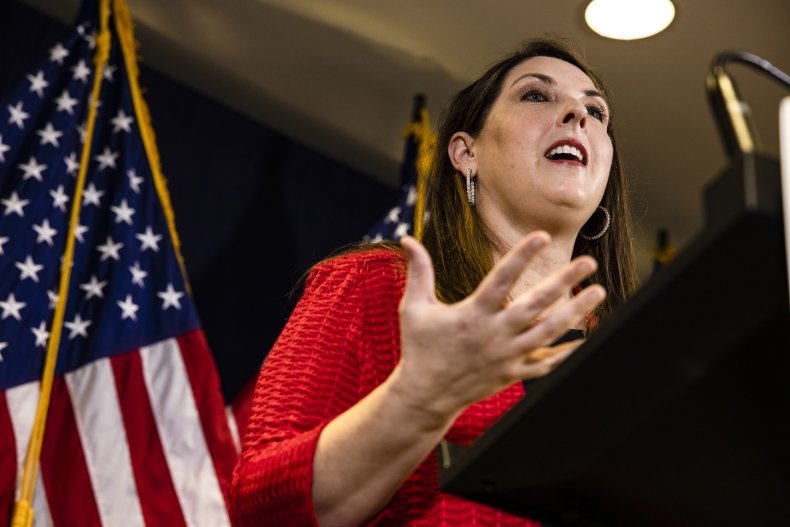 A source told the news agency that Trump had informed his allies he might announce plans to run for president again in 2024 by the end of the year. The Constitution imposes a two-term presidential limit, but does not say they have to be consecutive.
Trump is still contesting the results of the November 3 election that has been called for Democrat Joe Biden. Legal challenges continue in key states amid claims of fraud made without evidence by the Trump team.
But Politico reported that Trump's backing of McDaniel shows that he wants to play a central role in GOP politics even if he is out of office, with party officials expecting him to help with down-ballot races going into the 2022 midterms.
The RNC will meet in January to vote on whether to keep McDaniel as chair and this will be a sign of what sway Trump would still have over the GOP should his legal challenges fail.
Meanwhile, Trump's backing for McDaniel came on the day that she appeared to acknowledge that Biden had won the election. In a now deleted tweet that has been widely reported, she said that Vice President-elect Kamala Harris would have the Senate's "deciding vote" if there is a 50-50 split in the chamber.
This refers to the run-off in Georgia on January 5 for two seats which could give Democrats 50 seats in the chamber if candidates Jon Ossoff and the Rev. Raphael Warnock win their contests. A Senate tie could be broken by Harris in a casting vote if she were Vice President.
The RNC later said McDaniel's tweet was "clearly a hypothetical" and that it was "fighting every step of the way to ensure all legal votes, and only legal votes, are counted," The Hill reported.
Newsweek has contacted the RNC for comment.