Trump 2024: If President Loses, Most Republicans Back Another Shot—Poll
Should President Donald Trump lose to Democratic presidential candidate Joe Biden many Republicans would back giving him a chance to try and win another term in the White House in 2024, according to polling.
A recent Washington Examiner/YouGov poll, of 1,200 registered voters surveyed October 30, asked respondents what they would prefer Trump do should he suffer defeat.
Across all those asked, the most popular choice was for him to "leave politics entirely," with 48 percent suggesting this.
However, among Republicans the most popular answer was for him to stay in politics and run again for president in 2024, with 38 percent of those asked opting for that course of action.
The second most common choice among supporters of the GOP was for him to leave politics but back new leaders who share his political views, at 34 percent. Just nine percent of Republicans asked said they would want him to leave politics entirely.
If Trump were to lose, he would technically be able to run for president again in 2024—as while the 22nd Amendment of the Constitution states that "no person shall be elected to the office of the President more than twice" it does not dictate these two times must be consecutive.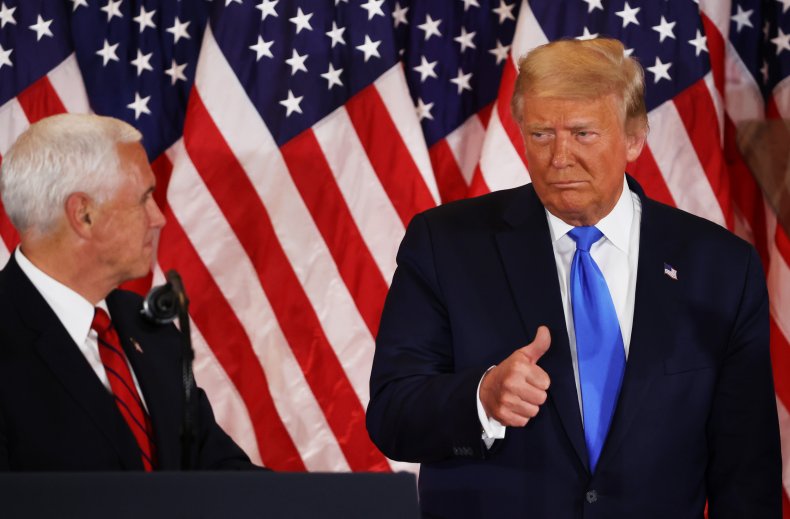 There has been speculation of Trump looking to run again in the event of a loss previously, with his former aide Steve Bannon suggesting last month that this could happen.
He told The Australian: "I'll make this prediction right now: If for any reason the election is stolen from or in some sort of way Joe Biden is declared the winner, Trump will announce he's going to run for re-election in 2024. You're not going to see the end of Donald Trump."
While there has been prior speculation over the next steps for Trump should he lose, the president has spoken boldly of his chances. In the early hours of Wednesday, he said that in his view he had already won.
"We were getting ready to win this election," he said. "Frankly, we did win this election."
This statement came amid votes still being counted across the nation. The remarks prompted push back from supporters and opponents alike.
"We repeat what the vice president said tonight: Donald Trump does not decide the outcome of this election," Biden's campaign chief Jen O'Malley Dillon said in a statement.
"Joe Biden does not decide the outcome of this election. The American people decide the outcome of this election. And the democratic process must and will continue until its conclusion."
Newsweek has contacted the Trump campaign and the Republican National Committee for comment on the potential of a 2024 run should he lose.