Can Donald Trump Run for President in 2024 if He Loses to Joe Biden?
If Democratic nominee Joe Biden defeats President Trump in the 2020 election, a future Trump presidency could still be possible, according to the U.S. Constitution.
The 22nd Amendment of the Constitution states only that "No person shall be elected to the office of the President more than twice," but does not stipulate that those two terms must be held consecutively.
This means that, according to the law, if the president loses after his first four-year term, he would theoretically be able to run for office again. It's even been done before, with President Grover Cleveland.
In 1884, Cleveland became the 22nd president of the United States, but lost his re-election bid against his Republican opponent, Benjamin Harrison, four years later. In 1892, Cleveland ran again for the coveted position and became the 24th president, without having to serve consecutive terms.
Though this has only been done once in U.S. history, the idea has already been floated around within the Trump campaign, according to former White House chief strategist Steve Bannon. Trump's onetime aide told The Australian last month that if the president loses in the 2020 election, he will likely run again.
"I'll make this prediction right now: If for any reason the election is stolen from or in some sort of way Joe Biden is declared the winner, Trump will announce he's going to run for re-election in 2024," he said. "You're not going to see the end of Donald Trump."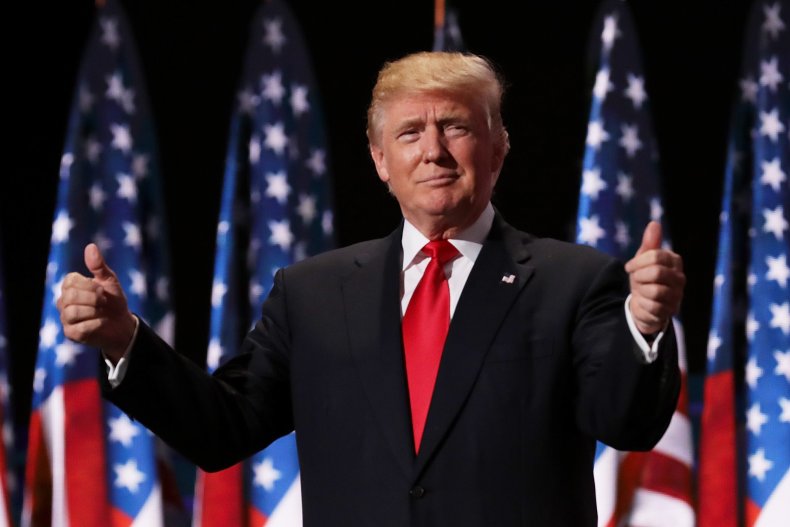 If that were to happen, Trump would be 78 years old for the 2024 election—a year older than Biden is now.
Current national polls show Biden projected to win the election, but an unusually high number of mail-in ballots and tight races in key swing states could make the outcome hard to conclude.
This year saw an unprecedented number of early voters, with the figure topping 100 million before Election Day. Due in large part to the COVID-19 pandemic, over 63 million Americans voted by mail—more than double the number of mail-in votes during the 2016 election.
While high voter turnout typically favors Democratic candidates, the impact of COVID-19 and early voting in this year's election is not entirely clear yet.
However, final polling data suggests Biden leads in key swing states—including in Arizona, Florida, Michigan, North Carolina, Pennsylvania and Wisconsin.
In 2016, Trump won the electoral college votes in each of those swing states by a mostly narrow margin.
Newsweek reached out to the Trump campaign for a comment on the possibility that he would run again in 2024, but did not receive a response in time for publication.