Who Is Projected to Win the Presidential Election? Final Forecasts, Polls on Election Day
Democratic candidate Joe Biden is touted as the most likely victor in this year's presidential election according to forecasts and polls putting him and President Donald Trump head-to-head.
Having led consistently in national polling in the run up to November 3, as well as in survey results in key states which could determine Electoral College victory, Biden has long been tipped as the favorite.
Pollster Frank Luntz, commenting on the likely winner of the election, tweeted: "Is it possible that Donald Trump will win a second term as president? Yes. Do the data point to that happening? No."
According to several forecasts, Biden's chances of winning are above 90 percent.
A forecast from Race to the WH, which collates its results by simulating the election 50,000 times, puts this all the way up at 99 percent.
Electoral Polls' forecast is also well into the 90s, though slightly lower with Biden being given a 95.2 percent chance of winning—with him being touted to receive 335 Electoral College votes, far over the 270 needed to secure the White House.
The Economist's forecast tips Biden as "very likely" to beat Trump, rating him at around 96 percent in terms of winning the election. It also rates him at more than 99 percent in terms of winning the popular vote.
New Statesman's forecast is just more than 90 percent, with Biden at a 90.4 percent chance of victory based upon 50,000 simulations.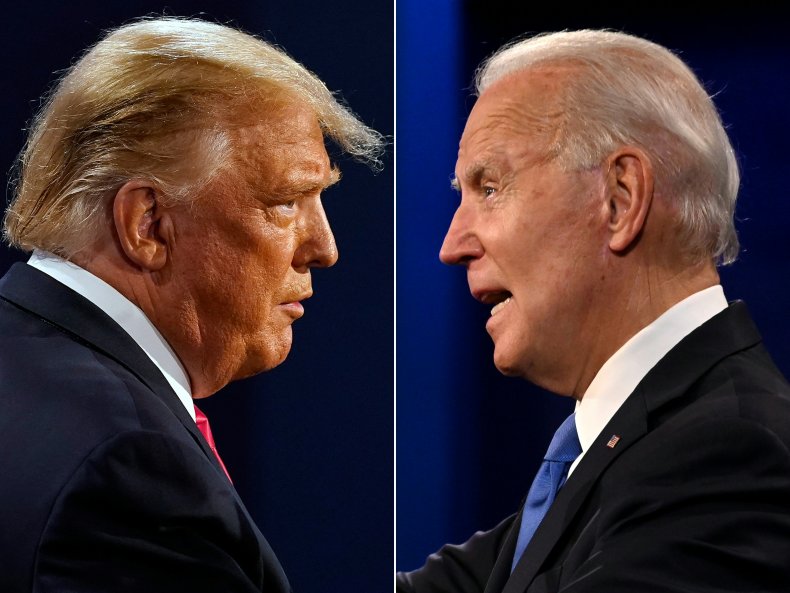 In forecasts suggesting a below 90 percent chance, FiveThirtyEight puts Biden at an 89 percent chance of securing Electoral College victory.
Decision Desk HQ puts Biden at an 86 percent chance of winning, forecasting him to secure 316 Electoral College votes. It also rates there being a 0.7 percent chance of a 269-269 Electoral College tie.
JHK Forecasts gives Biden an 89.9 percent chance of victory and projects Pennsylvania will be the most likely tipping point state in terms of deciding the Electoral College winner.
Plural Vote's forecast gives a more conservative figure in terms of projecting a Biden win, with it suggesting he has a 65.05 percent chance of victory.
CNALYSIS also gives a lower percentage than many others, with Biden touted with a 79.7 percent chance of victory.
According to national polling, Biden is ahead of Trump on Election Day, having consistently led through the last few months.
FiveThirtyEight's tracker puts him as 8.4 points ahead on average, with 51.8 percent of the vote compared to 43.4 for Trump.
RealClearPolitics' tracker has him up by 6.7 points, with 50.7 percent of the vote compared to 44 percent for Trump.
The latest Economist/YouGov poll put Biden ahead by 10 points, 53 percent to 43 percent among 1,363 likely voters asked October 31 to November 2.
A Reuters/Ipsos poll from October 29 to November 2 put Biden up seven points, 52 percent to Trump's 45 percent among 914 likely voters.
Newsweek has contacted the Trump and Biden campaigns for comment on the state of forecasts and polls.