Joe Biden's Most Realistic Election Path to 270
Democratic presidential candidate Joe Biden likely has more routes to Electoral College votes than President Donald Trump does, going by the polls.
Trump's path to victory in 2016 came not through how many ballots were cast in his favor overall, having lost the popular vote, but by winning the right states to get him to the absolute majority of 270 or more Electoral College votes needed.
This time out, national polling favours Biden winning both in terms of popular vote share and the Electoral College.
Biden is leading in two of the states with the most Electoral College seats, California with 55 and New York with 29, while Florida with 29 is tight but also leaning his way. If he were to win all three, he would be more than a third of the way to victory with just three states.
Due to his general advantage in polling, and position in swing state polls, Biden would appear able to pull together the votes in more ways than Trump might be able to.
However, integral to a Biden win are three states where Hillary Clinton suffered unexpected defeats: Pennsylvania, Michigan and Wisconsin. Between those states there are 46 electoral college votes, marking a sizeable chunk of the 270 Biden needs to secure victory.
"If Trump picks up one of those, it becomes more problematic," Geoffrey Skelley, elections analyst at FiveThirtyEight, told Newsweek. "If Biden wins all three of those states, he's going to win the election."
Chris Jackson, head of public polling at Ipsos, suggested a similar premise—if Biden can avoid the surprise defeats Clinton suffered in the Midwest, then his routes to 270 open up.
"Biden really needs to hold the Midwest," Jackson told Newsweek. "If he gets a repeat of what happened with Clinton, he's sunk. After that, he has flexibility. He basically just needs to take one of the other battlegrounds to win."
Defeat in one of these states could perhaps be balanced out with victory in lesser expected areas though, perhaps Arizona with its 11 Electoral College seats. While Biden has more room to maneuver, should the upsets mount he would in turn need to pull off some unexpected victories of his own.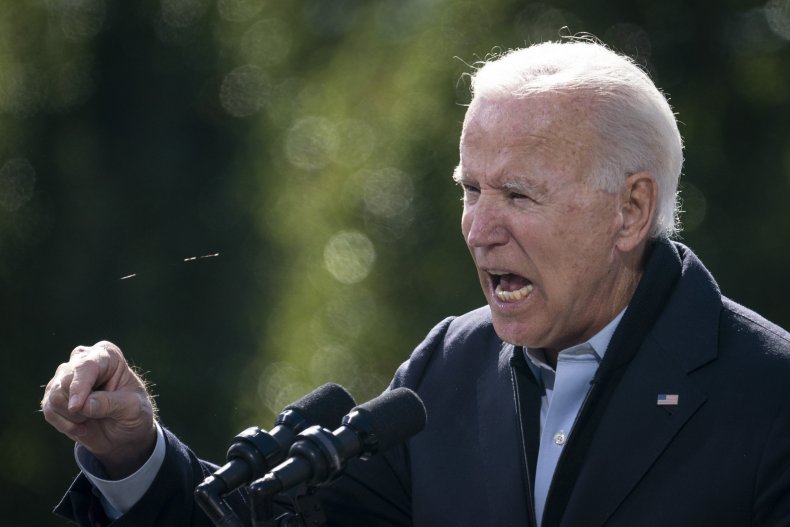 Pennsylvania
Pennsylvania has been branded a "tipping point" in terms of which way the election could go, with its 20 Electoral College votes making it a focus of each campaign.
According to tracking of state polling from Real Clear Politics, Biden is up by 4.4 points there on average.
Survey Monkey polling, conducted online among 8,360 likely voters September 19 to October 17, gave Biden a seven point lead; 53 percent compared to 46 percent for Trump.
A The Hill/Harris X poll conducted among 992 likely voters October 12 to 15, put Biden ahead by five points; 51 percent to 46 percent.
Trump won Pennsylvania last time out by around 44,000 votes, roughly 0.7 of those cast, according to numbers collated by The New York Times. The state had gone for the Democratic candidate at every election since 1992 prior to Trump's win.
While polling puts Biden in the lead, it is still the closest out of the trio of Pennsylvania, Michigan and Wisconsin, according to survey results.
Michigan
Michigan, with 16 Electoral College votes, is another state Biden will look to reclaim after a slim defeat for Clinton there in 2016.
Trump won last time out by just more than 10,000 votes, or around 0.3 percent of those cast, according to figures from The New York Times. According to Real Clear Politics, Biden is up by 7.2 points on average, looking at state polling.
A recent poll from The Hill/Harris X put him up 11 points, with 54 percent of 1,289 likely voters asked October 12 to 15 going for Biden, compared to 43 percent for Trump.
Wisconsin
In Wisconsin, Biden is up 6.1 points on average, according to Real Clear Politics.
Survey Monkey's latest results, from 4,571 likely voters asked September 20 to October 17, put Biden up 12 points, with 55 percent of the support compared to 43 percent for Trump.
YouGov/CBS News polling of 1,124 registered voters asked October 13 to 16 put Biden up by five points, with 51 percent compared to Trump's 46 percent. The polling had a margin of error of plus or minus 3.5 percent.
Trump won the state by around 22,700 votes in 2016, around 0.7 percent of those cast, according to figures from The New York Times.
One More Battleground
Florida would be the major coup in terms of winnable battlegrounds for Biden, with the joint third-highest number of Electoral College votes at 29.
Trump won the state in 2016, though it has regularly flipped in recent elections. The state has gone for the victor in nearly every presidential election since 1964, with 1992 the only exception to that run.
In terms of other battlegrounds, Arizona, for example, is seen as a potentially flippable state for Biden. Real Clear Politics has Biden up by 3.9 points on average there. The state has not been won by a Democrat since Bill Clinton in 1996.
Newsweek has contacted the Trump and Biden campaigns for comment.
How the Electoral College Works
Each state is assigned a number of Electoral College votes, to be cast by selected electors in the state, based upon its representatives in Congress. This number is determined with the combined number of how many members of the House of Representatives and the Senate a state has.
If a candidate wins a majority of the votes in the state, in most states they take all of its Electoral College votes. Only Maine and Nebraska differ, in which the votes are split between the state and congressional districts.
Following this, all the electors from the state would generally cast their votes in the winner's favor, thought they are able to opt for a different candidate, those who do so being dubbed "faithless electors."
A candidate needs to hit 270 for an outright majority of the 538 votes from the Electoral College, which sees them become the president. As happened in 2016, a candidate can do this without getting the most votes overall due to the winner takes all nature in each state.
The below list details the number of Electoral College votes each state has, as detailed by Ballotpedia:
Alabama - 9
Alaska - 3
Arizona - 11
Arkansas - 6
California - 55
Colorado - 9
Connecticut - 7
Delaware - 3
District of Columbia - 3
Florida - 29
Georgia - 16
Hawaii - 4
Idaho - 4
Illinois - 20
Indiana - 11
Iowa - 6
Kansas - 6
Kentucky - 8
Louisiana - 8
Maine - 4
Maryland - 10
Massachusetts - 11
Michigan - 16
Minnesota - 10
Mississippi - 6
Missouri - 10
Montana - 3
Nebraska - 5
Nevada - 6
New Hampshire - 4
New Jersey - 14
New Mexico - 5
New York - 29
North Carolina - 15
North Dakota - 3
Ohio - 18
Oklahoma - 7
Oregon - 7
Pennsylvania - 20
Rhode Island - 4
South Carolina - 9
South Dakota - 3
Tennessee - 11
Texas - 38
Utah - 6
Vermont - 3
Virginia - 13
Washington - 12
West Virginia - 5
Wisconsin - 10
Wyoming - 3