As voters continue casting their ballots on the final day of the 2020 presidential election, polls show Democratic nominee Joe Biden ahead of President Donald Trump by a narrow margin in most key swing states.
According to the most recent poll conducted by The New York Times and Sienna College, Biden is leading Trump in Arizona, Pennsylvania, Wisconsin and Florida.
In that forecast, Biden holds the largest lead over Trump in the battleground state of Wisconsin, as polling data shows the former vice president ahead by 11 points. Following closely behind in that data shows Biden leading Trump in both Pennsylvania and Arizona with 6 points, and in Florida by just 3 percentage points.
An additional survey conducted by CBS/Change Research found Biden ahead in two additional states: Michigan and North Carolina. That poll, which collected responses from 3,300 voters in Arizona, Michigan, North Carolina, Pennsylvania and Wisconsin, found that Biden's lead in each state ranged from 2 to 8 percentage points.
Final polling data conducted by FiveThirtyEight shows Biden as the national frontrunner, with projections that Pennsylvania will become the most-likely tipping point state. In its final tally of the state, the polling tracker found that Biden leads Trump by about 5 percentage points.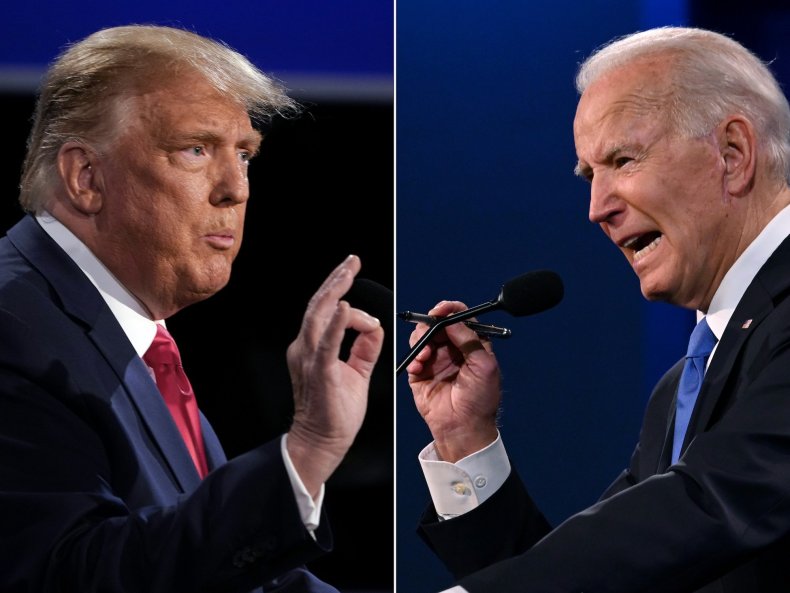 Additional polls conducted by Reuters/Ispos from October 29 to November 2, found Biden ahead in each of the above states, with the tightest race in North Carolina—where the two candidates were deemed statistically tied.
In polling data collected by The Guardian, Biden leads Trump in Florida, Pennsylvania, Michigan, North Carolina, Arizona and Wisconsin—but trails behind Trump in Ohio and Iowa.
In Ohio, data shows the president projected to win 48.3 percent of the vote over Biden's 46.3 percent. In Iowa, the race appears even closer, with Trump projected to win 47.6 percent of the vote to Biden's 47.2 percent.
Though national polling data has consistently put Biden ahead of Trump, the final results from these narrowly held swing states are projected to determine the outcome of the election—a reality that many polls did not predict in the 2016 presidential race.
In 2016, Trump won the electoral votes in Arizona, Florida, Michigan, North Carolina, Pennsylvania, Wisconsin, Ohio and Iowa by mostly slim margins. Among those states, the tightest races included Michigan and Pennsylvania, where Trump won by just 0.3 percent and 0.7 percent respectively.
Trump's strongest swing state victories in 2016 included Arizona, where he won with 3.5 percent more votes than Clinton—and North Carolina, where he won with 3.6 percent more votes.
Knowing these swing states would be crucial in the final days of their campaigns, both the president and Biden finished off their rallies in some of the battleground states.
On Monday, Biden closed off his campaign with an event in Pennsylvania, while Trump held his final rally in Kenosha, Wisconsin.