Donald Trump's 73.6 Million Popular Votes Is Over 7 Million More Than Any Sitting President in History
President Donald Trump has so far received 73.6 million popular votes in the 2020 election, surpassing the previous record set by President Barack Obama by more than 7 million, giving him the most votes of any sitting president in U.S. history.
As of Thursday morning, Trump has received a total of 73,559,030 votes and counting, according to The New York Times.
That number has set the record for the most votes ever received by a sitting president, surpassing Obama's 65,915,795 popular votes in his 2012 incumbent victory against Republican challenger Mitt Romney.
Trump has received 47.2 percent of the popular vote, compared to President-elect Joe Biden's 51 percent. Recently, Biden broke his own record with 79 million votes and counting, giving him the most votes of any presidential candidate in history.
The 2020 election saw record-breaking voting-turnout numbers, as roughly two thirds of all eligible American voters cast their ballots. This election has already been determined to have had the highest voter turnout percentage in 120 years.
Last week, multiple news outlets called the race for Biden as he was projected to win the key swing states of Arizona, Pennsylvania, Michigan, Wisconsin and Georgia.
On November 13, Biden totaled 290 electoral votes after the race was called by some media outlets in Arizona, giving him 20 more electoral votes than needed to defeat Trump. Though Trump has trailed with 232 electoral votes, he has refused to concede the race.
Trump has maintained that the election was "stolen" from him by Democrats due to widespread voter fraud, despite a lack of evidence to back his claims.
The Trump campaign has filed lawsuits in states including Michigan, Georgia, Arizona, and Pennsylvania, but has gained little to no success in court. Among those states, two cases have been dismissed, one has been denied, and threee more have been dropped by his legal team.
On Wednesday, Trump claimed that Michigan could not certify its election results due to fraud, just hours after the state became one of the latest to do so.
"The Great State of Michigan, with votes being far greater than the number of people who voted, cannot certify the election," the president tweeted, adding, "The Democrats cheated big time, and got caught."
A day later, the Trump campaign dropped a lawsuit in the state, falsely claiming that the election results were not certified.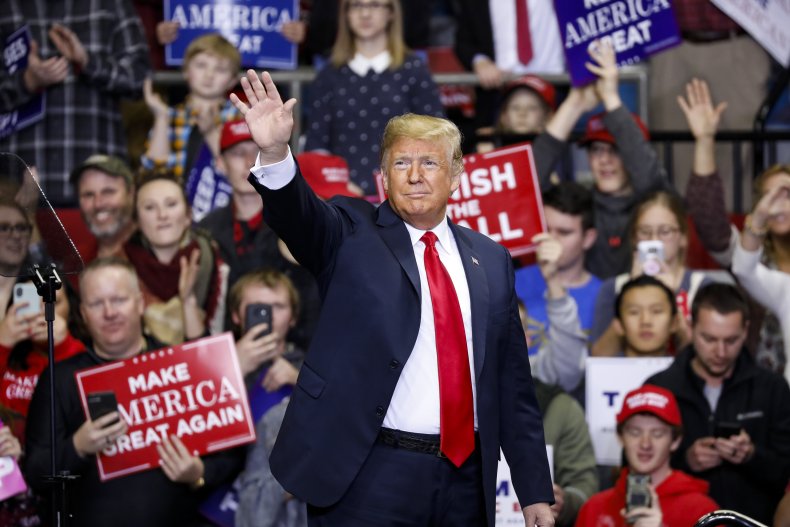 The president has repeatedly used Twitter to falsely claim victory in some states and spread unsubstantiated information about election fraud. In response, the social media platform has flagged more than 90 election-related tweets posted on Trump's account as "misleading" between Election Day and Wednesday morning.
Election officials from every state, excluding Texas, have publicly confirmed that there was no evidence of widespread voter fraud.
Trump's refusal to concede has sowed division within the Republican Party, as some GOP officials have denounced the president's statements, while others have supported his claims.
But as Biden's January inauguration date gets closer, Americans are beginning to fear how Trump's refusal to transition power could affect the country.
A new study conducted by Monmouth University found that 61 percent of Americans said Trump delaying the transition process to Biden poses a threat to national security.
On November 12, over 100 former military and national security officials signed a letter to the General Services Administration, with a similar sentiment, saying that Trump's denial of access to a smooth transition could put the country at risk.
On Wednesday, Republican Senate Majority Leader Mitch McConnell attempted to ease such concerns by stating that America will "have an orderly transfer from this administration to the next one."
"All of it will happen right on time, and we will swear in the next administration on January 20," he said.
Newsweek reached out to Trump's team for additional comment, but did not hear back in time for publication.