The Most Awkward Moments as Trump's Election Lawsuits Were Dismissed in Court
The number of election lawsuits filed by President Donald Trump's campaign is beginning to diminish as an increasing number of cases are being dismissed in court.
The president has waged numerous legal battles across the nation. In the key battleground states, two have been dismissed, one has been denied and another two have been dropped by his legal team.
As Trump's chances of litigating his way into a second term shrink, here are the most embarrassing setbacks from the campaign's attempt to fight the election results.
Michigan
The Trump campaign filed two lawsuits in Michigan. The first asked for vote counting to be halted until the campaign was given "meaningful access" to ballot tabulation, and also requested that the campaign be given permission to review previously counted ballots and to access videotapes of ballot drop boxes.
Three days after Election Day, a Michigan judge dismissed the suit, saying there was no legal basis for the campaign to access surveillance tapes.
A second lawsuit argued that election challengers were not permitted to observe the processing of voter ballots—a request which was denied by a federal judge last week.
The complaint alleged misconduct by election workers in Wayne County, home to Detroit, for predating ballots and blocking Republican poll observers from the voting process.
"Plaintiffs' interpretation of events is incorrect and not credible," Wayne County Circuit Judge Timothy Kenny wrote in his decision.
He also wrote that delaying the certification of the election in Michigan "could disenfranchise Michigan voters from having their state electors participate in the Electoral College vote" and "undermine faith in the Electoral System."
The campaign also filed an affidavit from a poll watcher who alleged an unidentified poll worker had claimed dates were being changed on ballots.
Michigan Court of Claims Judge Cynthia Stephens called the affidavit "hearsay" in her ruling. When Trump's lawyer pushed back on her ruling, Stephens asked, "'I heard somebody else say something'—how is that not hearsay? Come on now."
She also noted that the request was moot because ballots had already been counted. The Trump campaign has since appealed.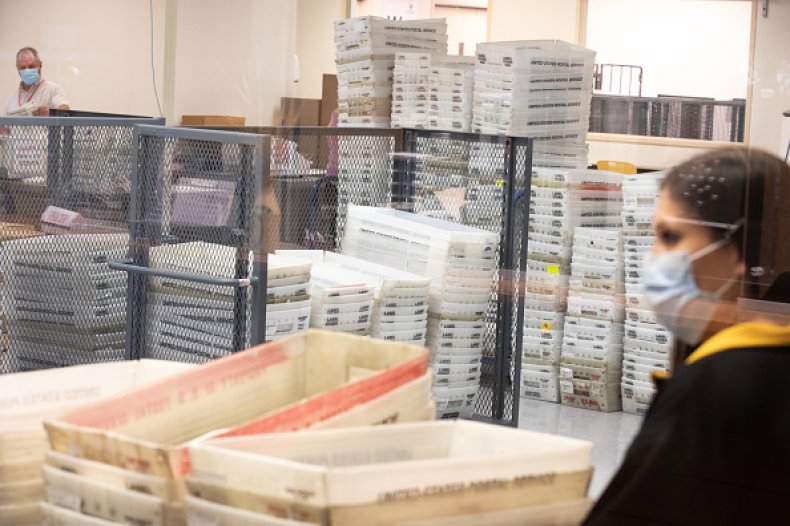 Georgia
The Trump campaign's sole legal fight in Georgia fell flat on November 5.
A suit filed on the Thursday of election week said that 53 ballots received after the state's voting deadline may have been added to the pile of eligible ballots and therefore improperly counted.
However, a judge dismissed the case due to the lack of evidence that a law had been broken.
"The court finds there is no evidence that the ballots referenced in the petition were received after 7 p.m. on Election Day, thereby making those ballots invalid," Judge James Bass said in his ruling.
However, Georgia officials announced last week that all ballots would be recounted by hand because of the razor-thin margin. President-elect Joe Biden leads in the state by 0.3 percentage points.
This was the first time in nearly three decades that Georgia swung for blue in a presidential election.
Arizona
Last week, the Trump campaign dropped two suits in Arizona—another historically Republican state that voted Democrat this year.
In Maricopa County, the campaign filed one suit which alleged the county incorrectly rejected in-person votes that were cast using Sharpie markers, and another that said valid, in-person ballots were rejected by the tabulation machines.
The Trump campaign filed and dropped the Sharpie suit on the same day, but did so without prejudice, which allows for a similar case to be filed at a later date. Election officials have said that Sharpies do not spoil ballots and are used at polling locations because of their quick-dry ability and the fact that the ink doesn't smear.
The second suit alleges that poll workers disregarded procedures designed to allow voters to correct ballot mistakes when voting in-person on Election Day.
The campaign was particularly concerned with ballots that marked more options than allowed because machines would not count those overvotes.
However, Maricopa County officials estimated that there were fewer than 200 ballots of concern in the presidential race—a number not large enough to surpass Biden's lead.
There was also confusion coming from the president's legal team, which contradicted Trump. Kory Langhofer, one of the campaign's lawyers, said during a court hearing, "This is not a fraud case. We are not alleging fraud. We are not saying anyone is trying to steal the election."
But a week before those comments, Trump said, "This is a case where they're trying to steal an election. They're trying to rig an election, and we can't let that happen," during a White House press briefing.
While the suit initially claimed that the machines could have miscounted thousands of votes cast for Trump, the campaign later went on to seek a hand review of the ballots cast on Election Day.
On Friday, the suit was dropped by the campaign after lawyers reportedly determined Biden's margin of victory would be too difficult for the president to overcome.
Pennsylvania
While the lawsuits from the Trump campaign in Pennsylvania remain ongoing, the president's legal team withdrew a central request in one of them on Monday.
The campaign had originally requested that hundreds of thousands of mail-in and absentee ballots—more than 682,000—be thrown out because Trump's representatives were unable to watch.
Although it dropped that request, the campaign is still aiming to block Pennsylvania from certifying the election in Biden's favor.
Issues Among the Trump Campaign
On Tuesday, Trump's personal attorney and former New York mayor Rudy Giuliani filed to appear on behalf of the president in a Pennsylvania lawsuit after three other attorneys representing the campaign withdrew.
Giuliani, however, has never practiced law in the state and has not appeared in federal court since 1992.
He has continued to vow that each election lawsuit filed by Trump's campaign will be a bombshell case—a result that has yet to occur. On Nov. 14 he tweeted the claim about 682,000-plus ballots being counted without observers present, suggesting it showed the system was "irredeemably compromised."
Giuliani defended the campaign's decision to withdraw its request in the Pennsylvania lawsuit, saying in a statement released through the campaign that it was "routine for attorneys to file amended complaints to tighten the claim."
Although marginal victories have been granted to the campaign, such as the separation of ballots in Pennsylvania, more than half of the lawsuits have not ruled in Trump's favor.
Last week, the Trump campaign discontinued its "voter fraud" hotline, which was established to bolster the president's unfounded claims, after a flurry of prank calls.