GOP Could Stay 'In the Trump Era,' Even After Defeat, As Allies Eye 2024: Republican Group
The GOP may stay "mired in the Trump era" even if the Republican incumbent loses his re-election bid, with his supporters emboldened by the level of support he mustered and allies already looking to 2024.
With votes still being counted, Democratic presidential candidate Joe Biden appears closer to an Electoral College victory than President Donald Trump.
Biden also leads in the popular vote but Trump has still claimed some 69 million ballots, more than any candidate in history save for Biden's 2020 haul.
"It probably isn't the thorough repudiation that people like me were hoping for," Sarah Longwell, founder of anti-Trump coalition Republican Voters Against Trump, told Newsweek when asked about the state of play in the election.
Though she said she still thinks a Biden win looks more likely, Longwell said Trump's performance posed questions for the Republican party in terms of where it will go next should he lose.
"There are a lot of people who are going to want to stay mired in the Trump era," she said.
Longwell's comments come amid speculation that Trump could run again in 2024 should he lose, with former aides tipping him to do so and polling suggesting he could muster support for such a bid.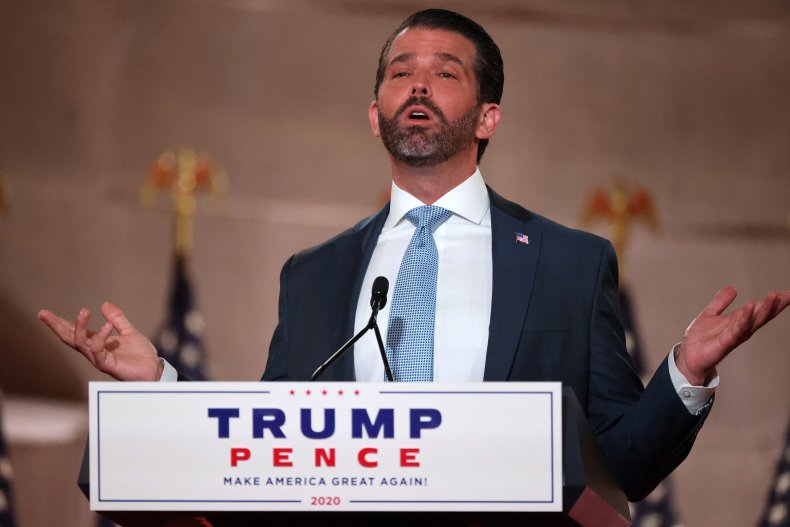 While someone can only be elected president twice, these times do not have to be consecutive—opening the door for Trump.
Former Trump aide Steve Bannon suggested the president might do this, while former White House Chief of Staff Mick Mulvaney also backed the possibility.
Meanwhile, as Trump continues his calls of foul play amid ongoing vote counts, his allies have suggested that Republicans hoping for 2024 election success should be backing the president—despite the lack of evidence behind his claims.
"Losing fair and square is one thing but in the face of all of this video evidence, lack of transparency, boarding up of windows, fighting to prevent poll watching etc etc... for GOPers to not stand up now shows your true colors," Donald Trump Jr., the president's eldest son, tweeted.
"Will make the 2024 primary process a lot easier."
Trump Jr. himself has been touted to make a run in 2024, though amid this speculation previously said "let's get through 2020 with a big win first."
Brad Parscale, former campaign manager and now senior adviser for the 2020 Trump campaign, also threw the narrative forward to 2024.
"If you want to win in 2024 as a Republican. I would probably start saying something," he tweeted. "Just saying."
Newsweek has contacted the Trump campaign and the Republican National Committee for comment.