Who Is Winning the Election? Where We Stand as Biden Edges Closer to Victory, Counting Continues
The presidential race hasn't been called yet as counting of ballots resumes on Friday in what may be a critical day for both candidates. Former Vice President Joe Biden leads President Donald Trump in the electoral college. But there's still a path for the president.
Biden has 264 electoral college votes to Trump's 214, according to The Associated Press' data.
The Democrat's lead includes Arizona's 11 votes as AP has called the state for Biden. However, other news and data-gathering organizations haven't made that call and the Trump campaign has said the president can still win there.
Biden's wins in Michigan and Wisconsin, both states in the so-called "Blue Wall," have complicated Trump's electoral math.
Five states have not yet been called; Alaska, Georgia, Nevada, North Carolina, and Pennsylvania. Of these, Pennsylvania and Nevada could prove crucial, while Georgia may deliver a surprise upset.
Biden leads in Nevada by more than 11,000 votes. The state's 6 Electoral College votes allow him to reach the all-important number of 270 and hand him the White House.
Even if Trump wins all four remaining states other than Nevada, he would still come up short with just 268 electoral college votes.
The president has been leading in Pennsylvania, a state which is essential to his re-election, but Biden has been chipping away at Trump's advantage.
The president's lead was around 18,000 votes on Thursday but Biden took the lead on Friday morning. The Democrat was ahead of the president by 5,587 votes with 95 percent reporting, as CNN Senior Congressional Correspondent Manu Raju reported.
Biden has been winning mail-in votes by a large margin and victory in Pennsylvania is a possibility. The Biden campaign has said they believe he will win the state.
Pennsylvania's 20 Electoral College votes would hand Biden the presidency even if he loses the other states that are still counting, while a Trump win there would not guarantee him a second term.
Georgia has emerged as an unexpected battleground this year. Once considered deep red, Georgia hasn't voted for a Democratic presidential candidate since Bill Clinton in 1992. However, Biden has consistently eaten into Trump's lead and there's a real possibility he could eke out a narrow win in the state.
The president led by around 600 votes as counting was set to resume on Friday but Biden took a thin lead as ballots began to come in from precincts where he was expected to do well.
Biden now leads by Trump in Georgia by 1097, while there are still 8,197 absentee ballots to be counted, according to Gabriel Sterling, Georgia's voting system implementation manager.
This could see the former vice president flip the state, albeit with a potentially razor-thin margin.
Georgia's 16 electoral college votes would see Biden comfortably to victory even if he loses the four remaining states. Trump could sweep Alaska, Nevada, North Carolina and Pennsylvania and it still wouldn't be enough to beat Biden if the Democrat carries Georgia.
Alaska and North Carolina are on course to go to Trump, despite some initial indications that Biden might narrowly flip North Carolina. Wins in these states will help Trump in the electoral college but the president needs pick up elsewhere if he hopes to reach 270.
This article has been updated to reflect the ongoing vote count in Georgia and Pennsylvania.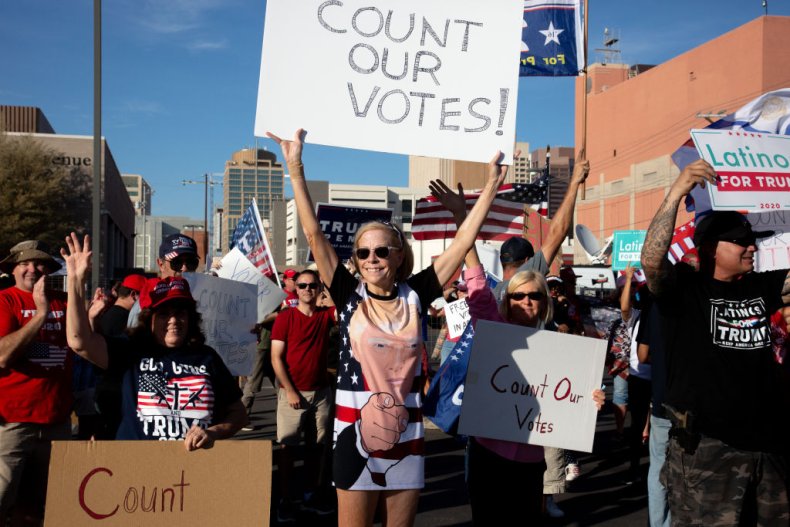 This is a developing story and it will be updated.