In Georgia Election, Biden Overtakes Trump for First Time During Knife-Edge Count
Joe Biden has passed President Donald Trump in the state of Georgia amid a razor-thin election race in the state.
The Democratic candidate overtook the incumbent president's lead, with 49.39 percent of the vote, according to Decision Desk HQ. He now leads with more than 2,449,371 votes to Trump's 2,448,454, or 49.37 percent.
It comes as more than 98 percent of the count has been completed in the state, which may be headed for a recount if the margin remains as slim as it currently is.
Trump initially maintained a strong lead in the state with more than 18,000 at the start of Thursday. But Biden gradually closed the gap over Thursday night as more and more absentee ballots were counted from Democratic strongholds in the state.
He finally made the crossover with Trump's lead early on Thursday morning when the latest results from Clayton County put him ahead by 917 votes.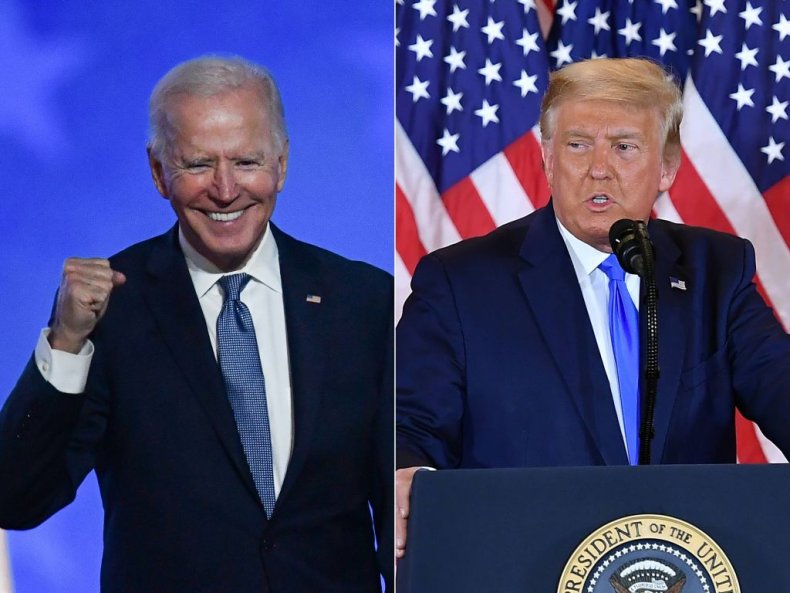 After the latest results, Trump's path to winning Georgia is dwindling and he faces a very narrow path to securing his reelection without it.
Biden is edging ever-closer to victory. If Biden ultimately wins in Georgia, he will have a total of 269 Electoral College votes, just shy of the 270 needed to take him to The White House.
Counts are ongoing in other battleground states, including Nevada, Arizona, and Pennsylvania, and Biden is competitive or leading in them all.
The key state of Georgia, which has not turned blue since 1992 for Bill Clinton, will come as a major victory for the Biden campaign if he can hold onto the lead.
Biden is also closing on Trump's lead in Pennsylvania, but the president's team has filed lawsuits in several states and has repeatedly claimed without evidence that the election has been riddled with voter fraud.
Trump's team had yet to comment publicly, as of 5 a.m EST, after Biden took the lead in Georgia.
However, he continues to make unfounded accusations of voter fraud. In a tweet flagged by Twitter for containing potentially misleading information, Trump wrote: "I easily WIN the Presidency of the United States with LEGAL VOTES CAST.
"The OBSERVERS were not allowed, in any way, shape, or form, to do their job and therefore, votes accepted during this period must be determined to be ILLEGAL VOTES. U.S. Supreme Court should decide!"
How the Crossover Unfolded
When Clayton County in Georgia released the latest results from its outstanding ballots at around 4:20 a.m. EST, it put Biden in the lead by 917 votes.
The Democratic stronghold—a suburban district in the Atlanta metropolitan area—is proving critical in Biden's final push in the state.
The director of Clayton County's board of elections, Shauna Dozier, told CNN that after the mail-in ballots have been counted, the only remaining uncounted votes from Clayton County will be military ballots due at 5 p.m. ET on Friday.
Dozier said she does not know how many military ballots might be received. Polls have suggested Trump has strong support among military personnel.
There are also around 4,800 outstanding votes in the Democratic-leaning Gwinnett County. Biden is ahead in Chatham County with around a 40,000 vote lead after a state judge dismissed a lawsuit filed by Trump's team in the district.
Trump still has a chance to come back with votes yet to be announced in the Republican strongholds of Laurens County and Forsyth County.
In the former, CNN reports that there are around 1,500 votes left to announce in Forsyth County with Trump leading by around 8,000 votes as of 4.48 a.m ET. Meanwhile, Laurens County has around 1,700 outstanding ballots.
The president may be able to increase his numbers in these two counties to put him back in front of Biden, but the remaining ballots in these counties are likely to be absentees, which tend to heavily favor Biden.
According to CNN, the outstanding ballots as of 10:35 p.m. on Thursday night are 700 in Cobb County, 444 in Floyd County, 1,545 in Forsyth County, 4,800 in Gwinnett County, 1,797 in Laurens County, and 456 in Taylor County.