Donald Trump Will Run for President in 2024 if He Loses, Predicts Former Chief of Staff Mick Mulvaney
President Donald Trump's former White House Chief of Staff Mick Mulvaney said on Thursday that he would "absolutely" expect Trump to run once again in 2024 if he were to lose the current election to Democratic presidential nominee Joe Biden.
Although the election has not yet been called, as votes are still being counted in key swing states, analysts increasingly believe a Biden win looks likely. While in some cases Biden could reach the 270 electoral votes required to win with just one remaining battleground state, Trump needs to pull off wins in several states.
"After this election's over, who is the leading Republican candidate in 2024? And I think now, folks are starting to realize, 'Wait a second, if Donald Trump loses, he might be the guy,'" Mulvaney, who now serves as U.S. special envoy for Northern Ireland, said during an online address for the Institute of International and European Affairs.
"And I'm telling you, absolutely. Absolutely. I would absolutely expect the president to stay involved in politics. I would absolutely put him on the shortlist of people who are likely to run in 2024. He doesn't like losing," Mulvaney said.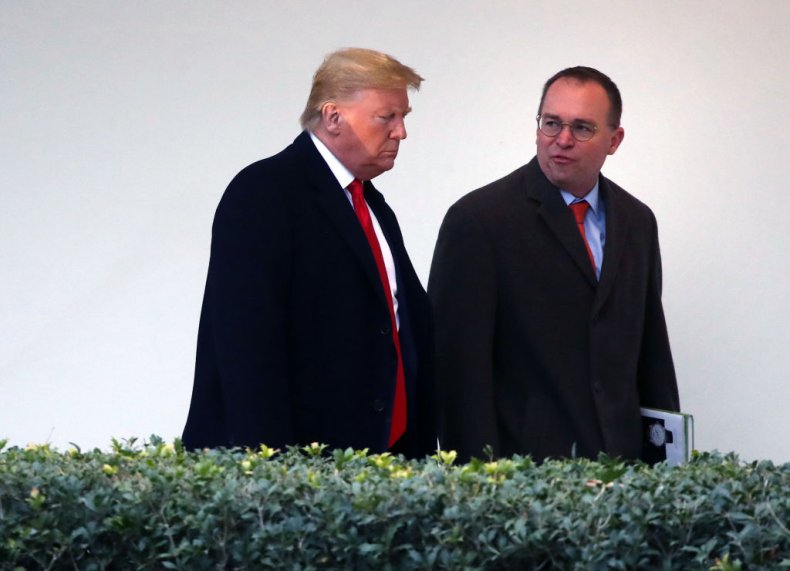 Newsweek reached out to the Trump campaign for comment, but it did not immediately respond.
Speaking to the BBC on Thursday, Bryan Lanza, the communications director for the president's transition team after his 2016 election, also suggested Trump could run again in four years. Lanza inaccurately claimed that Trump would be "younger than Joe Biden in his current bid for the presidency, so age isn't the issue." Biden is 77, while Trump would be 78 in 2024. He said that "there's nobody in the Republican party that can challenge President Trump in the primaries."
A recent poll suggests that Trump would have a sizable base of support from Republicans should he lose to Biden and then seek re-election again in 2024. The polling, which was carried out by The Washington Examiner/YouGov on October 30 and surveyed 1,200 registered voters, showed that 38 percent of Republicans hoped the president would remain involved in politics and seek re-election in the next presidential race. But 34 percent thought that he should step aside from politics, while throwing his support behind new leaders.
While American presidents are only allowed to serve two terms in the White House, there is nothing stopping Trump from running again in 2024 (or later) and serving a second non-consecutive term. However, this has only happened once in U.S. history, and that was more than 130 years ago. Former President Grover Cleveland lost re-election in 1888, then won presidency again four years later.
Steve Bannon, Trump's former chief strategist who is currently facing fraud charges, also has suggested the president would seek re-election if he were to lose in 2020. "If for any reason the election is stolen from or in some sort of way Joe Biden is declared the winner, Trump will announce he's going to run for re-election in 2024," Bannon told The Australian in October.