Former Trump Aide Says President Likely to Run Again in 2024 If He Loses Election
Donald Trump's former campaign adviser has suggested the president will run again in four years time if he loses to Joe Biden.
Bryan Lanza, who served as deputy communications director on Trump's 2016 campaign, said the president still enjoyed widespread support among Republicans and would encounter little opposition from within the party if he decided to stand in 2024.
"He has got the apparatus, he has got the support. If he were to lose a very tight election today, he can make the claim that it wasn't a fair and free election, the media interfered with their suppression polls, you've had the rules change, you've had ballots appear, and I think he can make a strong case to run again and I think the Republicans would step aside and let it happen," he said during an interview with the BBC.
Put to him that US voters have not seen the end of "politician Trump," Lanza replied: "Correct."
While neither candidate has yet cleared the 270 Electoral College votes required to win the White House, Biden is within touching distance of victory having won the battleground states of Michigan and Wisconsin on Wednesday.
The Trump campaign has said the president will launch a legal challenge in several narrowly-won states and is demanding a recount in others.
In the hours after polls closed on Tuesday night, Trump claimed without providing evidence that the election had resulted in "major fraud on our nation" and said he would take the results to the Supreme Court.
But Lanza, who is still in contact with Trump, cautioned the president against a bitter and protracted dispute over ballot counting if it was clear he had lost.
"If I'm advising the president, and occasionally we have conversations, I would say to him, 'Sir, you are in a good position right now if you come up short to run again in four years from now. So let's watch our way on the way out to make sure you don't damage your potential run four years from now'," he said.
"There is nobody in the Republican party that can challenge Trump in the Republican primary. Knowing the president and as every CEO out there, their advantage is their level of preparation, so I wouldn't be surprised that the president looks at the chessboard and sees a window if he comes up a little bit short here, that he can make another run at it a couple of years from now."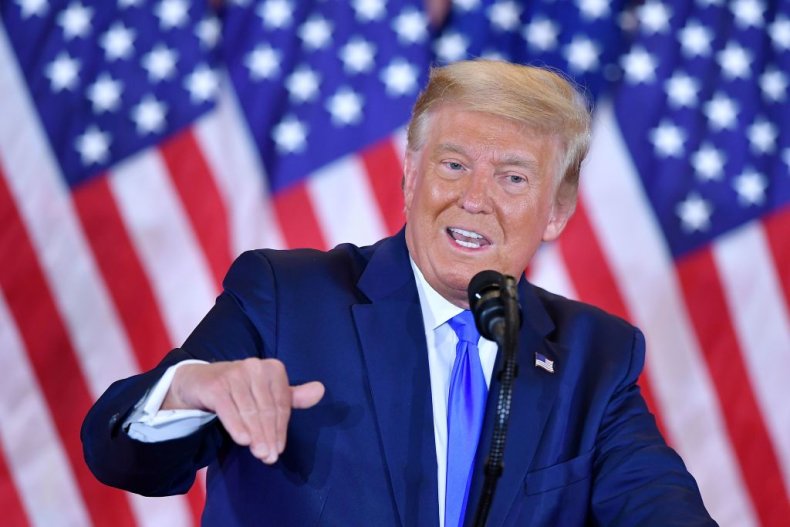 Lanza added: "If all the legally casted ballots are counted and we get to the end and the president comes up short, I think he is going to be the first one to step aside. But listen, everybody thought this was going to be a blowout election, we were talking about a double digital lead, we were talking about an Electoral College landslide, and we're far from that."
Recent polling has suggested a sizeable number of Republicans would back Trump in a future presidential bid, were he to lose this time around.
An October 30 YouGov survey for the Washington Examiner of 1,200 registered voters found 48 percent wanted him to "leave politics entirely." However, among Republicans the most popular answer was for him to stay in politics and run again in 2024, with 38 percent of those asked opting for that course of action.
The second most common choice among supporters of the GOP was for him to leave politics but back new leaders who share his political views, at 34 percent. Just nine percent of Republicans said they would want him to leave politics entirely.
Other Republican names considered likely to run in a future primary contest include Vice President Mike Pence, former UN Ambassador Nikki Haley and Secretary of State Mike Pompeo.