Dictionary.com Trolls Trump for Saying People of Faith Led 'Abolition of Civil Rights'
Dictionary.com mocked President Donald Trump for touting the "abolition of civil rights" on Thursday.
The president appeared to misspeak or read a typo on the teleprompter while speaking at the National Prayer Breakfast in Washington, D.C.
"Since the founding of our nation, many of our greatest strides—from gaining our independence to abolition of civil rights to extending the vote for women—have been led by people of faith," Trump said at the event, according to USA Today.
Shortly after the remarks, Dictionary.com tweeted a clip of the president's comment along with a definition of the word "abolition."
Mediaite noted that religion was used to justify slavery and segregation under Jim Crow laws.
Some Twitter users called the remark a Freudian slip or a moment of honesty.
"Trump finally said something honest at the National Prayer Breakfast. When you've got kids in cages and refuse asylum seekers who are already in the country, 'abolition of civil rights' pretty much covers it," Holly Figueroa O'Reilly, who has written columns for The Washington Post and The Guardian, posted.
Trump assured the audience of his support for religion and touted his policies toward religious minorities.
"My administration is also speaking out against religious persecution around the world, including against religious minorities, Christians and the Jewish community," he said, according to ABC News.
The president thanked second lady Karen Pence, who has recently drawn criticism for teaching at an evangelical school with anti-LGBTQ policies.
"Our incredible second lady Karen Pence, and by the way, by the way, I've gotten to know Karen so well. She is a Marine Corps mom, a tremendous woman, a proud supporter of military families and she just recently went back to teaching art classes at a Christian school. Thank you. Thank you, Karen," Trump said, according to CNN.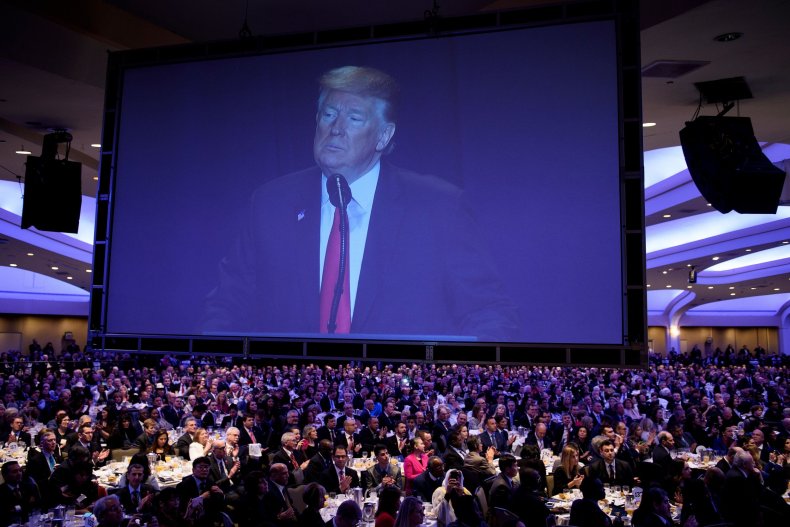 The president also talked about abortion, adding to what he said on the subject in Tuesday's State of the Union address.
"Children, born and unborn, are made in the holy image of God," he said, eliciting applause. "Every life is sacred and every soul is a precious gift from heaven, as the Lord says."
The National Prayer Breakfast has been a tradition since 1953, when Dwight D. Eisenhower was in office, CNN reported. Legislators and religious leaders from approximately 70 countries attend the yearly gathering.