LGBTQ Organization Trolls School Where Karen Pence Teaches, Sends Copies of John Oliver Book About Gay Bunnies
LGBTQ support organization the Trevor Project sent 100 copies of a book about a gay romance between rabbits to the school where Second Lady Karen Pence teaches, according to The Hill. The illustrated book about two gay bunnies, A Day in the Life of Marlon Bundo​, was written by a worker for Last Week Tonight with John Oliver and published by the show last year.
The children's book spoofs one created by Karen Pence and her daughter Charlotte, titled Marlon Bundo's A Day in the Life of the Vice President. Oliver's text, which features Marlon Bundo falling in love with a male bunny and the two getting married, takes a jab at Mike Pence's anti-LGBT stances. It depicts the vice president as a stink bug. The proceeds from sales were donated to the Trevor Project and AIDS United, a nonprofit whose "mission is to end the AIDS epidemic in the United States."
Earlier this week, news reports noted that the Second Lady was starting a job at Immanuel Christian School in Northern Virginia.
A parent agreement posted by the school says that it can "refuse admission to an applicant or to discontinue enrollment of a student if the atmosphere or conduct within a particular home, the activities of a parent or guardian, or the activities of the student are counter to, or are in opposition to, the biblical lifestyle the school teaches. This includes, but is not limited to contumacious behavior, divisive conduct, and participating in, supporting, or condoning sexual immorality, homosexual activity or bi-sexual activity, promoting such practices, or being unable to support the moral principles of the school."
Pence's spokeswoman, Kara Brooks, said it was "absurd that her [Karen Pence's] decision to teach art to children at a Christian school, and the school's religious beliefs, are under attack," according to USA Today.
Amit Paley, the CEO of the Trevor Project, which offers suicide prevention services for LGBTQ youth, noted in its announcement about the book shipment that "lesbian, gay, and bisexual youth from rejecting families are more than eight times more likely to attempt suicide than their straight peers."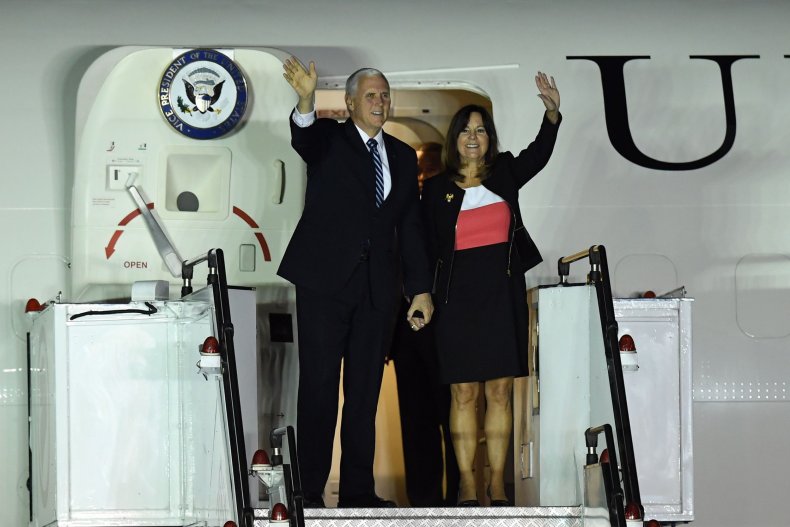 As Indiana Governor, Mike Pence signed the Religious Freedom Restoration Act. Critics blasted the legislation, saying it permitted businesses to legally discriminate against LGBTQ individuals on the basis of religion.
Pence was first elected to Congress in 2000 while running on a platform that denounced marriage equality, according to BuzzFeed News.
"Congress should oppose any effort to put gay and lesbian relationships on an equal legal status with heterosexual marriage," his campaign statement said. "Congress should oppose any effort to recognize homosexual's as a 'discreet and insular minority' entitled to the protection of anti-discrimination laws similar to those extended to women and ethnic minorities."