First, there was Woodstock 1969, a festival celebrating peace, love, and music at the height of the Vietnam War. It was followed by Woodstock '94, which was a complete and utter mudbath, with more than double the attendees turning up.
Woodstock '94 was not a complete disaster—but looking back, it may have foreshadowed what was to come as Woodstock '99, which blew the failures of Woodstock '94 out of the water.
Over 400,000 people attended the highly anticipated festival held at the former Griffiss air base in Rome, New York with Red Hot Chilli Peppers, Metallica, and Korn, taking to the main stage.
However, things did not run smoothly at all. The event was home to serious violence and riots, sexual assault against women, fires, looting, and more. Overall, there were 44 arrested at the concert and Netflix's Trainwreck: Woodstock '99 explores how and where it all went wrong.
Did Anyone Die at Woodstock '99?
Yes sadly, three people died at the chaotic Woodstock '99 festival, reported MTV.
David G. DeRosia, 24, died from a heat-related illness at University Hospital in Syracuse, New York.
According to Esquire, DeRosia collapsed in the crowd whilst watching Metallica perform on the Saturday evening. He died on Monday, July 26 after being in a coma for two days. from "hyperthermia, probably secondary to heat stroke".
According to Syracuse.com, his mother sued Woodstock '99 festival promoters and doctors on site, on the grounds they were "negligent by not providing enough fresh water and adequate medical care for 400,000 attendees."
As of August 2022, the lawsuit has still not been resolved.
Tara K. Weaver, 28, was killed after being hit by a car as she left the concert, and a 44-year-old, who had a pre-existing heart condition, died of cardiac arrest at the Woodstock campsite.
At the end of the concert, the New York State Department of Health recorded 5,162 medical cases over the entire weekend. Over 400,000 people were in attendance.
Footage from Woodstock '99 and as seen in Trainwreck: Woodstock '99 shows festivalgoers throwing themselves into over-packed crowds, being wrecklessy tossed around via crowd surfing, taking drugs, and engaging in other dangerous behavior.
They were also subject to severe dehydration as a result of the seriously hot weather and lack of water access.
According to The Baltimore Sun, more than 700 people were treated for heat exhaustion and dehydration over the weekend and there were over 1,200 onsite medical admissions.
People also suffered from trench mouth, a gum infection caused by a buildup of bacteria in the mouth which is often associated with trench warfare of World War I.
Festivalgoers contracted the illness as a result of poor sanitation and reports human feces leaked into the drinking and shower water.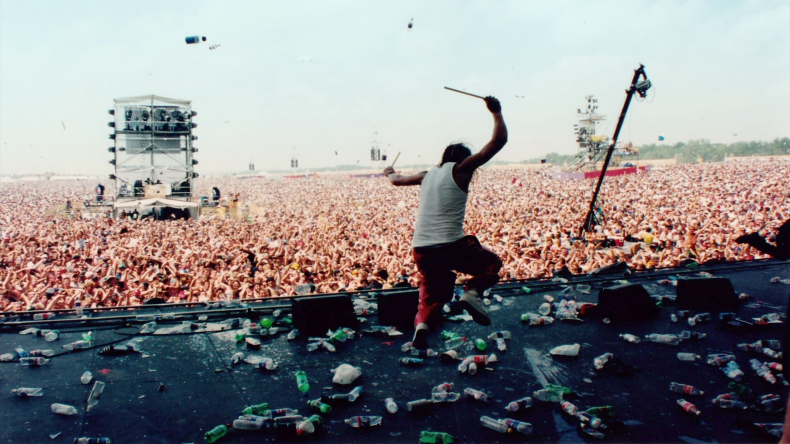 Two festivalgoers, Jeffrey Krajewski, 17, and Jen Thall, 18, were thrown from a van carrying attendees during a car crash on the New York State Thruway. They were in critical condition at one point, but are believed to have made a full recovery.
Woodstock '99 was not the first time the iconic festival had seen deaths occur.
Three people also died at the original Woodstock festival in 1969. Two young men died from drug overdoses and a third man, Raymond Mizsak, who was just 17 years old at the time, was run over and killed whilst sleeping on the ground by a tractor collecting rubbish.
Two people died at Woodstock '94. An unidentified 45-year-old person died of suspected diabetes complications and 20-year-old Edward Chatfield died of a ruptured spleen. That year, 5,000 people were treated at medical tents and 800 were taken to hospital, according to the South Florida Sun.
Trainwreck: Woodstock '99 is streaming on Netflix now.